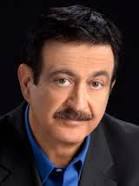 November 13, 2015
Premiere Networks Coast To Coast AM host George Noory was recently featured on CBS 2/Los Angeles' local TV newscast to chat about that mysterious light in the sky that was seen by millions of southern Californian's last weekend, with reports of sightings from as far away as southern Arizona.
The widely reported sightings that freaked a lot of folks out have since been explained by military officials as a planned missile test. However Noory  says not everyone is convinced that the government's explanation is the real story, least of all many fans of his nightly nationally syndicated Talk radio show. "People believe — primarily — that we're being visited by extra terrestrials from all over the universe," he told CBS 2 News reporter Brittney Hopper.
So…. just what does Noory think the mysterious light in the night sky really was?  Find out HERE.