By Donovan Tildesley
PSR Contributor
November 2nd, 2015
Last Friday I had the chance to host a morning show which never happened.
Let me start at the beginning. My friend Robert Wilson owns 101.5
Whistler FM, an independent AAA which will be entering its third year
of broadcasting on February 25 of 2016. Whistler being a small and
often transient market, the station has been through just as many
morning show hosts as years on-air. Being essentially a 5-person
operation (one salesperson, a morning and an afternoon jock, a Music
Director, and Rob the owner/General Manager/Program Director/jack of
all trades), when one host exits, there is often times a gap before
the next one starts, leaving the station jock-less in that particular
daypart. What can ya do! Rob informed me this a few weeks back, and I
off-handedly suggested that I come and do his morning show for a day,
to which he readily agreed. Getting the time off work was no problem.
Our office usually hosts an annual Halloween costume contest along
with a potluck lunch. Don't get me wrong, I love to dress up for
Halloween, but being the lone guy who doesn't cook in an office full
of girls who do means I often don't bring much to the table at these
communal lunch occasions.
Arriving in Whistler Thursday night, I learn that the station's online
stream is down. Bugger!! I had promoted this little morning show cameo
on Facebook, and now my friends, who would undoubtedly make up a major
chunk of the listening audience would tune in to dead air. (Remember,
folks, this is Whistler. The locals don't normally get out of bed
before 9AM, unless of course two feet of powder has fallen the night
before). Rather disappointed, but still keen to go on air, we left the
station, checked into our hotel, and proceeded to do one of the things
the two of us do best together; have a good time! I'm not sure what it
is, but Rob and I tend to bring out one another's hedonistic
tendancies. Nothing overtly crazy, just a good meal, a fair dose of
red wine and good conversation. To make a long story short, although
we made it back to our room before midnight, we both slept way past
our 6AM alarm. Shoot!! Arriving at the station at 9:50, just in time
for what would have been our last break on-air, we decided to postpone
the radio frivolity for a couple of hours, so that Rob could get some
work done, as well as attempt to fix the live stream. Sure enough at
11:30 he did just that, with the help of the company in Edmonton.
12:00 noon and its go time!
Whistler FM's noontime feature is the Eclectic Lunch. A takeoff of
Rock101's Electric Lunch, but with a AAA flavor. And of course, what
could be more eclectic the day before Halloween than the likes of
Bobby Borris Picket, Johnny Fuller and the theme from the Rocky Horror
Picture Show? And of course there was also me; the blind guy with a
few tricks up his sleeve.
One such trick (or would this be a treat?) was the Master of the
Morning, Don Percy. I've been on air with this man from the age of
five until his recent "retirement" from daily radio in 2014. Now that
I had the chance to play radio, why not return the favour? Rob loved
the idea and so did Don. So we called him at home, and broke format
for 10 minutes for a little chat. At the age of 78, Don hasn't lost
his stride. The man oozes warmth and humour, but also a real sense of
humility. Did the average Aussie Joe listening to 101.5 at the time
get what was going on? Perhaps not. But I like to think that what we
said was compelling enough for them to keep listening. Heck, I'm just
blessed to have the opportunity to live my dream behind a microphone,
if even just for an hour, and to share the air space with a legend
such as Don. Next time I'll just make it in time for a full morning
show! 🙂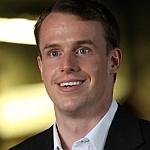 Donovan's Email: donovan.tildesley@gmail.com
Twitter @DonovanSpeaks