ON THIS DAY in 1910,
 actor Clarence Hartzell was born in Huntington West Virginia.  For fans of the quirky daytime radio smilefest 'Vic and Sade' he will remain immortal for his iconic portrayal of 'Uncle Fletcher' who was first introduced in 1940 when the actor playing Vic, Art Van Harvey, became ill and could not perform.  Because of the impact of his unique characterization he was retained as a regular member of the small cast until the end of the series.  Later he would play significant characters on radio's Lum 'n' Abner, Silver Eagle, and The Websters. In the mid 1950's Hartzell became an antique dealer/prop rental specialist in the Chicago area catering primarily to area TV stations. He died March 5 1988 at age 77.
On this day in 1911, gospel singer Mahalia Jackson


was born in New Orleans.  Widely regarded as the world's greatest gospel singer she appeared repeatedly on the Ed Sullivan and Dinah Shore TV shows, and even guested with Johnny Carson, as well as on Joey Bishop's late night entry. She died of heart failure & diabetes Jan 27, 1972 at age 60.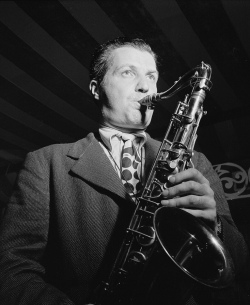 On this day in 1913, one of the top big band leaders, saxaphonist Charlie Barnet was born in New York City.  His theme song Cherokee was his biggest hit. He died of pneumonia Sep 4, 1991 at age 77.
On this day in 1917, Felix the Cat


was created as a cartoon character.  Felix was very popular on kids' cartoon shows in the early days of TV.
On this day in 1927,
bandleader & composer Duke Ellington


recorded the future radio favorite, "Creole Love Song."
On this day in 1934, the legendary Cole Porter recorded his own composition titled, You're the Top, from his show Anything Goes, for the RCA Victor label.
On this day in 1935, a talented twelve-year-old sang on Wallace Beery's NBC radio show (Shell Chateau) on NBC.


Frances Gumm (pictured bottom with The Gumm Sisters) delighted the appreciative audience. The young girl would soon be in pictures and at the top of stardom. It would be only four years before the renamed Judy Garland captured the hearts of moviegoers as Dorothy in The Wizard of Oz.
On this day in 1936,
country artist Roy Acuff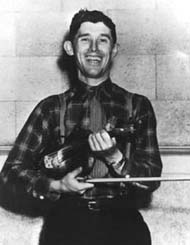 made his first recordings, including "Great Speckled Bird" and "Wabash Cannonball."
On this day in 1949, Bing Crosby recorded his future #2 pop single, "Dear Hearts and Gentle People."
On this day in 1950, the French arm of the CBC, La Societe Radio-Canada extended French radio programming as far west as Calgary and Edmonton.
On this day in 1952, NBC-TV premiered the documentary series 
 Victory at Sea.  Richard Rodgers wrote the score and Robert Russell Bennett orchestrated it. No Other Love, adapted from one of the themes, became a hit for Perry Como in the summer of 1953.
On this day in 1955, the No. 1 Billboard Pop Hit was "Autumn Leaves" by Roger Williams.
On this day in 1958, Bill Haley and His Comets played the first ever rock 'n' roll concert in Germany, in West Berlin. More than 7,000 fans, some from East Berlin, turned the show into a riot, and 20 policemen were injured.
Also this day in 1959, Columbia Records released country singer Marty Robbins's first & only #1 crossover hit "El Paso" as a single.  It had been released on an LP the month previous.

On this day in 1961, Columbia Records legendary talent scout John Hammond signed Bob Dylan to his first recording contract.
On this day in 1962, the Beatles put on tape their future hits "Please Please Me" & "Ask Me Why"
Also this day in 1962, The Rolling Stones, (known as The Rollin' Stones), and consisting of Keith Richard, Mick Jagger, Brian Jones, pianist Ian Stewart and drummer Tony Chapman recorded their first demo tape at Curly Clayton Studios in London.

Again in 1962, by an ironic twist of fate, actress Louise Beavers, the second woman to play the title role in TV's Beulah, died at age 60.  It was exactly ten years to the day after the death of the star she succeeded in the role.  Hatti McDaniel had died on this day in 1952, at the age of 57.
On this day in 1963, Bob Dylan played a sold out concert at New York's Carnegie Hall.
On this day in 1964, Ottawa's Lorne Greene released his future #1 single, the spoken-word ballad "Ringo."
On this day in 1965, the Beatles received MBE medals from the Queen at Buckingham Palace as they became Members of the British Empire. According to an account by John Lennon, the group smoked marijuana in one of the palace bathrooms to calm their nerves.  John returned his medal four years later in protest of Britain's involvement in the Nigerian Civil War.

On this day in 1966, Liberace played the parts of both a good and evil pianist on "Batman."
On this day in 1968, after being fired from WOR-FM, legendary New York disc jockey "Murray The K" moved across town to become one of the WMCA-AM "Good Guys."
Also in 1968, Janis Joplin with Big Brother & the Holding Company made their network TV debut on ABC's "Hollywood Palace," hosted by Don Adams. You can see & hear their renditions of Summertime" & "I Need A Man to Love" HERE!
On this day in 1969, CBC personality J. Frank Willis, with impressive credentials over his 35 years with CBC Radio & TV, died at age 61.
On this day in 1971, 
 Memphis minister Al Green received a Gold Record for his single, Tired of Being Alone.
On this day in 1973, Paul McCartney's Wings released the single "Helen Wheels."  The title was a twist on Paul & Linda's Land Rover, which they called "Hell On Wheels."
On this day in 1974, the music trade weekly Billboard launched its Dance Music charts.  First #1 song was "Never Can Say Goodbye" by Gloria Gaynor which stayed on top for 4 weeks.

Also in 1974, Barry White scored his only US No.1 album with 'Can't Get Enough.'
On this day in 1975, Elton John concluded his West of the Rockies U.S. Tour at L.A.'s Dodger Stadium. He was the first performer to play the venue since The Beatles in '66. Fittingly, he included "I Saw her Standing There" and "Lucy In The Sky With Diamonds."
On this day in 1976, Gordon Lightfoot's 'Summertime Dream' album was certified Gold in Canada.
On this day in 1978, the No. 1 Billboard Pop Hit was "Hot Child in the City" by Nick Gilder. The song took 20 weeks from the time it entered the Hot 100 to reach No. 1, longer than any single before it.
Also this day in 1978, 
 Anne Murray's single 'You Needed Me' was certified Gold in Canada.
On this day in 1980, Paul Kantner of Jefferson Starship suffered what was thought to be a stroke while recording the band's next album, but it was later revealed to be a brain embolism. He recovered after two weeks in the hospital.
On this day in 1981,
the 10th season of
"M*A*S*H"


began on CBS.
Also this day in 1981, Journey released their great future hit single "Don't Stop Believin'."
On this day in 1982, the prime time hospital drama "St. Elsewhere" premiered on NBC, introducing us to Denzel Washington, Howie Mandel and Mark Harmon, among others. It quickly became a hit, and remained on the Peacock's schedule for the next six years.
Also this day in 1982, the No. 1 Billboard Pop Hit was "Who Can It Be Now?" by
Men at Work.


The song was the 12th No. 1 single to pose a question and the first of two by the Australian band.
YouTube Presents, Men at Work…
http://www.youtube.com/watch?v=YbZ9xUF7sY8
On this day in 1984, actress Sue Randall, who played the kindly teacher "Miss Landers" 

on Leave it to Beaver, lost her battle with lung cancer at age 49.
Also this day in 1984, Barbra Streisand won multiplatinum certification for three albums that reached the four-million-dollar sales mark. Greatest Hits, Vol. II, Guilty, and A Star is Born (with Kris Kristofferson) were honored.
On this day in 1985, the song "Saving All My Love for You" by Whitney Houston sat atop the pop charts.
On this day in 1986, Donald Duck was shown for the first time in the People's Republic of China. Chinese television launched a weekly half-hour of old Donald Duck and Mickey Mouse cartoons.
On this day in 1990,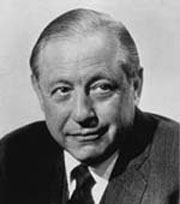 CBS founder & CEO William S. Paley died at age 89 after a heart attack.
On this day in 1991, Ozzy Osbourne broke his foot after an accident on stage at a gig in Chicago, causing him to cancel the remaining dates of his US tour.
On this day in 1993, the Canadian Folk-Rock group Crash Test Dummies released their second album 'God Shuffled His Feet'.  It would bring them international success.
On this day in 1994,
Roseanne Barr


appeared on her ABC-TV show (Roseanne) dressed as Prince.
Also this day in 1994, singer Wilbert Harrison died after a stroke at age 65. The R&B singer's version of "Kansas City" hit No. 1 on the Hot 100 in 1959. Ten years later he had a top 40 hit with "Let's Work Together."
Still in 1994, MTV broadcast The Eagles' reunion concert. Don Henley, Glenn Frey, Joe Walsh, Don Felder and Timothy B. Schmitt, had played for an invited audience at Warner Bros. Burbank studios the previous April.
On this day in 1998, the Recording Industry Association of America (RIAA) was dealt a blow in its battle against the maker of a device that plays music downloaded from the Internet using a technology called MP3, when a US federal judge in Los Angeles refused to issue an injunction against the sale of the device.

On this day in 1999, singer/songwriter Hoyt Axton, who penned Three Dog Night's smash hit "Joy To The World," died at age 61. Axton, largely confined to a wheelchair since a 1996 stroke, had suffered a pair of heart attacks in the few weeks prior to his death.
On this day in 2000, Ontario Attorney-General Jim Flaherty requested that Ottawa prevent Eminem from entering the country for a concert at Toronto's SkyDome. The request stemmed from a complaint filed to the Toronto police hate crimes squad by a community activist who claimed that the Interscope rapper's lyrics advocate violence toward women.
Also in In 2000, career Canadian broadcaster Alden Diehl passed away at age 69. He was inducted into the CAB Broadcast Hall of Fame the following year. After beginning as Assistant Librarian at CJCA Edmonton in 1951 he moved to CKBI Prince Albert, CFRA Ottawa, CKLW Windsor, CKY-AM and CITI-FM Winnipeg. In 1995 he retired as VP & GM at CKLG and CFOX-FM Vancouver.
Still in 2000, Garth Brooks told a Nashville news conference he intended to retire after recording one more .  However he resumed his career in 2009.

On this day in 2002, after nearly forty years of performing together, the Statler Brothersconcluded their final tour with a show at the Civic Center in Salem, Virginia.
Also this day in 2002, Jessica Simpson married former 98° member Nick Lachey. The couple were featured on MTV 'Newlyweds' TV show. The couple separated after three years of marriage.

On this day in 2003, American Idol runner-up Clay Aiken was at No.1 on the Billboard album chart with 'Measure Of A Man.'
On this day in 2004, Elvis Presley came out on top of a list of the highest-earning deadcelebrities. Forbes.com listed the Top 5 dead music earners; 1. Elvis Presley $40 million, 2. John Lennon $21 million, 3. George Harrison $7 million, 4. Bob Marley $7 million and at 5. George and Ira Gershwin $6 million.
On this day in 2006, Duran Duran guitarist Andy Taylor quit the band during the US leg of their world tour. A statement on behalf of the group said there was "an unworkable gulf between us and we can no longer effectively function together."

On this day in 2007, TV's Chef Tell, a favorite on PBS, PM Magazine and Live with Regis & Kathie Kee, died of heart failure at age 63.
Also in 2007, Pete Doherty was given a suspended prison term for drugs and motoring offences after admitting driving while uninsured and while in possession of crack cocaine, heroin, ketamine and cannabis. The Babyshambles singer was sentenced to four-months in jail, suspended for two years, and ordered to pay a £475 fine for driving without insurance.

Still in 2007, a Los Angeles judge ruled that Britney Spears was no longer facing hit-and-run charges after she compensated the other car's driver. But the singer would still face a charge of driving without a valid licence. She allegedly crashed into a parked car in North Hollywood in full view of photographers, before fleeing the scene.
Pn this day in 2008, The Smashing Pumpkins teamed up with singer Josh Groban to perform the band's '93 ballad "Disarm" during the Bridge School Benefit Concert in Mountain View, CA. The Bridge School is a nonprofit organization, founded by Neil Young and his wife, that helps children with severe speech and physical impairments.
Also this day in 2008, 64-year-old Patti LaBelle offered a heavily-criticized US National Anthem before the 4th game of the World Series in Philadelphia.


She sang "sky lights last gleaming" (instead of twilight's), "through the perilous flight" (instead of light) and misspoke further with "lamp parts" (instead of ramparts).
On this day in 2010, Michael Jackson, or rather his estate, earned $275 million in the past year, topping Forbes magazine's annual list of top-earning dead celebrities. Elvis Presley was #2 with $60 million. John Lennon landed at #5 with $17 million.
On this day in 2011, the inquest into the sudden death of Amy Winehouse ruled it to be "death by misadventure."  The coroner found the amount of alcohol in the blood of the 27-year-old soul singer was more than five times the British drunk driving threshold, as she had relapsed after many weeks "on the wagon."

Also in 2011, Alice Cooper urged governments to legalize hard drugs while outlawing booze and tobacco. "You know, looking at statistics, I think drugs should be legal and alcohol and cigarettes should be illegal," Cooper told OK Magazine. "They kill more than drugs do." Cooper, who battled alcohol-addiction during the '70s, quit in '83.
On this day in 2012, session baritone Louis Nunley, a major contributor to the creation of the Nashville Sound as a member of the Anita Kerr Singers and later the Jordanaires, died at age 81.
Also in 2012, rapper/singer-songwriter & actress Natina Reed, a member of the all-girl R&B group Blaque, who was featured in the TV series Bring It On, was struck and killed by a car in rural Georgia, two days short of her 33rd birthday.

Still in 2012, Billy Idol was in Seattle to play a birthday party/fundraiser for longtime fan 26 year old Michael Henrichsen. The event raised $13,000 for the American Red Cross and Northwest Harvest food bank.
On this day in 2013, r & b writer/singer Al Johnson, who co-founded The Unifics which in the late 60's scored three hits on the Billboard Hot 100, and in the 80's had two more hits as a single soul artist, died of complications following surgery at age 65.
Also in 2013, at Mountain View, Ca., the 27th Annual Bridge School Benefit show featured Crosby, Stills, Nash & Young.
On this day in 2014,
 Staind frontman Aaron Lewis sang the National Anthem prior to the fifth game of the World Series in San Francisco. He badly botched the lyrics and later apologized.
Today's Birthdays:
Actor Hank Garrett (Generations, Max Headroom, Car 54 Where Are You?) is 84.
Actress Shelley Morrison (Handy Manny, Will and Grace, The Flying Nun) is 79.
Singer Michael Piano (of the Sandpipers) is 71.
Actress Jaclyn Smith (The District, Charlie's Angels) is 70.
TV host Pat Sajak (Wheel of Fortune) is 69.
Musician Bootsy Collins is 64.
Singer Maggie Roche (The Roches) is 64.
Actor James Pickens Jr. (Grey's Anatomy) is 63.
Rock musician Keith Strickland (The B-52's) is 62.
Actress Lauren Tewes (The Love Boat) is 61.
Actor James Pickens Jr. (Grey's Anatomy, The Practice, X-Files) is 61.
Actor D.W. Moffett (Skin, For Your Love, Chicago Sons) is 61.
Actress Rita Wilson (From the Earth to the Moon) is 59.
Actor Francois Chau (Lost, G.I. Joe) is 56.
Actor Dylan McDermott (American Horror Story, The Practice, Dark Blue) is 54.
Actor Cary Elwes (From the Earth to the Moon, X-Files) is 53.
Ottawa-born actor Tom Cavanagh (The Flash, Ed, Scrubs) is 52.
Singer Natalie Merchant is 52.
Ottawa-born actress Kelly Rowan (Perception, The O.C., Lonesome Dove: The Outlaw Years, Another World) is 50.
Actor Steve Valentine (Crossing Jordan, I'm In the Band) is 49.
Country singer Keith Urban is 48.
New Brunswick-born actor Robert Maillet (The Strain, WWF Raw) is 46.
Edmonton-born actress Lisa Ryder (Andromeda) is 45.
Actress Rosemarie DeWitt (United States of Tara, Standoff) is 44.
Writer/actor Seth MacFarlane (Family Guy, American Dad!) is 42.
Montreal-born actor David Julian Hirsh (HawthoRNe, Lovebites, Naked Josh) is 42.
Actress Rosemarie DeWitt (United States of Tara, Standoff) is 41.
Actor Hal Ozsan (90210, Kyle XY, Dawson's Creek) is 39.
Actress Lennon Parham (Playing House, Accidentally On Purpose) is 39.
Actor Jon Heder (Napoleon Dynamite, Tankman Begins) is 38.
Actress Wynn Everett (The Newsroom) is 37.
Singer Mark Barry (BBMak) is 37.
Actor Mahesh Jadu (Marco Polo) is 33.
Actress Emilia Clarke (Game of Thrones) is 29.
Actress Alexandria Deberry (A.N.T. Farm) is 21.
Actress Morgan Saylor (Homeland) is 21.
Chart Toppers – Oct. 26
1945
I'll Buy that Dream – The Pied Pipers
Till the End of Time – Perry Como
On the Atchison, Topeka and Santa Fe – Johnny Mercer
With Tears in My Eyes – Wesley Tuttle
1954
Hey There – Rosemary Clooney
I Need You Now – Eddie Fisher
If I Give My Heart to You – Doris Day
I Don't Hurt Anymore – Hank Snow
1963
Sugar Shack – Jimmy Gilmer & The Fireballs
Be My Baby – The Ronettes
Deep Purple – Nino Tempo & April Stevens
Love's Gonna Live Here – Buck Owens
1972
My Ding-A-Ling – Chuck Berry
Use Me – Bill Withers
Nights in White Satin – The Moody Blues
Funny Face – Donna Fargo
1981
Arthur's Theme (Best that You Can Do) – Christopher Cross
Start Me Up – The Rolling Stones
For Your Eyes Only – Sheena Easton
Never Been So Loved (In All My Life) – Charley Pride
1990
I Don't Have the Heart – James Ingram
Black Cat – Janet Jackson
Ice Ice Baby – Vanilla Ice
Friends in Low Places – Garth Brooks
1999
Mambo No. 5 (A Little Bit…) – Lou Bega
Larger Than Life – Backstreet Boys
Smooth – Santana featuring Rob Thomas
Something Like That – Tim McGraw
2008
So What – P!nk
Hot N Cold – Katy Perry
Disturbia – Rihanna
Everybody Wants to Go to Heaven – Kenny Chesney with The Wailers