October 6, 2015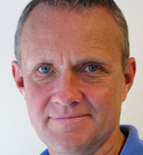 Like many in the industry, media research veteran Richard Harker (left) was in the audience for two highly anticipated panels at last week'sNAB/RAB Radio Show in Atlanta — one in which Nielsen unveiled its promised PPM enhancements, and the other an update from 25 Seven Systems on Voltair, where version 2.0 of the unit debuted.
Harker — a longtime critic of Nielsen's PPM methodology — offers his review of both sessions in a new post to Harker Research's RadioInSights blog.
"It was to be radio's Hulk Hogan versus The Rock, a shoot-out at OK Corral — Dueling presentations: Voltair versus Nielsen's PPM," writes Harker.
"There were high expectations that sparks would fly, maybe even punches thrown as 25-Seven's Geoff Steadman made the case for Voltair while Nielsen's Matt O'Grady and Arun Ramaswamy defended PPM."
So who won the anticipated showdown? Find out HERE.