On the road with Jimmy Pattison, "Canada's Warren Buffett"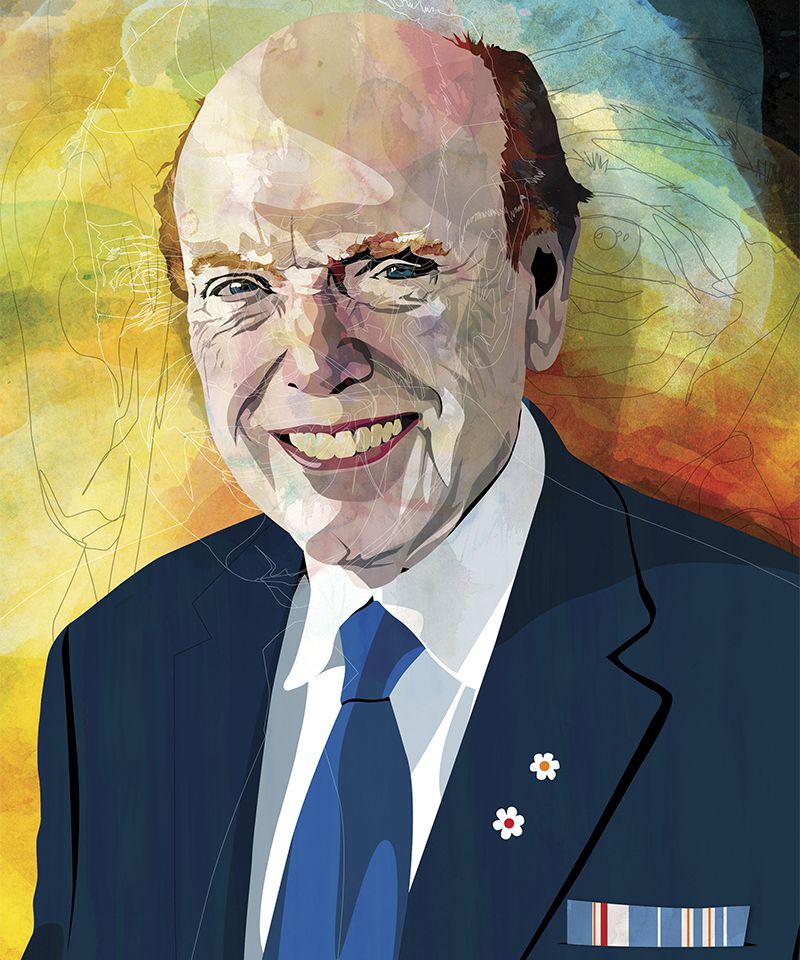 At 86, Jimmy Pattison is still the driving force behind his $8.4-billion empire. Is he ever going to take his foot off the gas?
By Jim Sutherland

October 2, 2015
.
In late June, Jimmy Pattison was looking forward to a road trip he expected would fill up the first week and a half of July. With Mary, his wife of 63 years, and his golden retriever, Pattison was planning to drive a Ram pickup some 2,000 kilometres through rural Saskatchewan. "I'll start with Major; go up to Luseland, Unity, North Battleford, Meadow Lake, Prince Albert; then work across to Kelvington, Saskatoon; then over to Hudson Bay—that's the old Hudson Bay Junction—then down to Yorkton and over to Moosomin," he says. "The big circle."
It's not surprising that the names of Saskatchewan whistle stops should trip so easily off the tongue of Pattison, whose Jim Pattison Group owns everything from the Save-On-Foods stores that blanket Western Canada to Toronto's Ripley's Aquarium and a large share of the billboards and car dealerships in between. His family left Luseland for Vancouver when he was five. Mary grew up in Moose Jaw, Sask. Jimmy spent summers working on his mom's family farm in Major, and as a teenager barnstormed church camps around the province, playing his trumpet. Pattison doesn't know exactly when he'll be in which town, so he hasn't made reservations. "We'll stay in motels," says Canada's wealthiest individual (worth $7.9 billion as of last fall). "Motels that take dogs."
An 86-year-old embarking on what might be one last trip to visit childhood haunts: It could be the bittersweet plot of a film like Nebraska or About Schmidt. But the sentimental storyline would have missed the mark. In truth, the rationale for the trip has as much to do with gold as golden age. Early in 2014, he picked up two John Deere tractor dealerships that operate 15 locations in Saskatchewan. Then in July of the same year, he bought nine Prairie radio stations. Pattison's big circle route connects many of the new businesses, which, in most cases, weren't given any warning that he'd be showing up.
Getting a visit from Jimmy is always a little nerve-racking, even when it's routine, former employees say. When Pattison arrives on site, it's partly to fly the flag, but it's also to confirm in everyone's mind that, while independence and initiative are valued and supported, the rationale behind everything is the pursuit of growth and profit—and the proprietor is definitely watching.
Of course, the question in a lot of people's minds is how long an 86-year-old can keep up his intense personal scrutiny of a sprawling business empire that grosses $8.4 billion annually and employs 39,000. When will this road trip end, so to speak? And, perhaps more important, what will happen to the Pattison Group when Jimmy reaches his destination?
Read More HERE