September 10th, 2015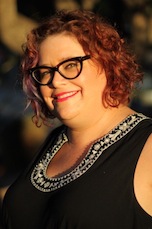 Bay Area news veteran Angela Corral (left) has been promoted to News Director at Cumulus Media News/Talker KGO/San Francisco.
Corral, who was born and raised in the Bay Area, joined KGO as Assignment Editor in October 2013. With nearly two decades of experience in the local radio news biz, she has held virtually every position in the newsroom since beginning her broadcast career in 1998 as a production assistant at crosstown KCBS, where she went on to became a producer, editor, writer and assignment editor.
"Angela's leadership in the newsroom and plan to advance KGO's news delivery has afforded her this well-deserved promotion," said Cumulus/San Francisco VP/Market Manager Justin Wittmayer.
"We look forward to her guiding KGO to new heights." Commenting on her big step up the company ladder Corral said, "It's a true honor to be selected as News Director of this legendary station. I'm looking forward to working with an amazing staff of dedicated journalists as we move KGO forward."