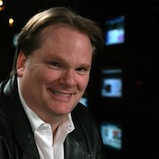 August 25th, 2015
Bonneville conservative talk outlet KTTH/Seattle has named Todd Herman as the station's new afternoon host.
Described as "a lifetime Washingtonian who co-founded the first Internet radio network, theDial, helped start the MSN Video business unit at Microsoft and entered politics as chief digital strategist for the Republican National Committee," Herman (left) has also developed a number of digital properties, including BuzzPo.com.
"Talk radio was my first love in media and joining KTTH is literally something of which I've dreamed," said Herman about his new gig.
"To work with [fellow KTTH hosts] David Boze and Michael Medved on Seattle's conservative Talk radio station is an honor matched only by the kind words I have received from KTTH listeners."
Herman takes over a slot most recently occupied by Ben Shapiro, who last week announced he was relinquishing those hours to help care for his infant daughter who is recovering from open heart surgery.
Shapiro, who has been doing double duty as both afternoon host at KTTH and morning co-host at KRLA/Los Angeles, continues his wake-up duties at AM 870 The Answer.