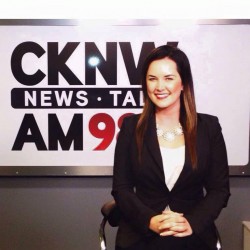 By Shelby Thom



August 11, 2015
Shelby Thom talks with Drex Live about what happened.
 CKNW reporter escorted out of Stephen Harper rally in Richmond
Prime Minister Stephen Harper made his first stop in B.C. since the election campaign kicked off Tuesday night in Richmond.
Earlier in the day, he claimed the majority of Canadians agree with his opposition to legalizing marijuana, despite government polling showing otherwise.
After his speech touting his party's accomplishments,  party supporters were asked by CKNW reporter Shelby Thom if they support legalizing cannabis.
"I think if you're going to legalize something like that, you're condoning it, you're saying it is okay."
"If you look at Colorado and Seattle, their business has been booming, but other things just haven't been doing so well."
"There is already so many people who actually smoke marijuana, and I think legalizing it would just, like, get kids into more trouble."
Within minutes,  Thom learned the hard way how easy it is to get kicked out of a Tory rally.
Her interviews were cut short, as she was escorted out of the Pacific Gateway Hotel by campaign staffers, advised the rally was over.
It isn't the first time journalists have run into trouble with Harper's staffers.
Last week an Ontario reporter claimed she was denied access to a rally because she missed the security protocol window.
Until recently, rally attendees were banned from using social media during Harper's rallies.
Staffers also screen rally participants ahead of time.
CKNW website