Tuesday it was announced 'The Pepper and Dylan Show' is not only returning to Edmonton radio, but to 'The Bounce'
Not only is the show returning but we are returning to 91.7 The Bounce, the radio station that first took a chance on our show in 2006.
Our industry has changed a great deal since that first day we walked into the Bounce studio.
But, what hasn't changed is our belief that you are an audience who knows what you want, knows what you don't want and knows what you aren't getting enough of.
Now that we have been blessed with an opportunity to do it again, we are going to give you what you aren't getting elsewhere.
You can stream your favourite songs. There are a dozen apps for road reports. And you can read celebrity gossip on your phone.
You deserve better from your radio show.
The Pepper and Dylan Show won't be "the most music in the morning". It won't be "your source for hollywood gossip".
It will be a show.
On Tuesday, September 8th, The Pepper & Dylan Show returns. This time, we're doing it with no concessions, no apologies and no fear. We're doing it the way you want.
Because that's what you deserve.
And we can't wait.
Love ya!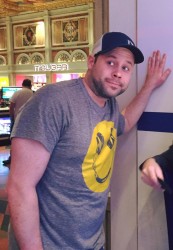 91.7 The Bounce is very excited to announce that The Mike Chalut Show will be joining forces with Edmonton's Heritage Radio Duo – Pepper and Dylan starting September 8th 2015.
Pepper and Dylan will kick off your morning from 5:30 am – 10 am, followed by Liann Cameron. The Mike Chalut Show will bring you home and keep the party going all day long in their new time slot 2pm – 7pm, and DJ Mike Thomas will still be spinning the 5 O'clock Traffic Jam! Don't forget Tyler Jordan, Miss Kyle, and Princess Zyiah will deliver non stop smiles for yo
http://www.thebounce.ca/2015/08/05/team-bounce-new-fall-lineup/