After receiving approval over 8 years ago from the CRTC,  Alberta's longest running country music radio station CFCW finally made a change of address from 790 on the AM dial, up to 840 AM. This historic moment took place yesterday, Saturday August the 1st, at 8:40 in the AM.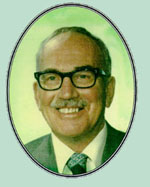 This isn't the first time the Hal Yerxa founded radio station has changed frequencies.
Puget Sound Radio thanks Bill Dulmage for helping fill in some of these historical dates….
1953
Camrose Broadcasting Co. Ltd. was granted a licence for a new AM station at Camrose, operating on 1230 kHz with a power of 250 watts
.
1954

Camrose Broadcasting Co. Ltd. opened CFCW at 1:00 p.m. on November 2. The station operated with 250 watts of power on a frequency of 1230 kHz, covering the Wetaskiwin, Camrose and East Central section of Alberta with a radius of 25 miles. The transmitter and single tower were located a mile and a half east of town. Studios and offices were located at 4832-50th Street in Camrose.
.
The opening broadcast was a presentation of the story of CFCW's listening area…the builders of the district, including the pioneers of the past and the service club members of past and present who helped mould the growth of the district. The station's music format covered a full range, from heavy classics to hot boogy and hill-billy.
.
Tom Shandro was Managing Director of Camrose Broadcasting and Manager of CFCW.  Hal Yerxa handled sales promotion and was production manager. He was already known to residents as "Uncle Hal" of the "Sunny Boy" program and for being MC at bingos and wrestling matches. He started in radio in Regina in 1936, was associated with the CBC in Toronto and later joined CJCA Edmonton as news editor. He was a former director of Central Alberta Broadcasting Co. (CKRD) Red Deer. Yerxa was a member of the Edmonton Stock Exchange, and was a partner in the brokerage firm of Yerxa & Mills, Ltd. in Edmonton.
.
CFCW was owned by Camrose Broadcasting Co. Ltd. (Hal J. Yerxa 61.2%, R. C. Byers 5.0%, E. W. Schnell 5.0%, J. E. Stuart 5.0 and 24 other shareholders 23.8%). Hal Yerxa was president of the company and CFCW's manager.
.
1960
CFCW became Canada's first full-time country music station in October.
.
CFCW received approval to increase power to 10,000 watts from 1,000 day and 250 at night, to change dial position from 1030 to 790 kHz, and to change the transmitter site. The board said the station needed the increase to expand its service to city and rural broadcast areas and to overcome increasing static interference from industrial establishments in the area.
.
1961
CFCW's frequency changed from 1230 kHz to 790 kHz. Power was raised from 1,000 watts to 10,000 watts.
.
1972
On December 20, Camrose Broadcasting Co. Ltd. was given permission to increase CFCW's power from 10,000 to 50,000 watts (directional).
.
1976
Power increased to 50,000 watts (day and night).
.
1979
CFCW Limited launched an FM station in Edmonton – CKRA-FM.
.
1989
On June 23, the CRTC approved the transfer of effective control of CFCW Ltd., (CKRA-FM Edmonton, CFCW Camrose and CHRK-FM Kamloops), through the transfer 90% of the Class "A" common voting shares held by CFCW Radio Ltd., which in turn was controlled by Harold J. Yerxa of Camrose, and 10% of the Class "A" common voting shares held by Warren H. Holte to Newcap Broadcasting Ltd.  NewCap was 100% owned and controlled by Newfoundland Capital Corp. Ltd. whose President and principal shareholder (43%) was Mr. Harry Steele. Mr. Yerxa, who founded CFCW Radio Ltd., stated that he has been seeking a purchaser for the stations for a couple of years, and that he considered that NewCap would ensure that the quality and level of local service would be maintained and enhanced in the years ahead. Warren Holte, who was Vice-President and General Manager of CFCW Ltd., would assume the role of President under a five-year management contract and Mr. Yerxa would become Chairman of the Board of Directors, which will be western based and include representation from Edmonton, Camrose and Kamloops.
.
1997
Hal Yerxa died at the age of 76 on April 12. He started in radio in the 1930's with the CBC. After serving in the war, he joined CKCK Regina. Yerxa then moved on to CJCA Edmonton and was involved with the launch of Red Deer's CKRD in 1949. He then became morning announcer at CKNW New Westminster. In 1953, Yerxa founded CFCW, which became one of the country's leading country music stations. Hal Yerxa was inducted into Alberta's Country Music Hall of Fame in 1991.
.
2008
On November 14, the CRTC approved the change of frequency for CFCW – from 790 kHz to 840 kHz. The proposed change would restore night time coverage to listeners in north-central Alberta, which has been reduced by noise and interference over time.
.
thanks again to  Bill Dulmage and Broadcasting-History.ca
There's much more on the link HERE
.