One of Winnipeg's most recognizable radio voices is leaving town.
By David Larkins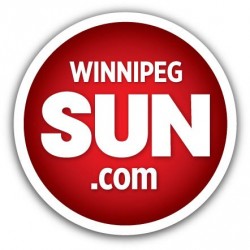 July 31, 2015
Charles Adler, a longtime fixture at radio station CJOB, announced at the start of his Thursday morning show that he has given the Corus-owned station notice. Like his morning show predecessor Peter Warren, Adler said he is moving to B.C. to be closer to family.
His last show at CJOB will be on Aug. 7. Geoff Currier, the longtime nighttime host, will be taking over Adler's show.
Adler has been at the station for 17 years, mostly as its mid-morning host, with a few years spent as a national afternoon host on Corus stations across the country. He also hosted a show for about two years on the now-defunct Sun News Network.
"Our hope is that we can, and Geoff can, provide the kind of content to that audience," CJOB general manager Scott Armstrong said. "Will it be somewhat different than what Charles offers? Sure it will be, perhaps stylistically. But from a content perspective, the content CJOB listeners are interested in, that focus doesn't change."
Adler's announcement comes on the heels of more reported layoffs at the station, which for the first time in decades lost its hold on the top spot in Winnipeg's radio ratings in the spring, to CBC Radio. Among the casualties is Jim Toth, who hosted an early-evening sports show.
Armstrong acknowledged the presence of all-sports TSN 1290 plays a role in how CJOB handles sports coverage.
"Notwithstanding our commitment as the home of the Bombers, sports outside of that has been not the focus for the radio station," Armstrong said. "In our research, when it comes to CJOB, our focus is not sports. Our focus is on news, local information, and traffic and weather and covering the breaking news. That's not to say we won't cover sports when sports is the biggest story of the day. It'll be our job to continue to reflect whatever Winnipeggers are talking about. There's a sports station in town and we don't anticipate chasing them in any form or fashion."
Repeated attempts to reach Adler Thursday were unsuccessful.
Radio needs to adapt
Read More HERE