Puget Sound Radio Proudly presents the continuing series of 'Dick Curtis Memories' In the first three instalments, Dick shared about his time as Frank Sinatra's road manager, followed by his next assignment with Bob Dylan.
Today Dick presents Dylan Tales-2
Enjoy….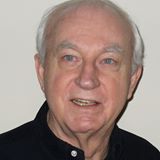 By Dick Curtis
PSR Contributor
July 13, 2015
 Dylan Tales-2
Copyright © 2006 by Dick Curtis
The Nippon Budokan Hall in Tokyo was a building that primarily was used for Sumo wrestling. The backstage area consisted of a considerable amount of marble. It had a very cold feeling. The food service was entirely Japanese. Being one that doesn't necessarily care for fish, except tuna or a rare barbequed salmon it was a tough way to go. Our gracious hosts and promoters, Tots and Udo treated Bob and me along with some of the others, to Kobe steaks following the shows. They also introduced a few of us to the "Bathhouse." I graciously accepted their invitation to Bathhouse B, where a geisha applied oil and massaged the body. Bob was taken to Bathhouse A, where I believe he received more than an oil job. Bob's liner notes on the "At Budokan" album include the words, "The more I think about it, the more I realized what I left behind in Japan – my soul, my music and that sweet girl in the geisha house – I wonder does she remember me?" The first set of three concerts at the Budokan went well but left us wondering if they really liked the show or not. While the audiences were very polite and appreciative, they also seemed terribly reserved. We were assured by the promoters that this is the normal reaction for Japanese music fans. We took their word for it. Then, following a day off, then we took the bullet train to Osaka. There Bob performed three shows at the Panasonic Gymnasium, which the Japanese call the Matsushita Denki Taiikukan, then back to Tokyo for five more shows at the Budokan Hall. About half-way to Osaka we stopped in Kyoto to view the temples. I was awestruck. It made one feel like you'd been swept back centuries. The beauty and overall feeling was breathtaking.
It was during those first few days in Tokyo that I began to know Patrick Stansfield. He was obviously a genius in his field of stage production but he was literally a mess. I walked into his room at the New Otani and there he was sprawled out on the bed. What looked like dozens of coke cans strewn around the place. You could cut through the smoke with a knife and he had a joint going at the time. He occasionally was snorting cocaine. People were coming and going constantly and Patrick was holding court – talking to his stage manager, his lighting director and sound man; sometimes all at the same time. Most of these people had worked with Patrick on Neil Diamond and were comfortable with his methods. Several of them had ties to Bill Graham. That's how Patrick worked and who cared how he conducted himself on his own time. What was presented on stage is all that mattered and when it came to stage production, there was none better than Patrick Stansfield.
We hadn't been in the city but a couple of days when we experienced one of those famous Japanese earthquakes. People were running out into the halls of the hotel seeing if everyone else was a scared as they were. I was alarmed when I looked out my window and saw the ground moving back and forth but what can you do. It felt like the building was bending. I sweated it out with the rest of the group. After what seemed like many minutes but was probably much shorter, everything subsided. I never did hear of any damage reports, with all the television news broadcast in Japanese, who knew. Dylan didn't flinch. He maintained what he was doing, sitting on his bed playing his guitar.
Following the final show at the Budokan, CBS Sony Records hosted a party for Bob and the band at Maxim's of Paris, of course in Tokyo. It was there that I met one of the most gracious men I'd ever come in contact with.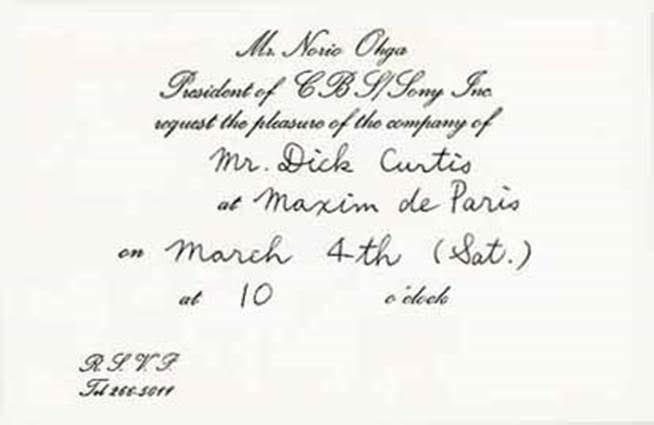 The host of the party, Mr. Norio Ohga, went on to become President and CEO of the Sony Corporation in 1989 but that's not the person I'm referring to. Akio Morita introduced himself to me. This unassuming man then proceeded to tell me that he and a friend founded Sony with five-hundred dollars of their mustering out pay from military service following World War II. He went on to say, "And now I employ twenty-thousand people."  The year was 1946 and the company that was to become such a giant in the electronics field was called Tokyo Telecommunications Engineering Corporation. The Japanese version of the name was Tokyo Tsushin Kogyo. Morita and his partner Masaru Ibuka eventually had twenty people working for them. Ibuka was 38 years old and devoted his energies to technological research and product development. The much younger Morita at 25 was instrumental in leading Sony in the areas of marketing, globalization, finance and human resources. The company name was changed to Sony in 1958, a move that many resented in Japan but Morita felt that Sony would be much easier to pronounce and remember. He felt that would be very important if the company hoped to develop a global presence.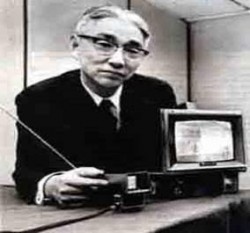 The name was further changed to the Sony Corporation and in 1960 Morita and Ibuka felt it was time to come to the United States where the Sony Corporation of America was formed. Soon after, in 1963 Morita moved his entire family to the United States, living in a large Fifth Avenue apartment in Manhattan. He felt in that way he would understand Americans; get to know their marketing practices, their customs and regulations, thereby increasing the chance of his company's success. A few years later Mr. Morita wrote a book called "Never Mind School Records" and stressed that school records are not important in carrying out a job. Akio Morita passed away in 1999 in Tokyo, a victim of pneumonia. He was 78 years old.
The party at Maxim's was like any good record company get-together in the United States with one exception. The Japanese are such a gracious and giving people. We were all presented with gifts to remember the occasion and our stay in Japan. Many received Video Cassette Recorders, which were a new item at the time. I was given a small seven-band Sony portable radio which I use to this day. CBS Sony was very happy that they had a new Bob Dylan album to promote; one recorded in their own country, Bob Dylan – "At Budokan."  When the album was released I was pleased to see I'd received album credits. Album credits on a Bob Dylan release…not too shabby.
Next stop New Zealand.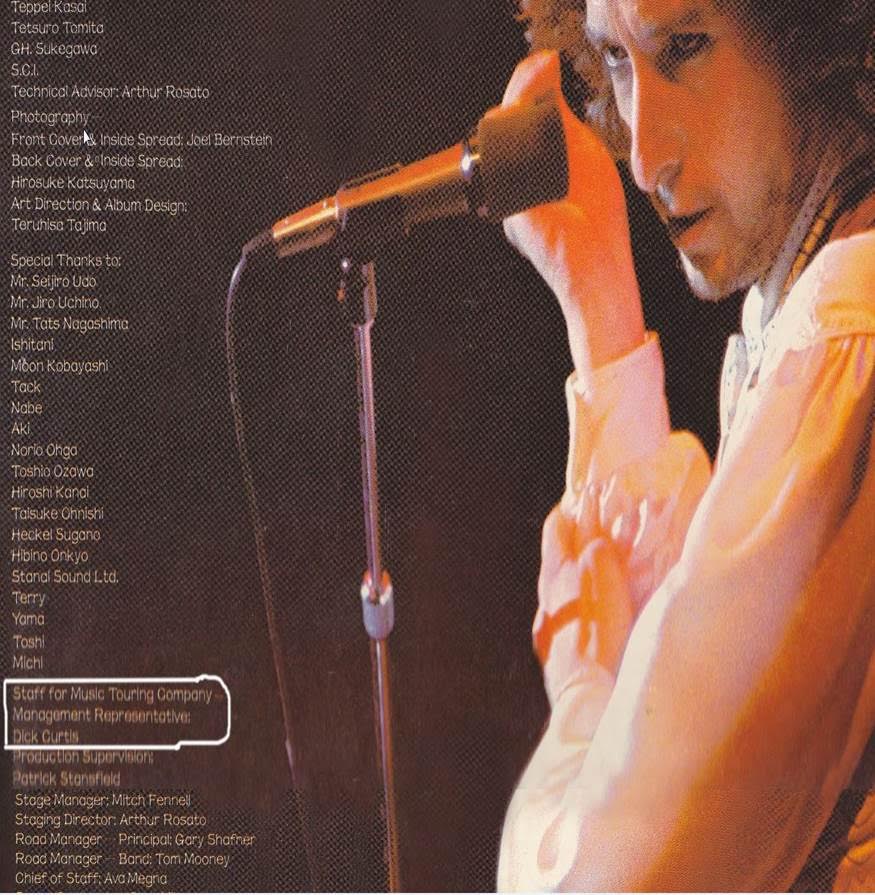 I was glad to have Japan behind us and now we were heading into New Zealand for a large outdoor show in Auckland – then on to Australia for a series of concerts. Remember now, I was getting my first taste of actual artist management; something totally new to me. I'd been a tour manager or road manager for several different acts but never this much responsibility. I did quickly come to learn that this was a whole lot easier than being a concert promoter. Why hadn't I discovered this years earlier. So far the only problem that had cropped up, aside from the daily minor ones, was one involving the background singers. The members of this band had all been around for many years and were pros and nice people but Debi Dye was a "pain in the ass." She was constantly complaining mostly about Helena Springs. That was a mistake on Debi's part because you could see from the beginning that Springs, a very attractive African-American lady, had Dylan's eye and ear. I figured, most likely other body parts too. In Fact Dylan and Springs went on to write many songs together while on this tour, most, if not all, went unreleased. Its true Helena wasn't as accomplished as the other two singers. Jo Ann Harris, the third singer was smart and remained fairly quiet on the issue. Rob Stoner had also complained to Dylan about Springs quite often. He was just doing his job but in doing it Stoner wasn't looking at the big picture, "job security."
Following our tour of the Far-East and Australia, Dye was replaced by another African-American, Carolyn Dennis. Carolyn was one heck of a singer with quite a resume. Dennis had been a background vocalist with the Carpenters, another Weintraub act. Dennis had been one of the singers on the famous Stevie Wonder album, "Songs In The Key Of Life." She would also appear throughout the eighties and nineties on Michael Jackson sessions, with Donna Summer, Olivia Newton-John, Harry Chapin, Gladys Knight and many others including Bob Dylan. Dennis would go on to become Dylan's wife in 1986 only no one knew about it. The two remain secretly married for years. Their marriage was discovered by a biographer in the early nineties. The couple divorced in 1992 but she gave Bob a baby girl, Desiree Gabrielle Dennis-Dylan. Rob Stoner was also released from his contract following the Australian dates.
Stoner was replaced by Jerry Scheff. Scheff had played with Billy Preston, 60's Rock 'n Roll drummer and producer Hal Blaine, the jazz guitarist Barney Kessel, had been on the "bubble gum" hits like Tommy Roe's "Sweet Pea" session, the Bobby Sherman hits, the Archie's and Tiny Tim.  Scheff had recording sessions with Johnny Mathis, Johnny Rivers, Neil Diamond, The Everly Brothers, Linda Ronstadt, Barbra Streisand, The Doors, Elvis Presley – well you get the picture.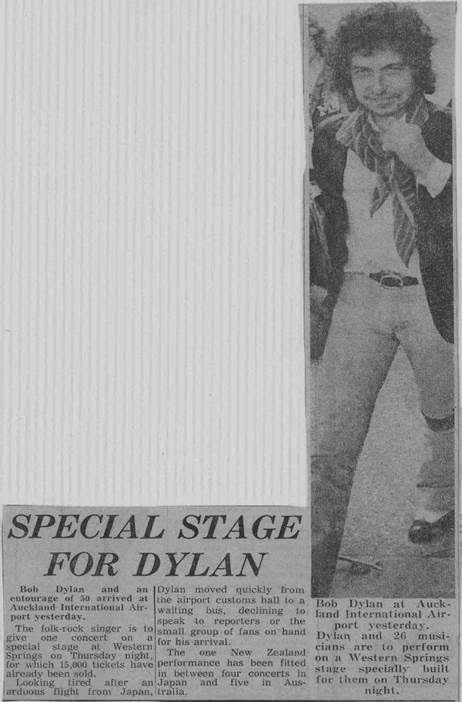 Dylan's arrival in Auckland, New Zealand
We traveled to New Zealand through China, changing planes in Hong Kong. It was a different feeling in the heavily guarded airport. It seems there were an unusually large number of guards with guns patrolling the airport, especially where passengers deplaned or boarded. We were traveling through and to places I'd never been. I'd traveled to Europe and North Africa in my past but never to the Far East or Australia. It was evening when we pulled into New Zealand.
I'll always remember Auckland. I thought I'd stepped back into the early fifties in the United States. That's just the way it felt to me, don't ask me why. It was there that I renewed acquaintances with a man who would be our promoter throughout Australia and New Zealand, Pat Condon.  I'd spent some time with Pat in Los Angeles prior to the tour. He was a brilliant promoter and the managing director of AGC Parradine, the promotion company's official name. Pat took the time to make lasting friends. Pat Condon was very good at what he did and didn't miss a trick. Condon and about twenty young females he'd flown in from Australia met us at the hotel in Auckland. The troupe was invited to a party he had put together in our honor. This would set the mood for the next few weeks we would be spending together. I can't remember her name now but I was paired up with a lady that had been actor George Peppard's live-in girlfriend not so long ago in Los Angeles. This person was very intelligent and I enjoyed her company but I was married and told her so. I saw her a couple of times during the three days in Auckland but when we left for Australia I said goodbye. She did call me a year later in Los Angeles and I once again had to remind her I was married. I surmise she saw me as a way back to the states. I believe we played to something less than thirty-thousand people at an outdoor facility in the Western Springs area of Auckland and it was on to Australia where Dylan last appeared a dozen years ago.
Dick Curtis
For parts 1, 2 & 3, Click HERE