Thanks to Gord Lansdell of 'Northwest Broadcasters' for passing along word that veteran Vancouver news anchor Brian Brenn has announced his retirement from News1130 CKWX AM,  where he has been co-anchoring weekend mornings since he announced his previous "retirement" in 2008.  Prior to that he had been a full time news anchor at News1130 since 1996. Before News1130 he was a news anchor at CHQM Vancouver during the 1970s to the early '90s.  Brian got his start in radio in 1964 when I hired him out of UBC Radio for general announcer duty at CKWX.  Thanks to 'Vancouver Broadcasters' for the above 'Then & Now' pictures.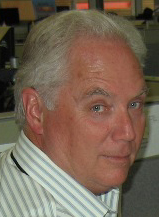 Meanwhile long-time CBC Radio Vancouver reporter, news reader and program host Terry Donnelly (above) retired at the end of June.  He had been with the Corporation since 1976.  According to 'Vancouver Broadcasters' his career resume is as follows:
BCIT Journalism Graduate 1977; stringer CJOR Vancouver 1976; intern BCTV Vancouver 1977; reporter, editor, news reader, specials producer, occasional program host CBC Radio Vancouver 1976-2015; retired 2015; BC RTNDA award winner 1991 & 2007; Jack Webster award for Best Reporter Radio 1992; CBC Radio Mentor of the Year 2006.
Again, thanks to 'Vancouver Broadcasters' for the recent photo.