ON THIS DAY in 1908
orchestra leader John Scott Trotter was born in Charlotte NC. He was musical director for Bing Crosby on NBC Radio's "Kraft Music Hall" (1937-1946), on his Decca records, on Bing's Philco transcribed ABC show until 1954, and later for Bing's TV sitcom in the 1960's.  He was also orch. leader on the George Gobel Show on NBC TV in the '50's.  Later he directed the music for the Charlie Brown cartoon specials. He died of cancer Oct. 29 1975 at age 67.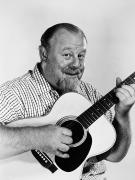 In 1909, folk singer and actor Burl Ives was born in Hunt Illinois. His CBS radio series Wayfaring Stranger beginning in 1944, popularized many of the folksongs he had collected in his travels. By the 1960s, he had hits on both popular and country charts.  Some of the more memorable include The Blue Tail Fly, A Holly Jolly Christmas, A Little Bitty Tear, Funny Way of Laughin', & Call Me Mr. In-Between.  He made more than three dozen appearances on TV, including a recurring role on the series Alias Smith & Jones.  He died of mouth cancer at Anacortes Wash. Apr 14, 1995 at age 85.
In 1916, actress Dorothy McGuire (below)was born in Omaha Nebraska. On the small screen she was featured in Rich Man, Poor Man, & the series Little Women, with a recurring role in the daytime drama The Young & The Restless.  She guested several times on St. Elsewhere, Highway to Heaven & The Love Boat.  She died of heart disease Sept. 13, 2001 at age 85.

In 1922, a U.S. President was heard on the radio for the first time. President Warren G. Harding dedicated the Francis Scott Key Memorial and was heard on radio station WEAR in Baltimore.
In 1923, it was the beginning of the country music recording industry. Ralph Peer of Okeh Records recorded Fiddlin' John Carson doing The Little Old Log Cabin in the Lane — and the first country music recording was in the can.
 In 1937, "The Happy Gang" troupe of musicians, led by singer-pianist Bert Pearl, made their first broadcast on station CRCT, a C-B-C affiliate in Toronto, with Kay Stokes, Bob Farnon and Blaine Mathe. It became a NATIONAL listening habit 4 months later, and would run for 22 years (and nearly 49-hundred shows) until 1959.  Pearl died in 1986.
In 1939, Ethel Waters became the first African-American to perform on television, when NBC featured her in two experimental programmes: The Ethel Waters Show and Mamba's Daughters.
In 1949, Frankie Laine recorded the first of his three straight Gold Records for the Mercury label, "That Lucky Old Sun."

In 1950, after 13 years on the radio (beginning on the Fibber McGee & Molly Show) Harold Peary played the role of The Great Gildersleeve one final time. Three months later Willard Waterman seamlessly took over the role, and the show continued successfully for another eight years on radio and for several years on TV as well.
In 1953, Elvis Presley graduated from L-C Humes High School in Memphis. His first post-graduation jobs were with the Precision Tool Company and then driving a truck for Crown Electric.
In 1956, the No. 1 Billboard Pop Hit was "The Wayward Wind," by Gogi Grant.

In 1958, in New Orleans, Fats Domino recorded a future Top 20 single, "I'm Gonna Be A Wheel Someday."
In 1959, Connie Francis sang her latest hit single, "Lipstick on Your Collar" on the CBS-TV Ed Sullivan Show. Brook Benton sang his first Top 20 hit "Endlessly," while Henny Youngman and Canada'sWayne & Schuster supplied the comedy.
In 1961, country singer Patsy Cline suffered serious head and hip injuries in a head-on car crash in Madison, Tennessee, that killed the couple in the other car. Patsy sustained head injuries after being thrown through the windshield.  She would die in a plane crash nearly two years later.
Also in 1961, rocker Gene Vincent was knocked unconcious after a show in Newcastle, England when he was rushed by his young fans and shoved down a stairway.
In 1964, the No. 1 Billboard Pop Hit was "Chapel of Love," by The Dixie Cups.

In 1965, pioneering newscaster/commentator H.V. Kaltenborn, the distinctive radio voice with precise diction who before, during and after World War II provided insight and analysis on world affairs in his mostly ad-lib style, died at age 86.
Also in 1965, Paul McCartney recorded "Yesterday." That same day Bob Dylan recorded "Like A Rolling Stone."
In 1966, The Beatles spent 7 evening hours in the Abbey Road Studios working on "Here, There And Everywhere." Paul McCartney, John Lennon and producer George Martin all labelled it one of their favorite Beatles songs. In 2000, Mojo magazine ranked it the 4th greatest song of all time.
In 1967, "The Steve Allen Comedy Hour," Steve's 2nd prime time TV series, premiered on CBS.
Also in 1967, The Doors performed at Steve Paul's Scene in New York City. Jimi Hendrix was in the audience.

Still in 1967, The Monkees began recording "Daydream Believer." It would be completed 7 weeks later.
In 1968, Ernest (Pop) Stoneman, leader of one of the most famous family groups in country music, died in Nashville at 75.
In 1969, R&B singer Wynonie Harris (Bloodshot Eyes, Good Rocking Tonight, Who Threw the Whiskey in the Well) died of esophageal cancer at age 53.
Also in 1969, in London John & Yoko recorded a lengthy interview with David Frost which appeared three weeks later on his syndicated US talk show.
Still In 1969, the Rolling Stones announced they'd formed their own record company. Rolling Stones Records was a subsidiary of Atlantic.
In 1970, CBS-TV's Ed Sullivan show was headlined by Tommy James & the Shondells playing "Ball of Fire" & "I'm Alive."
Margaret Whiting and Sergio Franchi also sang; the legendary comedienne Moms Mabley sang "Abraham, Martin & John,"  while Ben Stiller's parents, the comedy team of Stiller & Meara performed a comedy sketch with Franchi.

Also in 1970, Blood, Sweat & Tears became the first Western rock band to play Soviet bloc countries, opening a tour of Yugoslavia, Romania and Poland.
Still in 1970, Eric Clapton's Derek & the Dominoesmade their live debut in Britain.
Again in 1970, Grand Funk Railroad spent $100,000 for a block long billboard in New York's Times Square to advertise their album "Closer to Home."
Once more in 1970, The Grateful Dead released their "Workingman's Dead" LP.
In 1972, up to 300 people tried to crash the gate at a Rolling Stones concert in Tucson, Arizona. Police were called in with tear gas to disperse the crowd.
Also in 1972, at Madison Square Garden in New York, actor Warren Beatty held his fifth benefit concert for Democratic Presidential hopeful George McGovern.  It featured singers Simon & Garfunkel, and Peter Paul & Mary, plus the comedy team of Mike Nichols & Elaine May.
Still in 1972, Led Zeppelin played the first of two nights at the Nassau Coliseum, Uniondale, New York.

In 1974, David Bowie opened his "Diamond Dogs" tour at the Montreal Forum. Instead of his Bowie's flamboyant "Ziggy Stardust" persona, Bowie stunned his fans with a conventional hairstyle and a two-piece suit for the opening number.
Also in 1974, the No. 1 Billboard Pop Hit was "Billy, Don't Be a Hero," by Bo Donaldson & the Heywoods.
In 1975, America reached the top spot on the Billboard pop music chart with Sister Golden Hair. The group had previously (March, 1972) taken A Horse With No Name to the number one spot. The trio of Dan Peek, Gerry Beckley and Dewey Bunnell had received the Best New Artist Grammy in 1972.
In 1976, the Beatles were awarded a gold record for the compilation album of past hits titled, Rock 'n' Roll Music.

Also in 1976, the Chuck Barris off-beat talent show "The Gong Show" made its debut on NBC TV's daytime schedule.
In 1977, Canadian folksinger Alan Mills died in Montreal at age 63. Mills made more than 30 L-Ps, was the host of C-B-C Radio's "Folk Songs For Young Folks" from 1947 to '59 and appeared at the 1960 Newport Folk Festival. He wrote the popular folk song "I Know An Old Lady Who Swallowed a Fly.'
Also in 1977, two other obits from the world of TV & radio.  Alan Reed, who was prominent in bigtime radio, notably as Falstaff Openshaw in Fred Allen's Alley, as well as the voice of TV's Fred Flinstone, died at age 69.  And Robert Middleman, who played Barney on TV's The Monroes, died at age 66.
Still in 1977, CBC President Al Johnson asked for public input in changing the corporation's program philosophy.

In 1979, it was reported that members of the southern blues-rock band Little Feat had gone their separate ways after 10 years together. Group leader Lowell George died of a heart attack two weeks later at age 34. The surviving members of Little Feat made a successful comeback in 1988.
In 1980, "Theme From New York, New York" by Frank Sinatra peaked at #32 on the pop charts.
Also in 1980, Billy Joel started a six-week run at No.1 on the Billboard album chart with 'Glass Houses', his second chart topping album.
In 1982, actress Marjorie Bennett, who played Blossom on TV's Dobie Gillis, and Birdie Brockway on the series Lassie, died of cancer at age 87.
Also in 1982, the Pretenders fired bass player Pete Farndon. Two days later the band's guitar player, James Honeyman-Scott, died. Farndon died of a drug overdose in 1983.

In 1986, zoologist Marlin Perkins, the host of Mutual of Omaha's "Wild Kingdom," and before that NBC TV's "Zoo Parade," died near St. Louis at age 81.
Still in 1986, Oscar- and Tony-winning lyricist and composer Alan Jay Lerner died of lung cancer in New York at age 67. With Frederick Loewe, Lerner wrote the Broadway musicals "Camelot," "Brigadoon" and "My Fair Lady."
Also in 1986, students at Collegiate High School in Passaic, New Jersey were treated to a concert by Bon Jovi. They won the honour by submitting 13-hundred postcards in a contest — 13-hundred cards per student!
Again in 1986, "On My Own" by Patti LaBelle & Michael McDonald topped the charts and stayed there for 3 weeks. The pair recorded their vocal parts separately and had never met until after the song went to number one.

Also in 1986, after 29 years of what was considered North America's longest-running continuously-published radio station survey, CHUM Radio in Toronto published its last weekly music chart.  It's last #1 song was "Live to Tell" by Madonna.
In 1987, the action-adventure series "A Team," last aired on NBC-TV after 4 years.
Also in 1987, Madonna (below) played the first date on her Who's That Girl World Tour at the Osaka Stadium in Japan. The tour became the highest-grossing tour up to that time, taking in more than $20 million.

Still in 1987, the No. 1 Billboard Pop Hit was "Head to Toe," by Lisa Lisa & Cult Jam.
In 1988, Edmonton pianist Angela Cheng became the first Canadian winner of the Montreal International Music Competition.
Also in 1988, rocker Chuck Berry was sued for $5 million by a woman who claimed he punched her in the mouth during an argument.
In 1989, Zsa Zsa Gabor was arrested for slapping a Beverly Hills motorcycle patrolman.
Also in 1989, singer Bruce Cockburn received an honourary degree from Toronto's York University for his work in aid of humanitarian causes.

Still in 1989, singer/songwriter Carole King helped unveil her new star on the Hollywood Walk of Fame.
In 1991, on their tour of the US West Coast Nirvana appeared at The Palladium in Hollywood.
In 1992, 38 people were slightly hurt and 28 arrested after violence broke out among 75-thousand people at a beachfront sports and music festival in Belmar, New Jersey. The trouble started after the town asked the sponsor of the event, M-T-V, to close the festival an hour early after cars were vandalized.
In 1994, film and television composer Henry Mancini(below) died in Beverly Hills, California of liver and pancreatic cancer. He was 70.

In 1995, an estimated one-in-four Americans watched Diane Sawyer interview Michael Jackson and his wife, Lisa Marie Presley on A-B-C's "PrimeTime Live." It was the couple's first interview since their surprise marriage a year earlier. They divorced the following year.
Also in 1995, Irish blues guitarist Rory Gallagher died in London of complications following a liver transplant. He was 47. Gallagher had hit his peak in 1972 and '73 with the albums "Live in Europe" and "Blueprint."
In 1997, stocky tough guy character actor Richard Jaeckel, who had running roles in the TV series Baywatch, Spenser For Hire, Supercarrier, Salvage 1 & Firehouse, died of cancer at age 70.

Also in 1997, record collector and critic Clyde Gilmour ended his more than 40-year run as host of "Gilmour's Albums" Sundays on C-B-C Radio. (In the '40's he reviewed films for CKWX Vancouver.) Illness forced the 85-year-old Gilmour to call it quits. He died five months later.
Still in 1997, Puff Daddy and Faith Evans started a 11 week run at No.1 on the Billboard singles chart with 'I'll Be Missing You', a tribute to the late Notorious B.I.G.
Again in 1997, at the City of Hope Softball Game at Greer Stadium in Nashville, not all was fun and games. A peg from teammate Doug Supernaw caught Canadian country singer Terri Clark square in the face, leaving her with extensive soft tissue injuries and a fracture in her left cheekbone.
Also in 1997, the final episode of "Lois and Clark" aired on ABC.

In 1999, at the TNN Music City News Country Awards, Faith Hill and husband Tim McGraw cemented their claim as the new queen and king of country music. Hill was the evening's top winner, receiving five honors. McGraw received the best male vocalist accolade.
In 2000, Fox-TV's animation hit "The Simpsons" received a star on the Hollywood Walk of Fame.
In 2002, Mick Jagger became a Sir when he was knighted in the Queen's Birthday Honours.
Also in 2002, in Lubbock Texas, a power failure ended a Britney Spears concert after only two songs.
In 2003, jazz trombonist Jimmy Knepper died at age 75 due to complications from Parkinson's disease.

Also in 2003, Bryan Adams (above), Iggy Pop and Paul Weller all appeared at a weekend festival at The Isle Of Wight.
In 2004, 71-year old James Brown pleaded 'no contest' to a domestic violence charge in South Carolina. The plea deal involved no jail time, instead he had to forfeit a $1087 bond.  Brown was charged with pushing his wife to the floor during a January argument in which Tomi Rea Brown suffered scratches and bruises to her right arm and hip.
In 2006, Shakira kicked off her 99 date Oral Fixation world tour in Zaragoza, Spain. Attended by over 2 million fans, the tour grossed more than $98 million dollars.

Also in 2006, Rufus Wainwright recreated the whole of Judy Garland's legendary 1961 Carnegie Hall concert at the famous New York City institution, in marking the show's 45th anniversary.
In 2008, Paul McCartney gave a free concert in the Ukrainian capital of Kiev – in the city's Independence Square. More than 350,000 people turned out for two-and-a-half-hour show – reportedly the biggest concert in the country's history.
Also in 2008, Usher was at No.1 on the Billboard album chart with his fifth studio album 'Here I Stand.'

In 2009, Bob Bogle, the co-founder and original lead guitarist of the Tacoma-based early rock band The Ventures, died in Vancouver of non-Hodgkin's lymphoma at age 75.
In 2011, "A Treasure," collection of live Neil Young recordings from '84-'85, was released. The album contained previously unreleased tracks.
In 2012, actress/comedienne Yvette Wilson, who had featured roles in more than 100 episodes each of the sitcoms Moesha and its spinoff The Parkers, lost her battle with cervical cancer at age 48.
Also in 2012, Gordon Lightfoot and Bob Seger were in New York City to be inducted into the Songwriters Hall of Fame, at its 43rd Annual Induction and Awards Dinner.
Today's Birthdays:
Actress Marla Gibbs (Jeffersons, 227, The First Family) is 84.
Actor Jack Bannon (Lou Grant, Petticoat Junction) is 75.
Singer Rod Argent of The Zombies and Argent is 70.
Businessman-TV personality Donald Trump (The Apprentice) is 69.
Guitarist Barry Melton of Country Joe & the Fish is 68.
Drummer Alan White of Yes is 66.
Actor Eddie Mekka (Carmine on Laverne and Shirley) is 63.
Actor Will Patton (Falling Skies, The Agency, Numb3rs) is 61.
Singer Boy George (O'Dowd) is 54.
Actress Kim Lankford (Knot's Landing, Murphy's Law) is 53.
Actress Traylor Howard (Monk, Boston Common, Two Guys a Girl & a Pizza Place) is 49.
Actress Yasmine Bleeth (White Collar, Baywatch, Titans, Nash Bridges) is 47.
Actor Stephen Wallem (Nurse Jackie) is 47.
Actor Faizon Love (The Parent 'Hood) is 47.
Actor Regan Burns (Dog With a Blog) is 47.
Actor Michael Cade (California Dreams, General Hospital) is 43.
Writer/producer Diablo Cody (United States of Tara) is 37.
Creston BC-born actress Pascale Hutton (When Calls the Heart, Arctic Air, Intelligence) is 36.
Actor Chauncey Leopardi (Freaks & Geeks, Gilmore Girls) is 34.
Actor J. R. Martinez (Dancing With the Stars, All My Children) is 32.
Vancouver-born actor Torrance Coombs (Reign, Heartland, End Game) is 32.
New Westminster BC-born actor Tyler Johnston (Less Than Kind, Grand Star) is 28. 
Montreal-born actress Jordan Hayes (Helix) is 28. 
Actor Kevin McHale (Glee) is 27.
Actress Lucy Hale (Pretty Little Liars, Privileged) is 26.
Actor Daryl Sabara (Father of the Pride, Miss/Guided) is 23.
Chart Toppers – June 14
1946
The Gypsy – The Ink Spots
All Through the Day – Perry Como
They Say It's Wonderful – Frank Sinatra
New Spanish Two Step – Bob Wills
1955
Cherry Pink and Apple Blossom White – Perez Prado
Rock Around the Clock – Bill Haley & His Comets
Learnin' the Blues – Frank Sinatra
In the Jailhouse Now – Webb Pierce
1964
Chapel of Love – The Dixie Cups
A World Without Love – Peter & Gordon
Love Me with All Your Heart – The Ray Charles Singers
Together Again – Buck Owens
1973
My Love – Paul McCartney & Wings
Frankenstein – The Edgar Winter Group
Pillow Talk – Sylvia
You Always Come Back (To Hurting Me) – Johnny Rodriguez
1982
Ebony and Ivory – Paul McCartney with Stevie Wonder
Don't You Want Me – The Human League
The Other Woman – Ray Parker Jr.
For All the Wrong Reasons – The Bellamy Brothers
1991
More Than Words – Extreme
I Wanna Sex You Up – Color Me Badd
Rush, Rush – Paula Abdul
Meet in the Middle – Diamond Rio
2000
Oops I Did It Again – Britney Spears
I Turn To You – Christina Aguilera
Be with You – Enrique Iglesias
The Way You Love Me – Faith Hill
2009
Boom Boom Pow – Black Eyed Peas
Halo – Beyoncé
Poker Face – Lady Gaga
Then – Brad Paisley