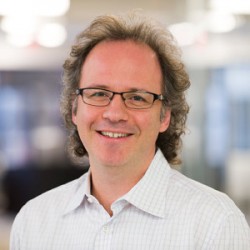 By Michael Geist

June 8, 2015
Bell Media president Mary Ann Turcke sparked an uproar last week when she told a telecom conference that Canadians who use virtual private networks (VPNs) to access the U.S. version of Netflix are stealing. Turcke is not the first Canadian broadcast executive to raise the issue – her predecessor Kevin Crull and Rogers executive David Purdy expressed similar frustration with VPN use earlier this year — but her characterization of paying customers as thieves was bound to garner attention.
My weekly technology law column argues that Turcke's comments provide evidence of the mounting frustration among Canadian broadcasters over Netflix's remarkable popularity in Canada. Netflix launched in Canada less than five years ago, yet reports indicate that it now counts 40 per cent of English-speaking Canadians as subscribers. By contrast, Bell started its Mobile TV service within weeks of the Netflix launch, but today has less than half the number of subscribers.
While Canadian broadcasters may be unhappy with subscribers that access the U.S. service, the problem is primarily a competitive issue, not a legal one. Some estimate that 25 per cent of Canadian subscribers have used a VPN to access Netflix. That means 75 per cent of subscribers – millions of Canadians – are content with the Canadian service that offers the largest Netflix library of content outside of the U.S.
Read More HERE