ON THIS DAY in 1878,
Canadian Governor General Lord Dufferin and his wife were treated to a demonstration of Thomas Edison's recent invention, the phonograph, at Rideau Hall in Ottawa. The early phonograph both recorded and played back crude reproductions of the human voice on a tin-foil covered cylinder, and was not yet used for recording music. Lady Dufferin wrote in her diary that "we were so amazed when we heard this bit of iron speak."
                                                                            In 1893, the Arion Male Voice Choir gave its first concert at Institution Hall in Victoria. Named for Arion, the poet-singer of ancient Greece, it is, in 2014, probably Canada's oldest male choir devoted to the singing of secular music.
                                                                                                                                                                           In 1907, actor Horace McMahon was born in South Norwalk Conn.  He had feature roles in early TV's Naked City & Martin Kane Private Eye, as well as scores of guest roles.  He died of a heart ailment Aug 17 1971 at age 64.
In 1920, radio & TV critic of the New York World-Telegram Harriet Van Horne was born in Syracuse NY.  She was a regular panelist on NBC TV's Leave it to Girls in the 1950's.  She died of breast cancer Jan 15 1998 at age 77.
In 1933, terminally-ill singer Jimmie Rodgers began recording a series of 24 songs for RCA Victor. He died of tuberculosis nine days later at the age of 35.
In 1937, Teddy Hill and His Orchestra recorded "King Porter Stomp" for RCA Records in New York; one of the featured musicians was a newcomer, trumpeter Dizzy Gillespie.

In 1938, the radio quiz show for the intelligentsia "Information Please!" premiered on the NBC Blue Network.  Under the hosting care of Clifton Fadiman it lasted ten years on radio, with a short revival on TV in 1952.
In 1939, nearly 1800 fans crowded into the Glen Island Casino in New Rochelle, New York to attend an unusual dual-network dance remote radio broadcast of the suddenly very popular Glenn Miller and His Orchestra that was aired on both NBC and Mutual.
In 1943, The Jack Kirkwood Show made its NBC debut, after 5 years locally in San Francisco.  A very funny man, Kirkwood would eventually become second-banana on the Bob Hope radio show, and continue with his own various network radio features through early 1953.
In 1948, the No. 1 Billboard Pop Hit was the exotically tuneful "Nature Boy," by Nat King Cole.
In 1952, the instrumental "Blue Tango" by Leroy Anderson topped the charts and stayed there for 5 weeks.
Also in 1952, singer Johnny Horton debuted on "The Louisiana Hayride," the influential radio (and later television) country music show broadcast from the Municipal Memorial Auditorium in Shreveport, Louisiana.
In 1958, when he was just 22, "Jerry Lee Lewis Day" was held in his hometown of Farriday, LA. It was the first of what would become an annual event.

In 1961, the final episode of "You Bet Your Life" aka "The Groucho Show" was taped.
In 1962, singer Frank Ifield was at the Abbey Road Studios in London to record his biggest hit, a yodelling country version of a 20-year old Johnny Mercer composition, "I Remember You."
In 1963, the first Monterey Folk Festival in California featured performances by Bob Dylan, Pete Seeger, Joan Baez and Peter, Paul & Mary over the three-day weekend.
In 1964, Bob Dylan appeared at the Royal Festival Hall in London, his first major British concert. On the same day two years later, Dylan played Manchester, England — a performance captured on a legendary bootleg LP which was finally released legally by Columbia Records in 1998.
In 1967, working at the Abbey Road studios The Beatles began recording a new John Lennon song 'You Know My Name (Look Up the Number)'. The song was not finished until November 1969, and was not released until March 1970 (as the B-side of the 'Let it Be' single).
In 1969, Chicago Transit Authority released its first album, a self-titled double LP. The band was sued by the real Chicago Transit Authority and had to shorten its name to just Chicago.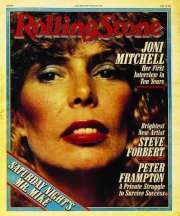 Also in 1969, Canadian singer-songwriter Joni Mitchell was featured on the cover of Rolling Stone magazine, which sold in that era for just 35 Cents.
In 1971, Elvis Presley was in RCA Victor studios in Nashville to record one of his lesser Top 40 entries, the ballad "Until It's Time For You To Go," by Canadian singer/songwriter Buffy Ste. Marie.
Also in 1971, Paul McCartney and his wife Linda McCartney released the album "Ram," their only album together.
In 1973, Stevie Wonder released what would become his third #1 pop hit single, "You are the Sunshine of my Life."
Also in 1973, two albums by The Yes, "Yessongs" (their triple-record live set) and "The Yes Album" were certified as Gold Records.
In 1974, the Elton John TV special "Say Goodbye To Norma Jean And Other Things" aired on ABC.

Also in 1974, NBC-TV's "Midnight Special" aired another salute to the 1950s and '60s, with Frankie Avalon as host, and performances by the likes of Sam & Dave, Lou Christie, Frankie Ford, the Fleetwoods, Shirley & Lee, and Fabian.
Still in 1974, the No. 1 Billboard Pop Hit was the novelty "The Streak," by Ray Stevens.
In 1975, in Long Island, New York, Mick Jagger tripped and, as he tried to break his fall, put his fist through the window of a restaurant. He required 20 stitches but the Rolling Stones' North American tour proceeded in two weeks as planned.
Also in 1975, Elton John was awarded a platinum record for sales of a million copies of his album, "Captain Fantastic and the Brown Dirt Cowboy." It was the first album to sell a million copies on its first day of release.

Still in 1975, Earth Wind and Fire started a three-week run at No.1 on the Billboard album chart with the soundtrack to 'That's The Way Of The World.'
Again in 1975, NBC-TV paid $5 million for the rights to air the 36-year old movie blockbuster "Gone with the Wind" just one time.
In 1976, the 28th Emmy Awards saw top honors taken by the Mary Tyler Moore Show, Jack Albertson (Chico & The Man) & Michael Learned (The Waltons.)
In 1978, ABC aired the musical TV special "The Carpenters: Space Encounters."
In 1979, toward the end of their first Around the World tour The Police appeared at the Santa Monica Civic Auditorium in California. They would play Seattle and Vancouver a few days later.
In 1980, drummer Peter Criss left Kiss to start a solo career.
Also in 1980, Paul & Linda McCartney were the musical guests on Saturday Night Live and performed their new single "Coming Up." Host that week was the very funny Steve Martin.
In 1983, the No. 1 Billboard Pop Hit was "Let's Dance," by David Bowie.

In 1984, radio station CFRB journalist and broadcaster Gordon Sinclair, a permanent panelist on CBC's Front Page Challenge, died after a heart attack, at age 83.
In 1985, on the season finale of the CBS TV prime time soap Dallas, the character of Bobby Ewing (played by Patrick Duffy, died after being fatally wounded in a car crash.  Within the year Duffy had changed his mind about leaving, bringing about the infamous storyline in which Bobby's death was explained as merely a dream.
In 1986, "Greatest Love of All" by Whitney Houston topped the charts and stayed there for 3 weeks. It was her 3rd #1 song.
Also in 1986, "Chicken Song" by Spitting Image hit #1 on the UK pop chart.
In 1987, an arson fire destroyed Tom Petty's house in the Encino district of Los Angeles. The loss was estimated at $800,000.

In 1988, a deadlocked jury forced a judge in Athens, Alabama to declare a mistrial in a 1.3-million-dollar suit filed by two teens against the heavy metal band Motley Crue. The two said they were injured at a 1985 concert when a special effects display propelled dry ice into the audience. One youth said he lost his right eye, the other claimed his face was cut.
In 1989, promoters announced the cancellation of a July 5th Montreal concert by The Who due to poor response at the box office. However demand was reported as heavy for the tour's other 25 dates.
In 1990, Cheers' star Kelsey Grammer was sentenced to jail for 30 days for Driving While Intoxicated.
Also in 1990, Nirvana played the last date of a North American tour at the Zoo in Boise, Idaho. This was Chad Channing's final gig with the band, drummer Dave Grohl replaced him in September '90 after his band Scream split-up.
In 1991, it was announced that Rogers Communications Inc. would acquire Skyline Cablevision Ltd. of Ottawa for $70 million; then pay another $5 million for the French language community channel.

In 1992, champagne music maker Lawrence Welk died at his home in Santa Monica, California at age 89. People laughed at his corny music, but "The Lawrence Welk Show" was a T-V success for 30 years. The hits began in the 1930's — among them was "Bubbles in the Wine," the band's theme song — and continued through the mid-'60s. "Calcutta," featuring the harpsichord of Frank Scott, topped the charts in 1960.
Also in 1992, Genesis cancelled a Tampa performance after two songs because lead singer Phil Collins had a sore throat. A half-dozen people were arrested as police cleared angry fans from the arena.
In 1993, Stompin' Tom Connors was awarded an honourary doctor of laws degree by St. Thomas University in Fredericton.
Also in 1993, Barry Manilow guested on the season finale episode of CBS-TV's "Murphy Brown" and sang "I Am Your Child."

In 1995, Chuck Berry, Little Richard and (above) Fats Domino appeared together for the first time in Sheffield, London.
In 1996, rhythm-and-blues guitarist and singer Johnny (Guitar) Watson died of a heart attack while performing in Yokohama, Japan. He was 61. According to eyewitness reports, his last words were "ain't that a bitch."  Jimi Hendrix, Eric Clapton and Frank Zappa were among those who were influenced by Watson's playing.
Also on this date in 1996, Willis Conover, whose "Music USA" program brought jazz to millions of listeners around the world, died in Alexandria, Virginia of lung cancer. He was 75. Conover's show was carried by the Voice of America for more than 40 years.
In 1997, Paul McCartney took to the Internet for a live chat with some of the fans who submitted more than three million questions. McCartney got through about 200 queries during the 90-minute session, most of which was broadcast live on satellite T-V. He said it was likely the Beatles would have reunited if John Lennon had not been murdered in 1980.

In 1998, Garth Brooks was at No.1 on the Billboard album charts with 'The Limited Series.'
In 1999, actor Henry Jones, who appeared in scores of programs during the first 45 years of the TV era, and who had a regular role on Mrs. Columbo & the sitcom Phyllis, died at age 86.
Also in 1999, reknowned Canadian rock producer Bruce Fairbairn, who worked his magic with the likes of Aerosmith, Van Halen, YES and AC/DC, died at age 49 at his home in Vancouver.
Still in 1999, Diane Warren had a big night at the 16th annual American Society of Composers Authors and Publishers Pop Music Awards. She was named songwriter of the year for an unprecedented fifth time, her second consecutive year. Also, her "How Do I Live," recorded by both LeAnn Rimes and Trisha Yearwood, was named song of the year.
Again in 1999, Canadian-born "Jeopardy" host Alex Trebek was honored with a star on the Hollywood Walk of Fame.

In 2000, Victoria's country radio station CKXM went silent on AM 1200 after switching to 91.3 FM as "The New X" on March 20th.
Also in 2000, the final episode, number 296, of the original "Beverly Hills 90210" was aired by FOX.
Still in 2000, The Eagles sued the "Hotel California" restaurant in Dallas, claiming their trademark had been violated.
In 2001, an estimated 20-thousand people lined up Yonge Street in downtown Toronto for a free outdoor concert by R-E-M (below).

In 2002, songwriter Sharon Sheeley died at age 62. Her hits include 'Poor Little Fool,'  No.1 for Ricky Nelson in 1958 and the 1959 hit for Eddie Cochran 'Somethin' Else'. Sheeley survived the car crash that killed Cochran during a 1960 UK tour.
In 2003, troubled Stone Temple Pilots frontman Scott Weiland was arrested in Los Angeles after heroin and cocaine were found in his car during a routine traffic stop. He was released on $10,000 bail.
Also in 2003, June Carter Cash's funeral was held in her hometown of Henderson, Tennessee, with two thousand mourners attending, including her husband Johnny Cash.  Kris Kristofferson, Hank Williams, Jr. Emmylou Harris, the Oak Ridge Boys, and Sheryl Crow all performed tributes.

In 2004, actor Tony Randall, who began in radio as "Reggie" on I Love a Mystery, then starred in TV's Mr. Peepers & The Odd Couple, and was an entertaining guest on hundreds of TV talk shows, died of pneumonia following heart surgery at age 84.
In 2005, actor & impersonator Frank Gorshin died in Burbank at age 72. He had been battling lung cancer and emphysema. Gorshin played the Riddler on the Batman TV series [1966-1969] and appeared in well over one hundred films and TV shows.
In 2005, Gwen Stefani was at No.1 on the Billboard singles chart with 'Hollaback Girl.'
In 2006, Paul McCartney and his wife Heather Mills admitted that they had given up the fight to save their marriage, saying that after fours years together, they were going their separate ways.
In 2008, Amy Winehouse and Pete Doherty posted a two-minute clip of themselves playing with newborn mice on Youtube. The video showed Doherty and Winehouse in a bare room, making rambling comments, picking up the mice and talking to them.

Also in 2008, Madonna was at No.1 on the Billboard album chart with her eleventh studio album 'Hard Candy.'  The album reached number one in thirty-seven other countries.
In 2010, ZZ Top made a cameo appearance on the CBS-TV sitcom "Two And A Half Men," as the subjects of a Charlie Sheen hallucination.
In 2012, singer and five-time Grammy winner Donna Summer, the undisputed "Queen of the Disco era", succumbed to lung cancer at age 63. In the 1970's she had charted five consecutive #1 singles.
In 2013, former golf champion and TV analyst Ken Venturi succumbed to multiple infections at age 82.
In 2014, 
 George Harrison's '62 Rickenbacker 425 was auctioned in Beverly Hills for $657,000. The young Beatle is said to have originally paid between $400 and $500 for the guitar in '63.
Today's Birthdays:
Actress Joan Blackman (Peyton Place) is 77.
Actor Peter Gerety (Prime Suspect, Mercy, The Wire, Homicide: Life on the Street) is 75.
Blues musician/singer Taj Mahal is 73.
Drummer Bill Bruford of Yes and King Crimson is 66.
TV personality/journalist Kathleen Sullivan (CNN, ABC, NBC, CBS, E!) is 62.
Singer-guitarist George Johnson of The Brothers Johnson is 62.
Actor Bill Paxton (Agents of SHIELD, Hatfields & McCoys, Big Love) is 60.
Actor-comedian Bob Saget (How I Met Your Mother, Am. Funniest Home Videos, Full House) is 59.
CBS sports announcer Jim Nantz is 56.
Actor Corey Johnson (The Last Days of Lehman Brothers) is 54.
Actor Bruce Thomas (Kyle XY) is 54. 
Irish new-age singer Enya is 54.
Actor/comedian/TV host/writer Craig Ferguson (Celebrity Name Game, The Late Late Show, The Drew Carey Show, Doc Martin) is 53.
Keyboardist Page McConnell of Phish is 52.
Actor David Eigenberg (Chicago Fire, Sex & the City) is 51.
NBC News reporter Kelly O'Donnell is 50.
Guitarist O'Dell of Mint Condition is 50.
Actress Paige Turco (Damages, Rescue Me, Guiding Light) is 50.
Musician Trent Reznor of Nine Inch Nails is 50.
Actor Hill Harper (Covert Affairs, CSI: NY, City of Angels) is 49.
Winnipeg-born actor Cameron Bancroft (Blackstone, General Hospital, Beverly Hills 90210) is 48.
TV personality-interior designer Thom Filicia (Queer Eye for the Straight Guy) is 46.
Singer Jordan Knight (New Kids on the Block) is 45.
Singer Darnell Van Rensalier of Shai is 45.
Ontario-born actress Natalie Brown (Bitten, The Strain, Sophie) is 42.
Actress Sasha Alexander (Rizzoli & Isles, Dawson's Creek, Navy NCIS) is 42.
Singer Josh Homme of Queens of the Stone Age is 42.
Actor Sendhil Ramamurthy (Heroes, Covert Affairs) is 41.
Singer Andrea Corr of The Corrs is 41.
Actress Rochelle Aytes (Mistresses) is 39.
Singer Kandi Burruss (Xscape) is 39.
Actress Kat Foster (The Goodwin Games, 'Til Death) is 37.
Dancer Derek Hough (Dancing With the Stars) is 30.
Actor/voicist Tahj Mowry (Kim Possible, Smart Guy) is 29.
Actress Erin Richards (Gotham, Breaking In) is 29.
Actress Nikki Reed (The OC) is 27.
Actress Karrueche Tran (The Bay) is 27.
Actress Leven Rambin (Terminator: The Sarah Connor Chronicles) is 25.
Actor Daniel Curtis Lee (Zeke & Luther, Ned's Declassified School Survival Guide) is 24.
Actress Samantha Browne-Walters (Life with Bonnie) is 24.
Actor Ryan Ochoa (Pair of Kings) is 19.
Chart Toppers – May 17
1945
Candy – Johnny Mercer & Jo Stafford
I'm Beginning to See the Light – The Harry James Orchestra (vocal: Kitty Kallen)
Dream – The Pied Pipers
At Mail Call Today – Gene Autry
1954
Wanted – Perry Como
Little Things Mean a Lot – Kitty Kallen
If You Love Me (Really Love Me) – Kay Starr
I Really Don't Want to Know – Eddy Arnold
1963
I Will Follow Him – Little Peggy March
Puff the Magic Dragon – Peter, Paul & Mary
If You Wanna Be Happy – Jimmy Soul
Lonesome 7-7203 – Hawkshaw Hawkins
1972
The First Time Ever I Saw Your Face – Roberta Flack
Oh Girl – Chi-Lites
I'll Take You There – The Staple Singers
Grandma Harp – Merle Haggard
1981
Bette Davis Eyes – Kim Carnes
Being with You – Smokey Robinson
Take It on the Run – REO Speedwagon
I Loved 'Em Every One – T.G. Sheppard
1990
Nothing Compares 2 U – Sinead O'Connor
Vogue – Madonna
All I Wanna Do is Make Love to You – Heart
Help Me Hold On – Travis Tritt
1999
Livin' La Vida Loca – Ricky Martin
Kiss Me – Sixpence None The Richer
That Don't Impress Me Much – Shania Twain
Please Remember Me – Tim McGraw
2008
Bleeding Love – Leona Lewis
No Air – Jordin Sparks featuring Chris Brown
Love in This Club – Usher featuring Young Jeezy
Just Got Started Lovin' You – James Otto