ON THIS DAY in 1907
author Leslie Charteris, who created the crime fighting character of The Saint which had successful runs on both radio & TV, was born in Singapore.

In 1908, wireless radio broadcasting was patented in the US by Nathan B Stubblefield. He called it "Wireless Telephony" and his demonstrations maxed at a distance of a quarter-mile.
In 1910, orchestra leader Gordon Jenkins was born in Webster Grove Missouri. He was very active in bigtime radio, scoring music for The Mayor of theTown, The Man Called X, Al Jolson, Jack Carson & Dick Haymes, to name just a few. He also worked as musical director at Decca & Capitol Records where he recorded with some of the top stars of the day, including Frank Sinatra & Nat Cole.  He died of ALS May 1 1984 a few days before his 74th birthday.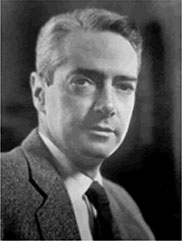 In 1914, radio & TV newsman Howard K Smith was born in Ferriday Louisiana.  He covered WWII in Europe as one of 'Murrows Boys' for CBS radio.  He moderated the first Kennedy-Nixon presidential debate, and went on to be anchor of the ABC evening TV news.   He died Feb 18 2002 at age 87.
In 1930, syndicated gossip columnist Walter Winchell made his radio debut on New York's WABC.  Quickly picked up by the network he went on to become a Sunday night institution for the next 27 years, 18 of them under the banner 'The Jergens Journal.'
In 1934, the song "Cocktails For Two" by Duke Ellington hit #1.
In 1937, the BBC broadcast the coronation of King George VI via shortwave radio to listeners around the world.  It also became the corporation's first "outside" telecast, after just six months of experimental TV broadcasts.

In 1955, Winnipeg-born singer Gisele MacKenzie introduced her soon-to-be hit song, Hard to Get, as part of her dramatic role on the NBC-TV series 'Justice.' By the end of the summer the single had risen to number four on the Billboard pop music chart.
In 1958, "All I Have to Do Is Dream" by Everly Brothers topped the charts and stayed there for 5 weeks. The same week "Nee Nee Na Na Na Na Nu Nu" by Dicky Doo & The Dont's hit #40.
Also in 1958, Johnny Mathis recorded his next entry in the pop music Top 20, 'A Certain Smile.'
In 1959, after divorcing Debbie Reynolds singer Eddie Fisher married actress Elizabeth Taylor. It was his second marriage and her fourth. They divorced in 1964.

In 1960, Frank Sinatra and Elvis Presley, who was just back from his military service in Germany, appeared on the ABC TV special 'Welcome Back Elvis." Each performed the other's hit; Elvis sang "Witchcraft" while Sinatra did "Love Me Tender."
In 1961, in Hamburg, West Germany The Beatles signed a recording contract with producer Bert Kaempfert. Later the still little-known group played a gig at the coty's Top Ten Club.
In 1963, Bob Dylan was supposed to appear on TV's "Ed Sullivan Show," but he walked out of rehearsals after he was forbidden to sing "Talking John Birch Society Blues." The reason? Because the lyrics 'mocked' the US Military.
In 1964, Ray Charles' "Busted" won a Grammy as Best R&B Recording.

In 1965, the Rolling Stones re-recorded "(I Can't Get No) Satisfaction" at the RCA Studios in Hollywood. They had first recorded it in Chicago two days earlier. It was the Hollywood version that was released and became the Stones' signature song.
In 1967, shares in Toronto radio station CHUM first traded on the Toronto Stock Exchange. Under Allan Waters the CHUM organization grew to become one of the largest media empires in Canada; it's currently owned by Bell Media.

Also in 1967, UK band Procol Harum released their first single, "A Whiter Shade of Pale," which stands as their biggest hit. Co-writer Keith Reid got the title at a party when someone told a woman, "You've turned a whiter shade of pale."
In 1968, Jimi Hendrix was arrested for possession of hashish and heroin when he crossed the border for a concert in Toronto. He claimed the drugs were planted and he was later exonerated.
Also in 1968, CBS-TV's Ed Sullivan Show was headlined by Gary Puckett and the Union Gap performing "Lady Willpower" & "Young Girl.'  Richard Pryor, Rodney Dangerfield and David Frye were the featured comedians.
In 1971, Jerry Lee Lewis was granted a divorce from his cousin Myra.
In 1972, the Rolling Stones released their 12th studio album "Exile on Main St."

Also in 1972, Apple Records released the single "Mary Had a Little Lamb" by Paul McCartney & Wings. It failed to make it into the Top 20.
In 1973, "Dueling Tubas" by comedian Martin Mull appeared on the charts at #92.
In 1975, Jefferson Starship gave a free concert for a crowd of 60,000 in New York's Central Park. Later the band and sponsor of the concert WNEW-FM were charged $14,000 to cover the cost of the clean-up and damage the mob did to the park.

In 1977, The Eagles were awarded a Gold Record for the hit, Hotel California. The award was the second of three Gold Record singles for the group. The other million sellers were New Kid in Town and Heartache Tonight.
Also in 1977, Virgin Records announced they had signed the Sex Pistols. That was the group's third label in five months (EMI and A&M were the other two).
In 1979, the new version of Jefferson Starship  made their debut at a free concert at Golden Gate Park in San Francisco.  Mickey Thomas was the new lead vocalist, replacing Grace Slick.
In 1980, Linda Ronstadt was awarded a Gold Record for her "Mad Love" album.
In 1981, Van Halen kicked off their 82-concert Fair Warning Tour of the US and Canada at the Metro Centre in Halifax.

In 1982, the final episode of "The Incredible Hulk" was broadcast.
In 1983, 35-year-old singer Marvin Lee Aday, better known as Meatloaf filed for bankruptcy.
In 1984, the song "Hello" by Lionel Richie topped the charts and stayed there for 2 weeks.
In 1985, Lionel Richie received an honorary Doctor of Music degree from Tuskegee Institute in Alabama (his alma mater). Richie had put 14 hits on the pop charts in the 1980s, including one platinum smash, Endless Love (with Diana Ross) and four gold records (Truly, All Night Long, Hello and Say You, Say Me).
Also in 1985, singer Phil Collins kicked off the North American leg of his No Jacket Required World Tour at the Centrum in Worcester, Massachusetts.

In 1987, the final episode of "Hill Street Blues" aired on NBC.
Also in 1987, all 40-thousand tickets for three upcoming Pink Floyd concerts at the Forum in Montreal sold out in 4½ hours.
In 1989, the 2000th edition of syndicated TV's "Entertainment Tonight" was aired.
Also in 1989, drummer Ron Wilson of the Surfaris (Wipe Out) suffered a fatal brain aneurysm at age 43.

In 1990, for just the 3rd time, "Saturday Night Live" utilized a time delay because the controversial (& unpredictable) Andrew Dice Clay (above) was hosting.
In 1992, actor Robert Reed, who starred in two TV series, The Defenders & The Brady Bunch, died of AIDS at age 59.
Also in 1992, Rod Halford of Judas Priest held a press conference in L.A. to deny rumors he was HIV positive or had AIDS.

In 1993, the last broadcast of "Cheers" was telecast on NBC.  The same night, CBS aired the finale of "Knots Landing."
Also in 1993, the final episode of the 6 year run of ABC's "Wonder Years" was seen in the Netherlands.
In 1995, former member of The Monkees Peter Tork guested in the "Career Day" episode, during the second season of the ABC-TV sitcom "Boy Meets World."
In 1996, Hootie & the Blowfish went to No.1 on the Billboard album chart with 'Fairweather Johnson'.
Also in 1998, the UK media reported that Elton John had fired his manager of 30 years, John Reid. The reports said the two had clashed over the star's career as well as financial issues.

In 1999, George Jones pleaded guilty in Franklin, Tenn., to driving while impaired and violating the state's open-container law, in charges stemming from his near-fatal March 6 car accident. Jones, who got to keep his driver's license, was fined $550.
Also in 1999, the final episode of "The Nanny" was aired by CBS.
In 2000, British hooligans stole the 10 foot iron gates to Strawberry Fields, the Salvation Army house immortalized in The Beatles song. Later the gates were located in the hands of local scrap metal dealers.

In 2001, the singing barber, Perry Como, a first-line star of radio, TV & recording, died at age 88.  He scored fourteen No.1 singles among 150 US chart hits, including the singles 'It's Impossible,'  'Magic Moments' and 'Catch A Falling Star.'  In the 1960's Como had been television's highest-paid performer.
In 2002, Dionne Warwick was arrested at Miami International Airport when baggage screeners found 11 marijuana cigarettes inside her lipstick container.
Also in 2002, Tom Hamilton's (Aerosmith) home in Cape Cod was destroyed by a fire. The house was under construction at the time.
Still in 2002, the 200th episode of "X-Files" aired on FOX.

Again in 2002, Big Tymers were at No.1 on the US album chart with 'Hood Rich.'
In 2004, Barry and Robin Gibb of the Bee Gees were presented with honorary degrees from Manchester University. They also picked up a posthumous award for their brother Barry. The brothers had once lived nearby the university in Manchester City.
In 2005, Edson (Alberta) radio station CJYR and its 4 rebroadcasters began a format change to Classic Hits that ended the next morning at 7 when The Fox Radio Group was launched.  The new calls were CFXE Edson, CFXGGrande Cache, CFXH Hinton, CFXP Jasper and CFXW Whitecourt.
In 2006, Metallica's James Hetfield was honored at the second annual MusiCares MAP Fund benefit concert in Hollywood. He received the Stevie Ray Vaughan Award for his "devotion to helping other addicts with the recovery process."
In 2007, U2 guitarist The Edge received an honorary doctor of music degree from Boston's Berklee College of Music. He was acknowledged "for their enduring contributions to American and international culture."

In 2008, Canadian singer-songwriter Neil Young had a spider named after him. East Carolina University biologist Jason Bond discovered a new species of trapdoor spider and opted to name it after his favourite musician. In 2007 Myrmekiaphila neilyoungi were first located in Jefferson County, Alabama.
In 2011, the video for Steven Tyler's solo single "(It) Feels So Good," had its debut on Fox TV's American Idol. The Aerosmith frontman also was serving as a judge on Idol.
In 2012, The Eagles were presented with an honorary doctorate from the Berklee College of Music at the school's commencement ceremony at Boston University.
Also in 2012, Kid Rock teamed up with the Detroit Symphony Orchestra at Fox Theatre for a fundraising concert to benefit the orchestra. The show raised more than $1 million.
In 2013, actress Ruth Foster (above), who portrayed Walnut Grove's post-mistress in 61 episodes of the NBC TV frontier series Little House on the Prairie (and several TV movies under the Little House banner), died of natural causes at age 92.
In 2014, Neil Young, with help from Jack White, sent a cover of Willie Nelson's "Crazy" (famously recorded by Patsy Cline) straight to vinyl during an appearance on Jimmy Fallon's Tonight Show. Young used White's refurbished 1947 Voice-o-Graph recording booth. The instantly-pressed 7-inch vinyl single was played at the end of the show.
Today's Birthdays:
Composer Burt Bacharach is 87.
Actress Susan Hampshire (Monarch of the Glen, The Grand, The Forsyte Saga) is 78.
Actress Millie Perkins (Knots Landing, Any Day Now, Young & the Restless) is 77.
Manitoba-born former radio newsman/news director/voiceover artist J. J. Richards (CKUA, CHUM, C-FUN, CKDA) is ??
Country singer Billy Swan is 73.
Actress/talk show host Linda Dano (Another World, Attitudes) is 72.
Keyboardist Ian McLagen of Small Faces and The Faces is 70.
Singer Steve Winwood is 67.
Actress Lindsay Crouse (Dragnet 2003, Buffy the Vampire Slayer) is 67.
Actor Bruce Boxleitner (Babylon 5, Scarecrow & Mrs. King) is 65.
Singer Billy Squier is 65.
Actor Gabriel Byrne (Vikings, In Treatment, Madigan Men, Wagner) is 65.
Country singer Kix Brooks of Brooks and Dunn is 60.
Actress Kim Greist (Chicago Hope, Wiseguy) is 57.
Actor Ving Rhames (Gravity, The District, Kojak 2005) is 56.
Edmonton-born comedian/writer/actor Bruce McCulloch (Kids in the Hall, Sat. Night Live) is 54.
Guitarist Billy Duffy of The Cult is 54.
Actor Emilio Estevez (Rated X, Late Last Night) is 53.
Actress April Grace (Joan of Arcadia) is 53.
Actress Vanessa Williams (Soul Food, Melrose Place) is 52.
Vancouver-born actress Deborah Kara Unger (The Hot Zone, The Rat Pack) is 50.
Keyboardist Eddie Kilgallon (Ricochet) is 50.
Actor Stephen Baldwin (The Young Riders) is 49.
Actress Kim Fields (Living Single, Facts of Life, Diff'rent Strokes) is 46.
Actor David A.R. White (Evening Shade) is 45.
Actress Samantha Mathis (Aaron's Way, Knightwatch) is 44.
Actress Jamie Luner (Melrose Place, Profiler) is 44.
Toronto-born actor Christian Campbell (Book of Daniel, All My Children, The $treet) is 43.
Actor Mackenzie Astin (Facts of Life) is 42.
Toronto-born actor Aaron Abrams (Hannibal, Producing Parker) is 37.
Actor Jason Biggs (Total Security, As the World Turns) is 37.
Ontario-raised actress Malin Akerman (Trophy Wife, Childrens' Hospital, The Comeback) is 37.
Actor Aaron Yoo (The Tomorrow People) is 36.
Montreal-born TV chef Nadia G. (Bitchin' Kitchen) is 35. 
Actor Rami Malek (The Pacific, The War at Home) is 34.
Actress Clare Bowen (Nashville) is 31.
Ontario-born actress Emily VanCamp (Revenge, Everwood, Brothers & Sisters) is 29.
Actor Malcolm David Kelley (Lost) is 23.
Acting twins Sullivan and Sawyer Sweeten (Everybody Loves Raymond) are 20.
Actor Luke Benward (Ravenswood, Good Luck Charlie) is 20.
.
Chart Toppers – May 12
1949
Cruising Down the River – The Russ Morgan Orchestra (vocal: The Skyliners)
Forever and Ever – Perry Como
Careless Hands – Mel Torme
Lovesick Blues – Hank Williams
1958
All I Have to Do is Dream – The Everly Brothers
Wear My Ring Around Your Neck – Elvis Presley
Return to Me – Dean Martin
Oh Lonesome Me – Don Gibson
1967
Somethin' Stupid – Nancy Sinatra & Frank Sinatra
The Happening – The Supremes
Sweet Soul Music – Arthur Conley
Need You – Sonny James
1976
Welcome Back – John Sebastian
Right Back Where We Started From – Maxine Nightingale
Boogie Fever – Sylvers
My Eyes Can Only See as Far as You – Charley Pride
1985
Crazy for You – Madonna
Don't You Forget About Me – Simple Minds
One Night in Bangkok – Murray Head
Somebody Should Leave – Reba McEntire
1994
The Sign – Ace Of Base
Return to Innocence – Enigma
I'll Remember – Madonna
A Good Run of Bad Luck – Clint Black
2003
Rock Your Body – Justin Timberlake
Ignition – R. Kelly
Sing for the Moment – Eminem
Have You Forgotten? – Darryl Worley