ON THIS DAY in 1877

Emile Berliner, the man behind so many inventions, came up with a thing called the microphone. The Bell System, run by Alexander Graham Bell, came up with a compact way to put Mr. Berliner's microphone on a wooden box, with a crank, an earpiece, a cradle hook for the earpiece and some wires, and called it thetelephone.
In 1910, radio pioneer Lee DeForest conducted an experimental broadcast from New York City.  Radio as we know it was still a decade away.
In 1925, US President Calvin Coolidge's inauguration was broadcast live on 21 radio stations.

In 1930, "The Redhead", sportscaster Red Barber, began his radio career on WRUF at the University of Florida in Gainsville. He soon became one of the best known sports voices in America.
In 1934, singer-actress Barbara McNair was born in Racine Wisconsin. She graduated from Arthur Godfrey's Talent Scouts to seven appearances on the Ed Sullivan Show & even her own TV variety series.  She later had a recurring role on General Hospital.  She died from throat cancer Feb. 7 2007 at age 72.
In 1937, actor/producer/writer/composer/comedian and this night's host, George Jessel, welcomed the glamorous crowd to the Biltmore Hotel in Los Angeles, the setting for the 9th Annual Academy Awards show. Which film was which, you ask? The envelope, if you please… For the films of 1936: Outstanding Production/Best Picture: The Great Ziegfeld (from Metro-Goldwyn-Mayer); Best Director: Frank Capra for Mr. Deeds Goes To Town; Actor: Paul Muni (The Story Of Louis Pasteur); and Best Actress: Luise Rainer (The Great Ziegfeld).
In 1942, Dick Jurgen's "sweet" Big Band recorded One Dozen Roses on Okeh Records in Chicago.
Also in 1942,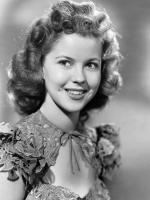 teenager Shirley Temple had the starring role as Junior Miss debuted on CBS radio. The show, costing $12,000 a week, was found to be too expensive to produce and ended after 6 months.  But a 1948 version starring Barbara Whiting as Judy Graves stayed on network radio for 5 years.
In 1948, Chris Squire, bass player with the group Yes, was born in London. One of the most successful progressive rock bands of the 1970's, the group was hated by the critics and loved by the audiences.
In 1951, Pee Wee King & His Golden West Cowboys recorded their only future #1 hit "Slow Poke."
In 1952, the first seagoing radio station, "Courier", was dedicated by President Harry Truman.
Also in 1952, actor Ronald Reagan took actress Nancy Davis for his wife. (#2)
In 1954, Edmonton radio station CHED signed on with 1000 watts at 1080 khz.

In 1955, jazz great Charlie 'Bird' Parker played at Birdland in New York City in what would be his final public performance. He would be dead at age 34 just 8 days later.
In 1957, Columbia Records released Marty Robbins' next big crossover hit, "A White Sport Coat (And a Pink Carnation)."
In 1960, Lucille Ball filed for divorce from Desi Arnaz. TV's Lucy and Ricky had filmed their last show together three weeks earlier.
In 1962, CBS-TV's Ed Sullivan Show featured Fats Domino singing  "Jambalaya" & "Let The Four Winds Blow." Other singers included Connie Stevens & Tommy Sands, while the comedy came from standup stars Phyllis Diller and Henny Youngman.

In 1963, the Beach Boys released their first Top 5 single, "Surfin' USA." When Chuck Berry heard it he realized it had the same melody as his hit five years earlier, "Sweet Little Sixteen."  He launched a lawsuit, was granted royalties and a co-writer's label credit on all future discs.
Also in 1963, Capitol Records released Al Martino's single, "I Love You Because." It would soon become his first Top 5 single in 11 years.
In 1966, the London newspaper Evening Standard published an interview with John Lennon with his now-infamous quote about The Beatles, "We're more popular than Jesus Christ right now."

Also in 1966, the Who released the single "Substitute" on producer Robert Stigwood's Reaction Records, in violation of their current deal with Brunswick Records in Britain.
In 1967, "Ruby Tuesday" by the Rolling Stones topped the charts, but only for a week.
Also in 1967, The Spencer Davis Group was dealt a crippling blow when its star members, Steve Winwood and his brother Muff announced their intention to leave after an April 2 show.
In 1968, Temptations members Eddie Kendricks and Otis Williams were hospitalized with minor injuries after their vehicle skidded on an icy road near Somerset, Pennsylvania.

In 1970, rocker Janis Joplin was fined $200 for using obscene language onstage in Tampa, Florida four months earlier.
In 1971, the Rolling Stones announced they were moving to France to avoid British income taxes.
In 1972, "Day After Day" by Badfinger was certified as a Gold Record. It was their third straight international hit.
In 1973, Elvis Presley released "Steamroller Blues," written by James Taylor.
In 1975, the first TV coverage of a Canadian parliamentary committee was aired.
In 1976, the No. 1 Billboard Pop Hit was "Love Machine (Part 1)" by The Miracles. The song was the last by the group to reach the charts.

Also in 1976, singers Hall & Oates recorded "Rich Girl" which would become their first #1 hit.
In 1977, the Rolling Stones made a rare nightclub appearance at the El Mocambo in Toronto, recording four songs for a new "Live" album. The concert was advertised only as a performance by the opening act, the Canadian group April Wine, and the Stones' appearance was kept secret until the last minute.
Also in 1977, Santana played the Roseland Ballroom in New York City. What made the concert unique was the fact that it was advertised only in the Spanish-language media.
In 1978, Andy Gibb reached the top of the music charts as "(Love is) Thicker Than Water" reached #1 for a two-week stay. The Bee Gees also set a record this day as their single, "How Deep Is Your Love," from the Saturday Night Fever soundtrack, remained in the Top 10 for an unprecedented 17th week.

In 1979, the 200th episode of the smash hit sitcom  "All in the Family" aired on CBS.
The same night on the same network the 100th episode of "The Waltons" was seen.
Also in 1979, Randy Jackson of The Jackson 5′ was involved in a serious car crash near Los Angeles. He broke both legs and nearly died after an error in which a hospital nurse injected him with methadone.
In 1980, "Coal Miner's Daughter," the film biography of country singer Loretta Lynn, premiered in Nashville. Lynn was played on screen by Sissy Spacek, who also did all the singing in the movie and won the Best Actress Oscar.
In 1982, "Police Squad," a short-lived tongue-in-cheek spoof starring Canada's Leslie Neilson, debuted on NBC.  While it was cancelled after six episodes, the idea evolved into the successful "Naked Gun" movie franchise.
In 1986, Richard Manuel, the pianist for the rock group, the Band, was found hanged in the bathroom of his motel room in Winter Park, Florida. The 42-year-old Stratford, Ontario native had performed with other members of The Band in Winter Park the previous night.

Also in 1986, a judge in New Jersey appointed a legal guardian for singer Connie Francis, who was in a psychiatric clinic for treatment of manic-depressive psychosis.
Still on this date in 1986, Howard Greenfield, the longtime songwriting partner of Neil Sedaka, succumbed to AIDS at age 49.
In 1987, the world's first long-distance recording session took place as Stevie Wonder and Quincy Jones in Los Angeles teamed with a chorus in New York to overdub an anti-drug song, "Stop, Don't Pass Go."
In 1989, "Lost in Your Eyes" by Debbie Gibson topped the charts and stayed there for 3 weeks.
In 1990, commentator Andy Rooney returned to "60 Minutes" on CBS-TV, after being suspended for making allegedly racial remarks.

Also in 1990, David Bowie kicked off his seven-month-long "Sound and Vision" tour with a show in Quebec City.
In 1991, actor Vance Colvig Jr., who was Bozo the Clown on KTLA Los Angeles for 5 years in the 60's, died at age 72.
In 1992, rock 'n' roll recording pioneer Al Silver died in Fort Lauderdale, Florida at age 78.
In 1993, country star Clint Black played four shows for U-S troops serving in Somalia.
Also in 1993, singer Patti LaBelle helped to unveil her star on the Hollywood Walk of Fame.
In 1994, Nirvana lead singer Kurt Cobain went into a coma in Rome after an overdose of powerful sedatives combined with alcohol. A month later another suicide bid was successful.

Also in 1994, Toronto actor John Candy died at age 43 of a heart attack while filming on location in Mexico.  Candy had been an SCTV Network regular who graduated to a string of big screen film successes.
Again in 1994, producers Chris and Bob Herbert placed an ad in a British magazine for female singers who could dance. Nearly 400 auditioned, and five were chosen for a group that became the Spice Girls.
In 1995, Canadian classical guitarist Liona Boyd played a one-hour concert in Los Angeles for the sequestered jurors and deputy sheriffs in the O-J Simpson murder trial.
In 1996, Paul McCartney revealed that the three surviving members of the Beatles had turned down a multi million-dollar offer for a world tour.

Also on this date in 1996, Minnie Pearl, the first country comedienne to become world-famous, died in Nashville of complications from a stroke. She was 83. Pearl, whose real name was Sarah Cannon, spent more than 50 years on the "Grand Ole Opry" and 20 years on the T-V show "Hee-Haw."
In 1997, fans lined up at record stores in Canada and the U-S to buy U-2's ninth full-length album, "Pop." Some stores opened as early as midnight.
Also in 1997, two TV series aired the first episodes of their lengthy network runs. The sitcom "Just Shoot Me" on NBC, and the lawyer drama "The Practice" on ABC.
In 1999, Eddie Dean, a singing cowboy in the 1930s and '40s, died in Newhall, California, at age 91. He was best known for writing "I Dreamed Of A Hillbilly Heaven," a hit for the late Tex Ritter.

In 2001, Victoria's Nelly Furtado was the big winner at the 30th Juno Awards Show in Hamilton. She won for best single (for "I'm Like a Bird"), best new solo artist, best producer and best songwriter. The ceremony also saw Bruce Cockburn inducted into the Canadian Music Hall of Fame.
Also in 2001, singer Glenn Hughes died of lung cancer at age 50. He was the mustachioed, leather-clad biker in the 1970/80s disco group the Village People.
Still in 2001, Michael Jackson and his young actor friend Macaulay Culkin, spent the night shopping at a London record store which stayed open after hours to accommodate the pair.
In 2004, Clear Channel Communications paid a record $755,000 fine for indecent material aired during broadcasts of the "Bubba The Love Sponge" radio show.

In 2005, business magnate & homemaking TV guru Martha Stewart was released from prison after serving 5 months for lying about her role in a stock-selling scandal.
In 2006, Jaheim was at No.1 on the Billboard album chart with 'Ghetto Classics' the American R&B singer's third album release.
Also in 2006, Aerosmith was forced to cancel a series of concerts after Steven Tyler had seriously strained his vocal chords.
Still in 2006, Fall Out Boy was the musical guest on NBC's Saturday Night Live.
In 2009, Peter Tork of The Monkees underwent extensive surgery in New York after being diagnosed days earlier with adenoid cystic carcinoma, a rare, slow-growing form of head and neck cancer.  The operation was considered a success, and after extensive radiation treatment Tork was declared cancer-free 6 months later.

Also in 2009, Britney Spears kicked off a world tour in New Orleans, her first concert tour in five years. The 27-year-old, who dressed as a ringmaster, included jugglers, acrobats and martial arts dancers in her show.
In 2010, singer/guitarist Lolly Vegas, lead vocalist of the Native American band Redbone, succumbed to lung cancer at age 70.
In 2011, Johnny Preston, who had 1960's international #1 hit "Running Bear," died of heart failure in Beaumont, Texas at age 71.
Also in 2011, in an interview with Arab cable news channel Al Jazeera, Roger Waters (ex-Pink Floyd) encouraged fellow musicians to avoid playing shows in Israel. Said Waters, "I'm against Israel for exactly the same reasons that I was against South Africa: it's a two-tiered racist system."

In 2013, pop singer Fran Warren, one of the last surviving stars of the big-band era, died on her 87th birthday.  Best known for her 1947 recording of "A Sunday Kind of Love" with the Claude Thornhill Orchestra, she frequently appeared on the Tonight Show with Jack Paar and Johnny Carson.
Today's Birthdays:
Actress Paula Prentiss (He & She, Mr. & Mrs. Dracula) is 77.
Singer Bobby Womack is 71.
Bassist Chris Squire of Yes is 67.
British rockabilly singer Shakin' Stevens is 67.
Nova Scotia-born country singer Carroll Baker is 66.
Singer Chris Rea is 64.
Actor Ronn Moss (The Bold and the Beautiful) is 63.
Actress Kay Lenz (Rich Man Poor Man, Reasonable Doubts, Simon & Simon) is 62.
Percussionist Emilio Estefan of the Miami Sound Machine is 62.
Actor Adrian Zmed (T. J. Hooker) is 61.
Toronto-born actress Catherine O'Hara (Schitt's Creek, SCTV, Committed, Six Feet Under) is 61.
Actor Mykelti Williamson (Justified, 24, Boomtown, The Fugitive) is 58.
Actress Patricia Heaton (The Middle, Everybody Loves Raymond) is 57.
Actor Steven Weber (Studio 60, Wings) is 54.
Bassist Jason Newsted (Metallica) is 52.
Actor Daniel Roebuck (Matlock, A Minute With Stan Hooper) is 52.
Actress Stacy Edwards (Chicago Hope, Santa Barbara) is 50.
Rapper Grand Puba (Brand Nubian) is 49.
Drummer Patrick Hannan of The Sundays is 49.
Singer Evan Dando of The Lemonheads is 48.
Singer/actress Patsy Kensit is 47.
Chaz (formerly Chastity) Bono is 46.
Actor Nick Stabile (Passions, Sunset Beach) is 45.
Actress Andrea Bendewald (Suddenly Susan) is 45.
Drummer Fergal Lawler of The Cranberries is 44.
Country singer Jason Sellers is 44.
Actress Brittney Powell (General Hospital) is 43.
Jazz musician Jason Marsalis is 38.
Actor Scott Michael Foster (Greek, Chasing Life) is 30.
TV personality Whitney Port (The Hills) is 30.
Actress Margo Harshman (The Big Bang Theory) is 29.
Actress Tamzin Merchant (Salem) is 28.
Actor Cody Longo (Hollywood Heights) is 27.
Actor Josh Bowman (Revenge) is 27.
Model Erin Heatherton (The Victoria's Secret Fashion Show) is 26.
Actress Andrea Bowen (Desperate Housewives) is 25.
Actress Jenna Boyd (The Gathering, Mary Christmas) is 22.
Chart Toppers – March 4
1948
Now is the Hour – Bing Crosby
I'm Looking Over a Four Leaf Clover – The Art Mooney Orchestra
Beg Your Pardon – Francis Craig
I'll Hold You in My Heart (Till I Can Hold You in My Arms) – Eddy Arnold
1957
Young Love – Tab Hunter
Young Love – Sonny James
Round and Round – Perry Como
There You Go – Johnny Cash
1966
These Boots are Made for Walkin' – Nancy Sinatra
The Ballad of the Green Berets – SSgt Barry Sadler
My World is Empty Without You – The Supremes
Waitin' in Your Welfare Line – Buck Owens
1975
Best of My Love – The Eagles
Have You Never Been Mellow – Olivia Newton-John
Black Water +- The Doobie Brothers
It's Time to Pay the Fiddler – Cal Smith
1984
Jump – Van Halen
99 Luftballons – Nena
Girls Just Want to Have Fun – Cyndi Lauper
Woke Up in Love – Exile
1993
I Will Always Love You – Whitney Houston
A Whole New World (Aladdin's Theme) – Peabo Bryson & Regina Belle
Ordinary World – Duran Duran
What Part of No – Lorrie Morgan
2002
In The End – Linkin Park
Hey Baby – No Doubt
7 Days – Craig David
Good Morning Beautiful – Steve Holy
2011
Born This Way – Lady Gaga
Firework – Katy Perry
Grenade – Bruno Mars
Someone Else Calling You Baby – Luke Bryan