March 2 2015
We've just learned that CHEK's fine young weekend sportscaster did NOT leave of his own volition.  It seems Mike Walker was asked to buy into the employee-owned station to the tune of $4500, and when he refused he was shown the door.  The ownership requirement is a result of the fact that the workers took over the station years ago, financing the purchase with $15,000. from each employee at the time.  A few people such as reporter/anchor Philip Campbell did not buy in and were forced to leave the station. We aren't aware of how the $4500 requirement for Walker was computed, or if there have been any exceptions to the 'Buy-In' requirement.
It's a shame, because this fresh-faced young man has a lot of talent.
Back in 2010, Tom Hawthorne of the Globe and Mail did a lengthy profile of Mike, which is partially posted below.  Bear in mind this article was written nearly 5 years ago, before Mike was hired to handle sports at CHEK.
Young announcer brings it all to the ballgame

by Tom Hawthorn
Published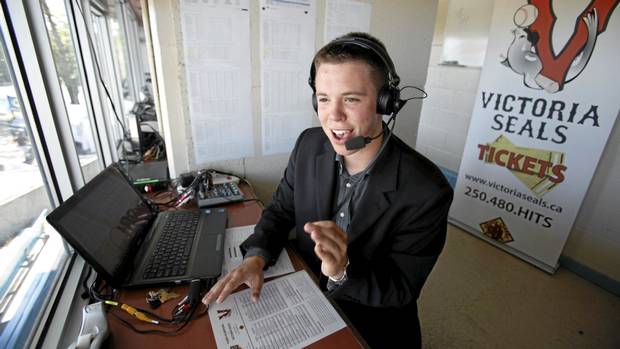 Mike Walker sits in a booth behind home plate, a headset covering his ears, hands tapping on a laptop like a prog-rock keyboardist.
He watches a baseball game, records each play in a scorebook, glances at the computer screen. He Tweets between innings. All the while he maintains a steady patter for an unseen audience following along on the Internet.
"You have to be a little bit crazy," he said, "to talk to yourself for four hours."
This has been his life for the past four years, his office high above the action at the hockey arena and the baseball diamond. He turned 22 just last month. He looks like Ferris Bueller but there are no days off.
He has a fancy title: director of broadcasting and media relations for the Victoria Seals. He acknowledges he'd probably make more money this summer by mowing lawns.
As soon as he wakes, he begins preparing a statistical package to be shared with reporters at the ball park. He arrives at Royal Athletic Park hours before the first pitch. Batting practice is a lazy afternoon routine for players but a hectic time for Mr. Walker, who videotapes interviews for clips to be shown on the scoreboard that evening.
Read More Here
A Funny Farewell to Mike Walker from CHEK TV HERE