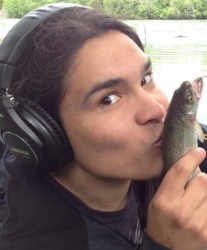 From the desk of Boyd Leader
February 10th, 2015
It's my pleasure to announce that Dustin McGladrey will be joining the CFWE Staff.  Dustin has accepted the position of Production/ On Air.  He will be busy in production, covering on air, merging on air logs, increasing our local content on the radio and helping out with our new internet radio stations.
Dustin is from the Nisga'a Nation in British Columbia and comes to us from The Eagle in Hinton where he hosted the afternoon drive show.  Dustin has also spent time at CFNR in Terrace and EZ Rock in Terrace.  He is a graduate of the Radio Program at BCIT in Vancouver where he also served as a mentor/coach with BCIT's Aboriginal services.  As a volunteer host at Vancouver Co-op Radio CFRO he served as host for Indigenous Rock, Blues, and Country.
Dustin is very excited about joining us and I'm really looking forward to him being here; he will be a great addition to the team.
Dustin's first day of work will be Monday March 2nd.   Not sure if the fish is moving with him to Edmonton or staying in Hinton for work.  I've included a photo.
Thanks
Boyd
Boyd Leader
Director of Radio
CFWE Radio Network