On This Day in 1916
radio pioneer Ernst Alexanderson successfully tested the multiple tuned antenna. In his 45 years with General Electric he was responsible for 322 patents!
On this day in 1919, actor/comic Red Buttons was born Aaron Chwatt in the Bronx. He had his own TV show (The Red Buttons Show) on CBS in the 50's, and starred in The Double Life of Henry Phyfe. He also had recurring roles on Knots Landing, Roseanne, Street Time & ER.  He died July 13 2006 at age 87.
On this day in 1924, the BBC time signal was first transmitted at 9.30pm, introduced by Sir Frank Dyson, the Astronomer Royal. Ever since that date, equipment at the Greenwich Observatory generates six short "pips" starting at five seconds to the hour and ending exactly on the hour.
On this day in 1928, 
 singer Jessica Dragonette was seen on one of the first television shows. She was used only to test the new medium. She didn't even get to sing. Now, before you start feeling too badly for Jessica, it must be noted that she enjoyed an illustrious radio career.  Her many program credits include Cities Service Concerts, Palmolive Beauty Box Theatre, The Railroad Hour and Show Boat.  She earned the titles "Star of Stars," "The Princess of Song," "Sweetheart of the Air,"  and the "Queen of Radio."  Wow!
On this day in 1931, Eddie Cantor's long radio career got underway as he made his first appearance on Rudy Vallee's "The Fleischmann Hour" on NBC. By September of 1931 he would be headlining his own variety hour for Chase & Sanborn.
On this day in 1940, "Amanda of Honeymoon Hill" debuted on radio. Joy Hathaway starred as "the beauty of flaming red hair". The program remained for six years on the NBC radio network.

Also this day in 1940, one of the great classic tunes of the Big Band era was recorded. Glenn Miller and his Orchestra waxed "Tuxedo Junction" at the RCA Victor studios in Manhattan. The flip side of the 78 (released on the Bluebird label) was "Danny Boy".
On this day in 1948, "The Nature of Things" science show premiered on NBC TV in prime time.  It was a network feature for the next 4 years.
On this day in 1953, the Fifth Emmy Awards gave top honors to I Love Lucy, Thomas Mitchell and Helen Hayes.
On this day in 1955, New York radio station WNEW announced the winners of its annual music popularity poll: Perry Como (Male Singer), Patti Page (Female Singer), the Crew-Cuts (Vocal Group), and Ray Anthony (Orchestra).
Also in 1955, "Hearts of Stone" by the Fontaine Sisters topped the charts and stayed there for 3 weeks.

Om this day in 1957, Bill Haley & the Comets (Rock Around the Clock) arrived in the UK for their first British tour, and were mobbed by 5,000 fans.   Haley was the first American rock artist to tour Great Britain.
On this day in 1958, the National Academy of Recording Arts and Sciences (NARAS) formed a New York chapter, a year after the organization was founded.  NARAS is better known as the Grammy Awards organization.
Also this day in 1958, the Kingston Trio were at the Capitol Tower in Hollywood to record "Tom Dooley," "The Sloop John B," and four other tracks, for their first album, which would be completed over the next two days.
On this day in 1960, the No. 1 Billboard Pop Hit was "Teen Angel" by Mark Dinning.
Also this day in 1960, singer George Hamilton IV was inducted into the Grand Ole Opry.

On this day in 1961, the Shirelles were winding up their first week at #1 on the music charts with "Will You Love Me Tomorrow". The song was at the top for two weeks. It was the group's first #1 tune and the first #1 tune from the pen of a New York Brill Building songwriter who worked right down the hall from Neil Sedaka. She became a huge star in her own right with several #1 singles and albums in the 1970s. Her name: Carole King.
On this day in 1962, CBS-TV aired the 50th episode of "The Andy Griffith Show". The popular family sitcom would end up leaving the air in 1968 after 249 firstrun episodes.
On this day in 1963, in Nashville, in what turned out to be one of her last recording sessions Patsy Cline taped one of her most memorable hits "Sweet Dreams (Of You)," written by Don Gibson, who had a hit with it himself seven years earlier.
On this day in 1966, "My Love" by Petula Clark topped the charts and stayed there for 2 weeks.  It was her second #1 US hit.
On this day in 1967 
 "The Smothers Brothers Comedy Hour" premiered on CBS (later ABC, NBC).
Also this day in 1967, because of a British Musicians' Union ban, the Rolling Stones were not allowed to play their hit "Let's Spend the Night Together" when they appeared on an ITV show.
Still in 1967, the UK tabloid News of the World published an article called "Pop Stars and Drugs – Facts that Will Shock You." In it, everyone from the Moody Blues to Pete Townshend was labeled as LSD users.
On this day in 1968, The Beatles' album "Yellow Submarine" was certified as a Gold Record.
On this day in 1969, one of filmdom's favorite character actresses 
        Thelma Ritter suffered a fatal heart attack & died at age 63.  She had accepted only a handful of TV guest roles, on Philco Television Playhouse, US Steel Hour, Alfred Hitchcock Presents, Studio One, Frontier Circus, Wagon Train & GE Theatre.
Also this day in 1969, for one of the few times in television history, a scheduled series (usually 13 or 26 weeks of shows) turned into a one-night wonder. ABC-TV premiered "Turn On", hosted by Tim Conway, a show similar to NBC's "Rowan & Martin's Laugh-In".  TV critics called the show, "offbeat and distasteful." It never aired again.
On this day in 1970, the No. 1 Billboard Pop Hit was "Venus" by The Shocking Blue. The song was the biggest-selling single from Holland.

On this day in 1972, Paul Simon released his first solo single following his breakup with Art Garfunkel. The song, "Mother and Child Reunion," became a top five hit.
Also in 1972, Neil Young released the future #1 single, the biggest solo hit of his career, "Heart Of Gold."  James Taylor played banjo for the first time and added vocal harmony at the end of the track, along with Linda Ronstadt.
On this day in 1973, "Crocodile Rock" by Elton John, which he recorded at Strawberry Studios in France, was certified to be a Gold Record.
On this day in 1976, saxophonist Rudy Pompilli of Bill Haley & his Comets died of lung cancer aged 51. He apparently contracted the disease through what is known as second hand smoke, since he was a non-smoker himself.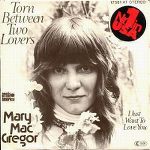 On this day in 1977, "Torn Between Two Lovers" by Mary MacGregor topped the charts and stayed there for 2 weeks.
Also this day in 1977, "General Mills Adventure Theater" debuted on the CBS Radio network, with host Tom Bosley. The noble attempt to revive radio drama ended a year later.
On this day in 1979, the "Sears Radio Theater" first aired on CBS Radio. A successor to the CBS Radio Mystery Theatre, it ended its one year run in reruns.
Also this day in 1979, "Fire" by The Pointer Sisters was certified as a Gold Record. That same day Anne Murray's LP "New Kind of Feeling" received similar Gold Record accreditation, having sold in excess of 500,000 copies.
On this day in 1981, during the Juno Awards in Toronto 
 Prime Minister Pierre Trudeau inducted Joni Mitchell into Canada's Juno Hall of Fame. Though she was boycotting the awards Anne Murray was a four-time winner.
On this day in 1983, "Africa" by Toto topped the charts .. but only for a week.
On this day in 1986, the artist known as Prince released the single "Kiss" which would soon become his third #1 hit.
On this day in 1988, the first prime-time TV wrestling match in 30 years saw Andre the Giant beat Hulk Hogan.
On this day in 1989, Metallica's concert at Reunion Arena in Dallas was broadcast nationally via the Z-Rock radio network.
On this day in 1990, NBC-TV obtained the television rights to all of Notre Dame's home football games for the next five years. Notre Dame was the first school to sell its games to a major TV network.

On this day in 1991, actor Dean Jagger, who played the Principal on NBC-TV's teacher show Mr. Novak, died of heart disease at age 87.
On this day in 1992, when the cable company in Johnson City, Tennesee dropped MTV as a cost cutting measure, John Mellencamp arrived in town to play a free protest concert. MTV returned to the cable line-up the following month.
On this day in 1994, a new program "Where On Earth Is Carmen San Diego" made its debut on the FOX TV network.
On this day on 1995, Vancouver-born broadcaster Court Benson died in upstate New York at age 80.  I remember him on CBC radios Hot Stove League, and he has credits as a New York-based radio actor for ABC's Theatre Five in the 60's, and Adventure Theatre and the CBS Radio Mystery Theatre in the 70's.  Also as host-narrator for a juvenile western radio adventure Tennessee Jed in the mid-1940's. But unfortunately that doesn't tell us much about him.
Also this day in 1995, 
actor & rodeo rider Doug McClure, who played Trampas on the TV western 'The Virginian,' died of lung cancer at age 59.
Still this day in 1995, Pearl Jam played the first of two private Seattle shows for fan club members and underprivileged kids.
Again this day in 1995, the 200th episode of "Married With Children" aired.
On this day in 1998, Tim Kelly, guitarist for Slaughter, died from injuries suffered in a collision on a remote highway in Arizona. Kelly, 34, was driving on State Route 96 when an 18-wheel tractor-trailer jackknifed and collided with his vehicle.

Also this day in 1998, Elton John and Stevie Wonder played at the White House for President Bill Clinton and and visiting UK Prime Minister Tony Blair.
Again in 1998, skaters Nancy Kerrigan & Tonya Harding were together on FOX  to discuss their high profile encounter.  It had been taped Dec 22nd.
On this day in 2001, producers announced that Kelly Ripa would be Regis Philbin's new co-host. The popular morning TV chat show from New York was renamed "Live! With Regis and Kelly."

On this day in 2006, Montreal-born former NBC news president Reuven Frank died of pneumonia at age 85. In 20 years with the network news division he helped TV news to overtake and dominate radio news, and mentored the likes of Tom Brokaw, John Chancellor, Linda Ellerbee, and Andrea Mitchell.
Also this day in 2006, TV viewers throughout the Pacific Northwest were disappointed as the Seattle Seahawks lost to Pittsburgh 21-10 in Super Bowl XL at Detroit.  The Rolling Stones played three songs during the half-time show, but expressed their displeasure with the censors after Mick Jagger's microphone was briefly shut off during the song "Start Me Up". The line "you make a dead man come" was cut, as was a reference to "cocks" in the Stones' new song "Rough Justice."
On this day in 2007, the Beatles' business entity Apple Corps and Apple Computers reached agreement in their longstanding trademark battle over their shared name and similar logos. The settlement gave the technology firm rights to the Apple moniker and logo, while allowing Apple Corps to continue to use the trademark for their core purposes.

On this day in 2008, Amy Winehouse was questioned by London police in connection with a video apparently showing her smoking a crack-cocaine pipe. The video was posted online by The Sun (UK) newspaper.
On this day in 2011, character actress Peggy Rea, who played many matronly figures on TV in series such as Grace Under Fire, Step by Step, I Love Lucy, Bonanza, Gunsmoke, the Dukes of Hazzard, The Waltons and The Golden Girls etc., died at age 89.
On this day in 2012, at Indianapolis, Indiana, for Super Bowl XLVI, Kelly Clarkson sang the national anthem, while Madonna, M.I.A. and Nicki Minaj provided the halftime entertainment.

On this day in 2013, the last surviving member of the original Glenn Miller Orchestra, trombonist Paul Tanner, who became a prominent jazz educator at UCLA and created the electronic theremin heard on the Beach Boys' classic hit "Good Vibrations," died due to pneumonia at age 95.
On this day in 2014, harmonica virtuoso/arranger/conductor Richard Hayman, for more than 30 years the principal arranger for the Boston Pops Orchestra, died at age 93. His biggest hit for Mercury Records was the instrumental "Ruby" in 1953.
Today's Birthdays:
Drummer Hal Blaine is 86.
Hockey Night in Canada's Ontario-born Don Cherry is 81.
Actor Stuart Damon (General Hospital) is 78.
Motown singer-songwriter Barrett Strong is 74.
Actor David Selby (Dark Shadows, Falcon Crest) is 74.
Singer Cory Wells of Three Dog Night is 73.
Singer Al Kooper is 71.
Actress Barbara Hershey (The Mountain, Return to Lonesome Dove) is 67.
Actor-director-comedian Christopher Guest (Sat. Night Live, Blind Ambition) is 67.
Actor Tom Wilkinson (The Gathering Storm, David Copperfield) is 67.
Ontario-born TV journalist & anchor Thalia Assuras (Global, CTV, CBS) is 64.
Actor-comedian Tim Meadows (Saturday Night Live, Dennis Miller) is 54.
Actress Jennifer Jason Leigh (Spawn, Hercules) is 53.
Actress Laura Linney (The Big C, John Adams, Frasier, Tales of the City) is 51.
Bassist Duff McKagan of Velvet Revolver (and Guns N' Roses) is 51.
Actor/voicist Chris Parnell (Suburgatory, Archer, 30 Rock, SNL) is 48.
Singer Chris Barron of the Spin Doctors is 47.
Actor Michael Sheen (Masters of Sex, The Spoils of Babylon) is 46.
Singer Bobby Brown is 46.
Country singer Sara Evans is 44.
Actor David Meunier (Justified, Aquarius, Jericho) is 42.
Actor Diego Serrano (Another World, Time of Your Life) is 42.
Actor Gil McKinney (Friday Night Lights, ER) is 36.
Actress Nora Zehetner (Maron, Desperate Housewives, Heroes) is 34.
Model/actress Sara Foster (90210) is 34.
Toronto-born actress Brittany Allen (All My Children, Defiance, Bomb Girls) is 29.
Actor Darren Criss (Glee) is 28.
Actor Jeremy Sumpter (Friday Night Lights, Clubhouse) is 26.
Actor Davis Cleveland (Shake It Up!) is 13.
Chart Toppers – Feb. 5
1948
Golden Earrings – Peggy Lee
How Soon – Jack Owens
Ballerina – Vaughn Monroe
I'll Hold You in My Heart (Till I Can Hold You in My Arms) – Eddy Arnold
1957
Too Much – Elvis Presley
Young Love – Tab Hunter
Banana Boat (Day-O) – Harry Belafonte
Young Love – Sonny James
1966
My Love – Petula Clark
Barbara Ann – The Beach Boys
No Matter What Shape (Your Stomach's In) – The T-Bones
Giddyup Go – Red Sovine
1975
Laughter in the Rain – Neil Sedaka
Fire – Ohio Players
Boogie on Reggae Woman – Stevie Wonder
City Lights – Mickey Gilley
1984
Karma Chameleon – Culture Club
Joanna – Kool & The Gang
Running with the Night – Lionel Richie
Show Her – Ronnie Milsap
1993
I Will Always Love You – Whitney Houston
If I Ever Fall in Love – Shai
A Whole New World (Aladdin's Theme) – Peabo Bryson & Regina Belle
Too Busy Being in Love- Doug Stone
2002
Get The Party Started – Pink
U Got It Bad – Usher
Hey Baby – No Doubt
Good Morning Beautiful – Steve Holy
2011
Grenade – Bruno Mars
Firework – Katy Perry
Black And Yellow – Wiz Khalifa
Somewhere With You – Kenny Chesney