ON THIS DAY in 1900
Canadian wireless expert Reginald Fessenden, working for the US Weather Service at Brant Rock, Mass. near Boston, broadcast the world's first voice communications by AM (amplitude modulation) radio wave for a distance of 1.6 km between two 13 metre towers. He asked his assistant, 'Is it snowing where you are, Mr. Thiessen?'
On this day in 1907,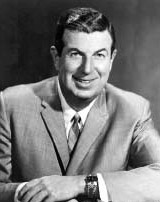 the longtime host of radio's Breakfast Club, Don McNeill was born at Galena Illinois.  He created the then-unique a.m. variety program in Chicago in 1933, where it ran for the next 34 years, for much of that time simulcast on CBC Radio.  He died May 7, 1996 at age 88.
On this day in 1911, actor James Gregory was born in the Bronx.  After paying his dues on Broadway, on the early live TV dramas & in Hollywood films he found his signature role as Inspector Luger for the 7 year run of the TV series Barney Miller. As the Inspector he would be lovable, irritating, ingratiating, exasperating and humorous, sometimes all at the same time. He retired shortly after the series ended, and died Sep 16, 2002 at age 90.
On this day in 1922, the BBC began daily newscasts on its radio service in the UK.
On this day in 1926, radio station KEX in Portland Oregon began broadcasting. It has been a clear channel 50,000-watt powerhouse at 1190 KHz since 1941.
On this day in 1928, a permanent coast-to-coast NBC Radio network was formed.

N-B-C had been formed two years earlier by General Electric, Westinghouse and R-C-A, with David Sarnoff as its chief organizer.
On this day in 1935, r & b singer/pianist "Little"Esther Phillips was born in Galveston Texas. Her big hits include Release Me, & What a Diff'rence a Day Makes. Her long-term heroin addiction, together with heavy drinking, led to her death from liver & kidney failure Aug 7, 1984, at age 48.
On this day in 1938, "Mrs. Wiggs of the Cabbage Patch" (based on a 1934 film of the same name) was heard for the final time on radio. The program was about life in a Kentucky shanty town. It had been on the air for three years.
Also in 1938, music impressario John Hammond


presented his famous Spirituals to Swing concert at Carnegie Hall in New York. The event introduced many black jazz musicians to a white audience for the first time, and helped launch a craze for the rhythmic boogie-woogie piano style.
On this day in 1939, rocker Johnny Kidd was born Frederick Heath in London England.  He was the front man for the band, Johnny Kidd and the Pirates, whose big hit was Shakin' All Over.  He was one of the pre-Beatles British rock and rollers to achieve worldwide fame.  Kidd was killed in a car crash near Manchester, England Oct 7, 1966, at age 26.
On this day in 1940, singer Eugene Record was born in Chicago.  He was the lead vocalist of the group The Chi-Lites in the 1960's & 70's.  After a few years as a solo and three solo albums he rejoined The Chi-Lites in 1980.  He left to become a gospel singer in 1988, and died after a long battle with cancer July 22 2005.  Record was 64.
On this day in 1941, folksinger & composer Tim Hardin was born in Eugene Oregon. He wrote some great material others made into hits including If I Were a Carpenter, & Reason to Believe. But drug addiction shortened his career & his life; he died of a heroin/morphine overdose Dec 29, 1980 at age 39.
On this day in 1942, 
 Bob Hope agreed to entertain U.S. airmen in Alaska. It was the first of his many famous Christmas shows for American armed forces around the world, a  tradition that continued for more than three decades.
Also this day in 1942, the No. 1 Billboard Pop Hit was "White Christmas" by Bing Crosby. The song was inducted into the Grammy Hall of Fame in 1974. Crosby's version topped the pop chart again in 1945 and 1947.
On this day in 1943, the first complete opera to be televised, Humperdinck's "Hansel and Gretel" was aired on WRGB in Schenectady, NY, one of the small handful of commercial TV licenses issued before World War II.
This day in 1947 is the offficial birth date for the invention of the transistor by scientists John Bardeen, Walter H. Brattain and William Shockley in a lab in New Jersey. The trio were honored for this milestone with the 1956 Nobel Prize in Physics.

On this day in 1951, the Los Angeles Rams downed the Cleveland Browns 24-17 in the first NFL championship game to be televised nationally. The DuMont Network had paid the league $75,000 for the TV rights.
On this day in 1955, Fats Domino was in the J&M Studio in New Orleans where he taped "My Blue Heaven."  It was released as the B side of his next #1 single, "I'm in Love Again," and itself peaked at #5.
On this date in 1957, Swift Current got local TV as CJFB-TV signed on to become the third TV station in Saskatchewan.
Also this day in 1957, actor Dan Blocker made his debut on television in the "Restless Gun" production of "The Child". Two years later, Blocker was a co-star on the very popular series "Bonanza" on NBC, playing Hoss Cartwright.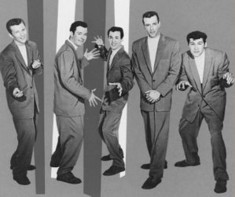 Still in 1957, The Champs were in Hollywood for their first recording session, including their future #1 hit instrumental (for 5 weeks!) "Tequila." Danny Florescomposed the melody, played the piano & a sax solo, and also is heard punctuating the track three times with the spoken word "Tequila."  But since he had signed with another label he had the tune credited to his stage personna, "Chuck Rio."
On this day in 1959, the No. 1 Billboard Pop Hit was "Why" by Frankie Avalon (below). This last No. 1 song of the '50s had the shortest title of any chart topping hit.

Also in 1959, Chuck Berry was arrested in St. Louis after the 14-year old Apache girl who'd come with him from Mexico was determined to be a prostitute. Berry claimed she was hired to be a hatcheck girl at his club. Under the infamous Mann Act which makes it illegal to transport a minor across state lines for immoral purposes, Berry was sentenced to serve five years in prison. But the charges were eventually dropped after the judge was reported to have made racist remarks.
Still in 1959, The Drifters recorded their next single release "This Magic Moment," while Buck Owens recorded his next Top 5 country hit "Above And Beyond."

On this day in 1964, Radio Caroline and Radio Atlanta (later known as Caroline South and North) were joined at sea by Radio London, which arrived off Frinton (northeast of London) this day. The new ship/station brought a team of "Americanised" deejays, experienced in the art of selling themselves as much as the music. With catchy jingles and contagious slogans like "Wonderful Radio London" and "Big L", Radio London soon became king of the U.K. pirate-radio scene.
Also this day in 1964, the No. 1 Billboard Pop Hit was "I Feel Fine" by The Beatles. This song was the 30th by the group to hit Billboard's Hot 100 in 1964, the most songs in one year by any group.
Still in 1964, the Beach Boys performed "Little Saint Nick" and "Dance, Dance, Dance" during their first appearance on ABC-TV's prime time music showcase "Shindig!"  Later, as they flew from L.A. to Houston, group leader and creative force, Brian Wilson suffered a nervous breakdown which would soon lead to him leaving the group.
On this day in 1966, 
 "How the Grinch Stole Christmas" was seen for the first time on CBS.
Also this day in 1966, after UK musician union rules made it impossible to televise artists lip-syncing to their recordings, the ITV musical mainstay "Ready Steady Go!" aired its last show in a 3-and-a-half year run. The all-star lineup on the finale included The Who, Mick Jagger, Eric Burdon, the Spencer Davis Group, and Donovan.
On this day in 1967, John Lennon made the first contact in years with his estranged father, Alf. After hearing that he'd taken ill, John sent Dad a get-well note and a car so that he could visit his famous son.
On this day in 1969, singer B.J. Thomas (below) was awarded a Gold Record for the single, "Raindrops Keep Fallin' on My Head" — from the motion picture, "Butch Cassidy and the Sundance Kid". "Raindrops" hit number one on the pop charts ten days later, and remained on top for 4 weeks.

Also this day in 1969, Elton John met for the first time with arranger Paul Buckmaster, writer Bernie Taupin and producer Gus Dudgeon. The collaboration marked the start of one of the most successful teams producing music in the 1970s. Together, they created "Your Song", "Friends", "Levon", "Tiny Dancer", "Rocket Man" and many more.
Still in 1969, Diana Ross began her final engagement with The Supremes in Las Vegas. The last show was a few weeks later. Ross was replaced with Jean Terrell.
On this day in 1970, Canadian folksinger Joni Mitchell was awarded her first Gold Record for her third album, Ladies of the Canyon, which contained the hit single 'Big Yellow Taxi.'
Also on this day in 1970, 
 character actor Charlie Ruggles succumbed to cancer at age 84.  He had capped a 60-plus year, 100 movie career with recurring roles in the TV series The Ruggles, The World of Mr. Sweeney, & The Bullwinkle Show (voice.)
On this day in 1972, ex-Grand Funk Railroad manager Terry Knight showed up with the sheriff and a moving van at the band's scheduled concert at Madison Square Garden.  He was armed with a court order allowing him to seize one million dollars in money and band equipment for what was owed him by Grand Funk.
Also in 1972, the John Lennon film featuring all the songs from his "Imagine" album premiered nationally on US TV. It also featured many scenes of John & Yoko shot at his estate in Ascot, England.
On this day in 1973, the daytime TV soap "The Young & The Restless"premiered on CBS.

On this day in 1977, the No. 1 Billboard Pop Hit was "How Deep Is Your Love" by the Bee Gees. The song was the first single from the soundtrack to "Saturday Night Fever." The album remained at No. 1 for 24 weeks.
Also in 1977, in the wake of his conversion to the Muslim faith, singer Cat Stevens formally changed his name to Yusef Islam.
On this day in 1978, radio station CKST signed on in the Edmonton suburb of St. Albert with 10,000 watts on 1070 KHz.  Today it has evolved into CFMG-FM (Easy Rock) at 104.7 MHz and is part of the Astral broadcasting empire.
Also in 1978, Rod Stewart released "Do Ya Think I'm Sexy?" The track would be the biggest hit of his career, spending 4 weeks the following February atop Billboard's pop singles chart.
On this day in 1982, actor Jack Webb, creator & star of Dragnet, died as a result of a heart attack at age 62.


He started in radio as a deejay & failed comic, then found success as the lead in "Pat Novack For Hire."  In 1949 he started playing Sgt. Joe Friday on NBC radio, taking "Dragnet" to TV in 1951, where it continued until 1959.  A second run of the show began in 1967, during which Webb developed the spin-off "Adam 12."
On this day in 1989, Phil Collins started a four week run at No.1 on the Billboard singles chart with 'Another Day In Paradise', his 7th solo chart topper.
On this day in 1994, Courtney Love, in an interview published in Spin magazine, said husband Kurt Cobain's drug problems and constant threats to kill himself nearly drove her to suicide. Love said she put a revolver to her head but Cobain grabbed it from her. The incident had occurred only weeks before Cobain killed himself with a shotgun at their Seattle-area home in April 1994.
Also on this day in 1994, Dan Hamilton of Hamilton, Joe Frank and Reynolds died of Cushing's Syndrome at age 48. The trio's "Don't Pull Your Love" made the top five in 1971 and "Fallin' in Love" hit number one four years later.
On this day in 1997, R&B singer Jackie Landry of The Chantels lost her battle with breast cancer at age 56.

On this day in 2000, musical humorist Victor Borge died of heart failure at age 91.  In 1941 he had become a sensation on NBC radio's Kraft Music Hall soon after arriving from his native Denmark, and in 1948 became an early repeat performer on CBS-TV's Toast of the Town with Ed Sullivan.
On this day in 2002, Sir Paul McCartney was granted his own coat of arms by the College of Arms, the English heraldic body formed in 1484. The crest features a bird that appears to be holding a guitar in its claw.
On this day in 2007, Canadian piano jazz icon Oscar Peterson died of kidney failure at age 82.
Also this day in 2007, a Paul McCartney TV special, 'Live At The Olympia,' premiered on the A&E cable channel. The one-hour show captured a McCartney concert taped in Paris two months earlier.
Still in 2007, The Police (below) were named as the highest earning touring group for the past year, bringing in nearly $132million. The band's 54 date North American tour had generated almost double the total of the second-place act, country star Kenny Chesney.

On this day in 2008, songwriter Clint Ballard Jr. died at age 77. He wrote 'Game Of Love,' a hit for Wayne Fontana And The Mindbenders', and Linda Ronstadt's 'You're No Good.' His songs have also been recorded by The Hollies, Frankie Avalon, Ricky Nelson, The Zombies and Jan And Dean.
Also this day in 2008, a spokesman for Michael Jackson denied reports the singer was suffering from a rare respiratory disease and was in need of a lung transplant. The suoerstar's personal physician Dr. Tohme Tohme issued a statement denying reports that the singer was unwell. (Yet Michael was only 6 months away from death.)
On this day in 2009, Ozzy Osbourne blasted the Christmas holiday saying the best Christmas he ever had was when he was unconscious after breaking his neck in an '03 ATV accident. "I hate Christmas, I hate it," humbugged Ozzy. "Everything stops. When I used to drink it was a good excuse to get drunk for two weeks. Now I just hate it. I have to unravel all these presents. What a waste of paper!"
On this dsy in 2011, longtime Nashville TV weatherman/anchor Bill Hall passed away at age 65. He had been employed by WSMV News Channel 4 from 1974 until 2005
On this day in 2013, Gordon Hinkley,
 whose Milwaukee radio career spanned more than a half century and whose voice was as familiar as an old friend to thousands of listeners, died at age 88. Known as the "Granddaddy of Milwaukee radio," his "Ask Your Neighbor" show ran on WTMJ-AM (620) for more than 30 years.
Also in 2013, studio drummer Ricky Lawson, a collaborator with the likes of Michael Jackson, Eric Clapton, Phil Collins and Whitney Houston, died following a brain aneurysm at age 59.
Today's Birthdays:
Actor Gerald S. O'Loughlin (The Rookies, Our House, Automan) is 93.
Toronto-born TV host/producer/writer/actor Patrick Watson (This Hour has Seven Days, The Watson Report) is 85.
Actor Ronnie Schell (Gomer Pyle USMC, Forever Fernwood) is 83.
Actor Frederic Forrest (21 Jump Street, Lonesome Dove) is 78.
Actor James Stacy (Wiseguy, Lancer, Adv. of Ozzie & Harriet) is 78.
Rock musician Jorma Kaukonen is 74.
Rock musician Ron Bushy is 73.
Actor-comedian Harry Shearer (The Simpsons) is 71.
Actress Susan Lucci (All My Children, Dallas) is 68.
Singer-musician Adrian Belew is 65.
Actor John Callahan (All My Children, Santa Barbara, Falcon Crest) is 61.
Actress Allison Argo (Search for Tomorrow, Ladies' Man, Family Medical Centre) is 61.
Toronto-born actor Stefan Arngrim (Land of the Giants) is 59.
Rock musician Dave Murray (Iron Maiden) is 58.
Model/actress Joan Severance (Wicked Wicked Games, Wiseguy) is 56.
UK-born, Montreal-raised singer/Canadian Idol judge Sass Jordan is 52.
Singer Terry Weeks is 51.
Actor Reg Rogers (The Knick) is 50.
Rock singer Eddie Vedder (Pearl Jam) is 50.
Actress Martha Byrne (As the World Turns, General Hospital) is 45.
Singer/actress Martha Byrne (As The World Turns, General Hospital) is 45.
Fox News reporter/anchor Shannon Bream is 44.
Rock musician Jamie Murphy is 39.
TV personality Holly Madison (The Girls Next Door, Holly's World) is 36.
Ontario-born actress Estella Warren (Blue Seduction, Lies and Crimes) is 36. 
Model/TV personality Holly Madison (Girls Next Door, Holly's World) is 35.
Actress Lauren Drummond (The Royal, Heartbeat) is 27.
Actress Maria Perez de Tagle (Hannah Montana) is 24.
Actor Spencer Daniels (Mom) is 22.
Chart Toppers – Dec. 23
1949
I Can Dream, Can't I? – The Tommy Dorsey Orchestra (vocal: Jack Leonard)
Rudolph, the Red-Nosed Reindeer – Gene Autry
White Christmas – Bing Crosby
Blue Christmas – Ernest Tubb
1958
The Chipmunk Song – The Chipmunks
Smoke Gets in Your Eyes – The Platters
One Night – Elvis Presley
City Lights – Ray Price
1967
Daydream Believer – The Monkees
I Heard It Through the Grapevine – Gladys Knight & The Pips
Woman, Woman – The Union Gap
For Loving You – Bill Anderson & Jan Howard
1976
Tonight's the Night (Gonna Be Alright) – Rod Stewart
The Rubberband Man – Spinners
You Don't Have to Be a Star (To Be in My Show) – Marilyn McCoo & Billy Davis, Jr.
Thinkin' of a Rendezvous – Johnny Duncan
1985
Say You, Say Me – Lionel Richie
Party All the Time – Eddie Murphy
Alive & Kicking – Simple Minds
The Chair – George Strait
1994
Here Comes the Hotstepper – Ini Kamoze
Another Night – Real McCoy
Always – Bon Jovi
Pickup Man – Joe Diffie
2003
Hey Ya! – Outkast
It's My Life – No Doubt
Invisible – Clay Aiken
There Goes My Life – Kenny Chesney