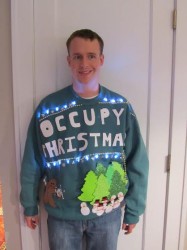 By Donovan Tildesley



December the 10th…
.
Arrogant Worms – Santa's Gonna Kick Your Ass
I kicked off this feature back on December 1 with Bob and Doug
McKenzie. Ten days later I feel the need to return to some Canadiana;
not out of lipservice to the CRTC, just because this one sounds fun,
in a good clean Canadian sort of way. I discovered this band at age
11, with their album "C'est Cheese". Even had the chance to meet the
Worms at CBC Plaza in the summer of '96. Nice guys, but one of them
had fairly strong BO, likely due to a vigorous on-stage performance in
the blazing sun. Not sure why, but this song brings to mind a cross
between "rock 'em sock 'em" hockey (a la Don Cherry) and of course
Christmas.