Best News Reporting of the Year – Print
Winner
Frances Bula
The Globe and Mail
PHS
.
Finalists
Louise Dickson, Lindsay Kines, Rob Shaw, Mike Devlin, Jeff Bell, Sarah Petrescu, Jack Knox, Les Leyne, Richard Watts, Cindy Harnett, Carla Wilson, Iain Hunter – Times Colonist – Canada Day Terror Plot
James Keller – The Canadian Press – Highway of Tears
Best News Reporting of the Year – Radio
Winner
Curt Petrovich
CBC National Radio News
Typhoon Haiyan
.
Finalists
Bob Keating – CBC Radio – Green Rush
Curt Petrovich – CBC National Radio News – Killer Slide
Best News Reporting of the Year – Television
Presented in memory of Keith Bradbury
Winner
Kathy Tomlinson, Enza Uda, Robb Douglas
CBC News Vancouver
McJobs
.
Finalists
Natalie Clancy, Paisley Woodward, Robb Douglas – CBC News Vancouver – Code White
Kendall Hanson, Dean Stoltz, Garry Frang, Glenn Olsen, Jim Beatty, Mary Griffin, Dana Hutchings, Rob Germain and team – CHEK News – Sawmill Shooting
Best Feature Story – Print
Winner
Lori Culbert, Tracy Sherlock
The Vancouver Sun
From Care to Where?
.
Finalists
Cheryl Chan, Sam Cooper, Susan Lazaruk, Elaine O'Connor, Cassidy Olivier, Jason Payne, Arlen Redekop, Jon Ferry, J.J. Adams, Ros Guggi, Katie Mercer, Carolyn Soltau – The Province – Racism in Paradise
Barry Link, Michael Kissinger, Naoibh O'Connor, Dan Toulgoet, Megan Stewart, Cheryl Rossi, Mike Howell, Sandra Thomas, Fiona Hughes, Andrew Fleming, Rebecca Blissett, Jennifer Thuncher, Adrian Cunningham – Vancouver Courier – Vancouver Special
Best Feature Story – Radio
Winner
Mark Leiren-Young, Yvonne Gall
CBC Radio
Moby Doll: The Whale That Changed the World
.
Finalists
Margaret Gallagher – CBC Radio, The Early Edition – At Home At Last
Stephen Quinn, Theresa Duvall, Jodie Martinson, Jennifer Chen, Matthew Lazin-Ryder, Lisa Christiansen – CBC Radio – Gay and Grey
Best Feature Story – Television
Winner
Allan Hopkins, Pieter Romer, Winston Xin
CTV Vancouver – First Story
Residential School Lost and Found
.
Finalists
Duncan McCue, James Roberts, Michelle Billman, Doug Trent – CBC The National – Residential Schools and Hockey
Chris Brown, Brett Hyde, Brian Dutkewich – CBC The National – Tearing It Up: Big White's Paralympic Snowboarders
.
Jack Webster Award for Excellence in Digital Journalism
Winner
Shannon Miller, Erik Rolfsen, Jennifer Saltman, Ben Ngai, Rafe Arnott, David Rigler, Ginger Sedlarova
The Province
Homicide, Surrey Edition
.
Finalists
Chad Skelton, Kevin Griffin – The Vancouver Sun – Auto Crime and Bike Theft
Ana Komnenic – MINING.com – TIMELINE: Pascua Lama – from $1.5 billion to $8.5 billion to suspension
Jack Webster Business, Industry & Economics Award
Endowed by Jean Cormier
Winner
Frances Bula
Vancouver Magazine
The Modern Drive-Through
.
Finalists
Matt O'Grady – BCBusiness – High Hopes
Brent Jang, Iain Marlow – The Globe and Mail – LNG Boom
Best Reporting – Chinese Language
Winner
James Fung, Wai Man Ip and team
Sing Tao Daily (BC Edition)
BC Government's Apology to Chinese Community – The Inside Story
.
Finalists
Johann Chang and Travena Lee – Fairchild Radio – Chinese-only Signs
Otto Tang, Tina Song, Karen So, Guo Ding, Bowen Zhang, Doug Cheng – Omni TV – Road to the BC Chinese Apology
Jack Webster Award for Community Reporting
Winner
Rob Wipond
Focus Magazine
Coup de Police
.
Finalists
Tyler Olsen – Chilliwack Times – A Family's Fate
Tamara Cunningham – Nanaimo News Bulletin – A Journey with ALS
Jack Webster Award for Excellence in Legal Journalism
Sponsored by the Law Society of British Columbia
Winner
Duncan McCue
CBC The National
Last Right
.
Finalists
Natalie Clancy, Paisley Woodward, Alan Stewart – CBC News Vancouver – Deadbeat Tenants
Bal Brach, Bob Keating, Enza Uda, Brett Hyde – CBC News – Tim Hortons Temporary Foreign Workers Abuse
Jack Webster Award for Science, Technology, Health & Environment
Sponsored by Genome British Columbia
Winner
Dan Fumano
The Province
Our Water Series
.
Finalists
Lori Culbert – The Vancouver Sun – Drug Watchdog vs Big Pharma
Duncan McCue, James Roberts, Doug Trent, Michelle Billman – CBC The National – Imagine the Fire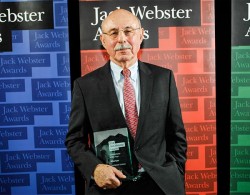 City Mike Award (Commentator of the Year)
Presented in memory of Linda Webster
Winner
Allen Garr
Vancouver Courier
winner photo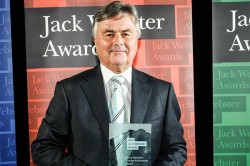 Bruce Hutchison Lifetime Achievement Award
Winner
Brian Coxford
Global BC