With Philip Till and Bill Good now out the door, Global TV Anchor  Chris Gailus hosted the CKNW Morning News on Monday and Tuesday of this week,  and he sounds good! Would Chris be able to handle both radio and television duties? If you recall, Bill Good was able to handle both duties during his busy schedule, the Bill Good show on NW and co-anchoring CTV News with Pamela Martin.
Global's Jay Durant hosted the CKNW Morning News this morning and will return for tomorrow's show.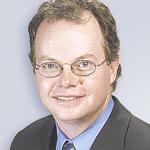 Michael Smyth announced this morning he will be doing the mid-morning show for the month of August.