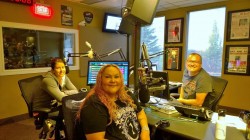 Puget Sound Radio heard from our old friend Boyd Leader who's now Director of Radio for the CFWE Radio Network…
He tells us they've been tinkering with CFWE over the last few months and have everything together and and wanted to pass it along to us.
Robin Wilson has joined Wally Desjarlais and Angela Pearson in the mornings as news anchor.   Robin is building the newsroom from the ground up. Most recently with the Harvard Group in Edmonton, she also spent time with Corus Edmonton.
This commitment to news is the latest step in the CFWE rebuild which has seen the network evolve into a Country Variety Format.  Playing the best in country from the 1950's to today we feature full length interviews,  a large library of independent artists and specialty programs which include Friday Night Blues, Sunday Morning Gospel and Heartbeat of Nations feature the best in Pow Wow and Drum.
Owned and operated by the Aboriginal Multi Media Society of Alberta, CFWE transmits to 85 communities throughout northern Alberta including major transmitters in Edmonton (98.5), Ft. McMurray (94.5), Bonnyville/Cold Lake (96.7), Lac La Biche (90.5) and Driftpile (91.7).  With studios in Edmonton we are committed to being a positive influence on our community.
Boyd Leader | Director of Radio | CFWE Radio Network
T. 780-453-0926 | [email protected]