As Gord Lansdell points out at his Northwest Broadcasters website, country DJ legend Ichabod Caine hosted his final show Friday afternoon on Everett's Classic Country KXA 1520, where he has been hosting p.m. drive since last October.  The station's Facebook page notes he and his wife Scallops are planning to travel and pursue  photography.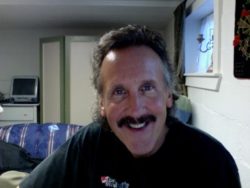 Caine is well-known to listeners of Seattle's KMPS and  KRPM.  He started at KMPS in 1983. 
Thanks to MyEverettNews.com from last fall for more of the Caine story.
Caine is among a handful of Northwest radio icons whose life and storied broadcast career is rooted in Washington State. Raised on the Olympic Peninsula in Forks and Port Townsend, Caine's radio achievements in Bellingham, Spokane, Tacoma, and Seattle propelled him to earn the title of Billboard Magazine's "Radio Personality of the Year" three times and serve as host of KING-TV's (NBC) Evening Magazine. After a four-year hiatus from commercial radio, Ichabod's back to raise a little…Caine!
"What a treat it has been for legions of fans to hear Icky radio all over again! You'll never guess what he'll say next, and he's always thinking about you…not like a stalker, but like your friend," says KXA General Manager Andrew Skotdal. "Ichabod is the wacky, funny, family friendly neighbor you want with you in the car or visiting while you're making dinner."
"Legendary live, local talent like Ichabod is what separates over-the-air Radio from streams of songs mixed by computers" states Chuck Maylin, executive director of the Seattle Area Radio Association. "I don't know anyone else who's been a fixture on local Radio longer than Ichabod."
"Local Radio's specialty rests in the host's ability to connect one-on-one with listeners and for advertisers. You can entertain and bond with your listeners in a meaningful way, and have a great deal of fun while you're doing it," states Caine. "I'm excited to highlight everything local in the Northern Puget Sound region."