ON THIS DAY in 1902
actor Alan Bunce (right, below) was born in Westfield NJ.


He is best remembered as the husband opposite show writer Peg Lynch in the gentle daily radio comedy Ethel & Albert, which also had a TV run in 1953.  As well he appeared regularly in TV guest roles from 1950 until his untimely death April 27 1965 at age 62.
In 1925, country singer George Morgan was born in rural Tennessee. He became a member of the Grand Ole Opry & and is best remembered for the song "Candy Kisses", which was a No. 1 country hit on Billboard for three weeks in 1949. In the early '50s he hosted a 15-minute syndicated radio program.  Later he was elected to the Country Music Hall of Fame.  The father of country music star Lorrie Morgan, he died after open heart surgery July 7th 1975 at the age of 50.
In 1928, Vancouver's pioneer radio station CFCQ became CKMO with 50 watts of power. 
In 1933, actor Pat Morita was born in California.  An accomplished stand-up comedian, he is best remembered as Arnold the diner owner in TV's Happy Days, and for his key role in the Karate Kid movies.  He died Nov. 24 2005 at age 72.

In 1940, The Quiz Kids was first heard on radio as a summer replacement for the blind piano virtuoso Alec Templeton. The show, with Chicago's Joe Kelly as host & quizmaster, continued on a succession of networks (ABC, NBC, CBS) until 1953.
In 1942, the world's first commercial TV network Dumont TV began operations. It pioneered programming after WWII until 1956, when the mostly UHF (and unprofitable) stations folded.
In 1943, the Dreft Star Playhouse debuted on NBC radio.Jane Wyman (the first Mrs. Ronald Reagan) starred in the first broadcast, titled Bachelor Mother. The 21-month series was expensive by radio's daytime standards, with $3,000 a week budgetted for big name talent.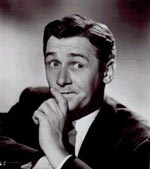 In 1944, The Alan Young Show debuted on NBC radio featuring the raised-in Vancouver comedian. It was the summer replacement for the popular Eddie Cantor. The show became a regular in the fall lineup.. on ABC. Young, incidentally, made the switch to TV in 1961. He became a CBS star with a talking horse, of course, of course, named Mister Ed.
In 1946, actress/comedienne Gilda Radner was born in Detroit. She is best remembered as an original star for the first five years of NBC's Saturday Night Live.  She succumbed to ovarian cancer May 20 1989 at age 42.

In 1947, Allen Funt began a lengthy career of catching people in embarassment as "Candid Microphone" began a 15-month run on ABC Radio. It returned to the air on CBS Radio for three months in 1950.  The TV version of the concept "Candid Camera" first aired in 1948.
In 1948, CKUA-FM Edmonton signed on with 250 watts on 98.1 MHz, simulcasting its AM counterpart.
Also in 1948, the No. 1 Billboard Pop Hit was 'The Woody Wood-Pecker Song," by the Kay Kyser Orchestra. The song topped the Billboard singles chart for six weeks and sold more than 1 million copies.
In 1951, an old favorite of radio audiences made the switch to TV.(below) Amos 'n' Andy moved to CBS-TV. Two years later, criticism from the NAACP about 'stereotyping' forced the network to drop the show.

In 1957, rocker Jerry Lee Lewis first performed on television, doing his big hit "Whole Lotta Shakin' Goin' On" on "The Steve Allen Show" on NBC.
iN 1959, ABC-TV aired "The Record Years" hosted by Dick Clark. It was the first broadcast of a tribute to the recording industry. The guests were Johnny Mathis, Fabian, the McGuire Sisters, Les Paul and Mary Ford, and Fats Domino.
Also in 1959, Bobby Darin was at No.1 on the UK singles chart with 'Dream Lover'.
In 1962, The Drifters recorded their next Top Ten hit  "Up On The Roof."

In 1964, the No. 1 Billboard Pop Hit was "I Get Around," by TheBeach Boys.
Also in 1964, Frank Sinatra headlined CBS-TV's Ed Sullivan Show, singing "My Kind of Town." Others on the Sunday night variety show included Connie Francis, Bobby Vinton, and the piano team of Ferrante & Teicher.
In 1965, another Dick Clark-produced-and-hosted rock 'n' roll show, "Where The Action Is" premiered as a weekday afternoon halfhour on ABC-TV.


Paul Revere and The Raiders were regulars, dressed in their trademark Revolutionary War regalia.
In 1968, working at Abbey Road studios in London, The Beatles recorded 'Good Night', John Lennon's lullaby for his 5-year-old son Julian, with Ringo singing the lead vocal. The track appeared on the White Album.
Also in 1968, Elvis Presley was in Burbank to tape segments of his NBC television "comeback" special, including a controversial "bordello" scene. It never made it to air (in December) because the sponsor, Singer Sewing Machines, didn't want to be associated with anything sensitive viewers might consider poor taste.

In 1969, Henry Mancini started a two week run at No.1 on the Billboard singles chart with 'Love Theme from Romeo And Juliet'.
Also in 1969, at the suggestion of Atlantic Records president Ahmet Ertegun, Toronto singer-songwriter Neil Young joinedCrosby, Stills & Nash for their forthcoming summer tour. Thus CSN became CSN&Y.
In 1971, CBS-TV's Ed Sullivan Show featured folk singerMelanie with "Look What They've Done to My Song, Ma." Tony Sandler & Ralph Young sang a medley of "Rain" songs, whileDanny Davis & the Nashville Brass performed "I Saw the Light," "I Can't Stop Loving You" and "Down Yonder."  Impressionist David Frye did his excellent version of President Richard Nixon (and others), and a sleight of hand artist performed a 'Pick Pocket' routine
In 1973, the "Helen Reddy Show" debuted as an eight-week summer replacement series on NBC-TV, with Flip Wilson, The Pointer Sisters, and Seals & Croft as guests.
In 1974, actor Frank Sutton, best remembered as Sergeant Carter on TV's Gomer Pyle USMC, suffered a fatal heart attack at age 50.

In 1975, Rod Serling died when complications developed after coronary bypass surgery. The writer, host and director of the TV series Twilight Zone was just 50 years old.
Also in 1975, The Eagles started a five-week run at No.1 on the Billboard album chart with 'One Of These Nights'.
Still in 1975, David Bowie released the single, "Fame".
in 1977, the No. 1 Billboard Pop Hi was "Gonna Fly Now," byBill Conti.
In 1980, Paul McCartney's 'Coming Up' became one of the few 'live' recordings to reach the top of Billboard's Hot 100. North American disc jockeys preferred it to the studio version on the flip side.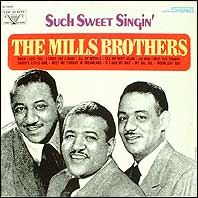 In 1982, singer Harry Mills, the baritone of the hit-making vocal group the Mills Brothers, (pictured right) died of pneumonia at age 70. That left Herbert & Donald Mills to carry on the family's work.
In 1986, Wham! made a farewell concert appearance at London's Wembley Stadium. Elton John came on stage in a clown suit, and returned later to sing "Candle In The Wind" withGeorge Michael.
In 1990, Joan Rivers won her first Daytime Emmy Award as a talk show host.
In 1996, Burt Bacharach appeared at The Royal Albert Hall in London. Oasis guitarist Noel Gallagher joined him on stage for a version of 'This Guy's In Love With You.'

In 1997, popular TV evangelist Robert Schuller was charged with assaulting a male flight attendant in a dispute over where he could hang his robes.  Schuller apologized for shaking the man, was fined $1,100, and was put on probation for six months.
Also in 1997, Bob Seger was charged with impaired driving, after his new BMW went off the Trans-Canada Highway & crashed near Nipigon, Ontario.
Still in 1997, the classic Pink Floyd album 'Dark Side of the Moon' spent its 1056th week on the Billboard album chart.

In 2000, Darva Conger announced that she had done a layout for Playboy magazine. Conger had briefly married Rick Rockwell on Fox-TV's much maligned "Who Wants to Marry a Multimillionaire."
In 2006, "Sunny 94" signed on in Lacombe, Alberta, at 9:41 a.m. on 94.1 MHz, despite the opposition of Red Deer station owners Newcap and Jim Pattison. 
Also in 2006, Barbara Walters banned Star Jones from the set of "The View" after Jones made a surprise announcement the day before that she was leaving the show in July.

Still in 2006, Charles Gibson appeared for the last time as co-host on ABC's "Good Morning America."
In 2007, The Spice Girls confirmed they would reform for a world tour to take place in December 2007 and January 2008 with the original line-up who had not performed together onstage since Ginger Spice Geri Halliwell quit in May 1998.
In 2009, a star of TV infomercials Billy Mays was found dead of heart disease exacerbated by cocaine abuse, at age 50. The direct-response advertising pitchman was most notable for promoting OxiClean, Orange Glo, and other cleaning and maintenance products.
Also in 2009, impressionist Fred Travalena died of non-Hodgkins Lymphoma at age 66.  He was said to have a repertoire of more than 360 celebrity, political, and cartoon-character voices.

In 2010, jazz singer Joya Sherrill died of complications from leukemia at age 85.  She sang with the Duke Ellington band in the 40's, toured the Soviet Union with Benny Goodman in 1962, and had a New York TV show for kids (Time for Joya) in the '70's.  She also wrote the lyrics for Ellington's signature song 'Take the A Train.'
Also in 2010, 62-year old Burton Cummings returned to St. John's High School in Winnipeg to receive an honorary graduation diploma, more than 40 years after he dropped out of school to pursue a musical career.
In 2011, a compilation album Rave On Buddy Holly featuring the likes of Paul McCartney, Ceelo Green, Graham Nashand the Black Keys was released, with cover versions of the songs of the young rocker who was killed in a plane crash in 1959.

In 2012, after one troubled year as Matt Lauer's co-host Ann Curry bid a tearful goodbye to NBC-TV's Today Show, a victim of falling ratings following the departure of Meredith Viera.  Ms. Curry had  been with Today for 15 years, most of the time as news reader, and she would stay with the network as a national correspondent. 
In 2013, veteran Denver overnight radio talk host Rick Barber, whose early morning KOA broadcasts were heard for 30 years over large portions of the US and Western Canada (1982-2012), succumbed to Lou Gehrig's disease at age 67.
Today's Birthdays: 
Comedian/writer/director Mel Brooks (The Electric Company, Get Smart, Your Show of Shows) is 88.
Impressionist/actor John Byner (Soap, Bizarre, Hollywood Squares, Ed Sullivan Show) is 76.
Bassist Dave Knights of Procol Harum is 69.
Actor Bruce Davison (Knight Rider, Close to Home, Harry & the Hendersons) is 68.
Actress Kathy Bates (American Horror Story, Harry's Law, Six Feet Under) is 66.
Actress Alice Krige (Deadwood) is 60.
CBC Sportscaster Scott Russell is 56.
Jazz singer Tierney Sutton is 51.
Actress Jessica Hecht (What About Joan, Friends, The Single Guy) is 49.
Guitarist-violinist Saul Davies of James is 49.
Actress Mary Stuart Masterson (Law & Order:SVU, Waterfront, Kate Brasher) is 48.
Actor John Cusack (The Jack Bull, Up Close w/Carrie Keagan) is 48.
Vancouver-born actor Gil Bellows (Ally McBeal, The Agency) is 47. 
Actress Danielle Brisebois (All in the Family, Archie Bunker's Place) is 45.
Actress Tichina Arnold (Everybody Hates Chris, Martin) is 45.
Actor Steve Burton (General Hospital, Out Of This World) is 44.
Actor Allesandro Nivola (The Company, The Almost Perfect Bank Robbery) is 42.
Bassist Tim Nordwind of OK Go is 38.
Bassist Mark Stoermer of The Killers is 37.
Actress Camille Guaty (Las Vegas, Prison Break, The Nine) is 36.
Acress Felicia Day (The Guild, Buffy the Vampire Slayer) is 35.
Actor Nick Stevenson (Orange is the New Black) is 35.
UK actress Elaine Tan (EastEnders) is 30.
Country singer/former American Idol/Dancing w/the Stars contestant Kellie Pickler is 29.
Toronto-born actress Shadia Simmons (Life With Derek, Strange Days at Blake Holsey High, Ace Lightning) is 28.
Dancer Lacey Schwimmer (Dancing with the Stars) is 26.
Chart Toppers:  June 28
1951
Too Young – Nat King Cole
On Top of Old Smokey – The Weavers (vocal: Terry Gilkyson)
How High the Moon – Les Paul & Mary Ford
I Want to Be with You Always – Lefty Frizzell
1960
Everybody's Somebody's Fool – Connie Francis
Alley-Oop – The Hollywood Argyles
Because They're Young – Duane Eddy
Please Help Me, I'm Falling – Hank Locklin
1969
Love Theme from Romeo & Juliet – Henry Mancini
Bad Moon Rising – Creedence Clearwater Revival
Too Busy Thinking About My Baby – Marvin Gaye
Running Bear – Sonny James
1978
Shadow Dancing – Andy Gibb
Baker Street – Gerry Rafferty
It's a Heartache – Bonnie Tyler
I'll Be True to You – The Oak Ridge Boys
1987
I Wanna Dance with Somebody (Who Loves Me) – Whitney Houston
In Too Deep – Genesis
Alone – Heart
Forever and Ever, Amen – Randy Travis
1996
The Crossroads – Bone thugs-n-harmony
You're Makin' Me High/Let It Flow – Toni Braxton
California Love/How Do U Want It – 2 Pac (featuring Dr. Dre & Roger Troutman)
Time Marches On – Tracy Lawrence
2005
We Belong Together – Mariah Carey
Behind These Hazel Eyes – Kelly Clarkson
Don't Phunk With My Heart – Black Eyed Peas
Making Memories of Us – Keith Urban