CJay 92's Gerry Forbes inducted into Western Association of Broadcasters Hall of Fame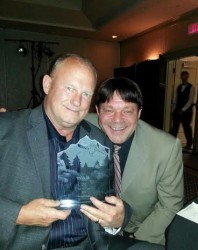 by Katie Schneider ,
Friday June 13th, 2014
Those who work with Gerry Forbes call him a leader on and off the airwaves.
And it's that giving back to the community attitude that has landed the CJay 92 radio personality a prestigious award — a place in the Western Association of Broadcasters Hall of Fame.
Forbes, who regularly surprises families in need through the Gerry Forbes Secret Wish, funded by the CJay 92 Kids Fund, was the one left taken aback Thursday when his colleagues told him to hit the highway and head to Banff for a dinner honouring him.
"I was extremely surprised," he said.
"It's amazing."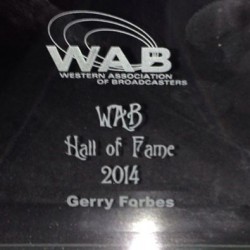 After being nominated by his colleagues, he was selected as an inductee to the Hall of Fame, which recognizes broadcast excellence, community service and leadership.
What's extra special is his name will join that of his late father Jerry Forbes and brother Marty Forbes who are also in the Hall of Fame for their work during their broadcasting careers.
The Secret Wish is just one of many ways Forbes is involved in the community and said he gives back simply because there is such a need.
"When you are in a position I am in, and you know many people, I can go to them and make a proposal … if someone has lost their home in a fire, I can help find a place for them to stay," he said.
"We just do it because people need it."
Program director Ross MacLeod said Forbes is "one of the best in the business."
"Gerry just celebrated 20 years with Cjay92, we felt it was fitting that he was nominated this year," he said.
"The amount of charitable and community work he does every year is amazing."
On Twitter: @SUNKSchneider