ON THIS DAY in 1911,
longtime playbyplay announcer for the Winnipeg Blue Bombers, 'Cactus' Jack Wells was born in Moose Jaw.

His radio career began in 1936 when while listening to a hockey broadcast on CFQC, he boasted he could do a better job. Dared by a chum to prove his claim, Jack applied for a job at the station, and was hired.  In 1939 he did hockey playbyplay at CJAT Trail, before becoming a permanent Winnipeg fixture in 1941. After being inducted into the CAB Hall of Fame in 1988, he died following surgery May 26 1999 at age 88.
Also in 1911, actor Robert Middleton was born Samuel Messer in Cincinnati.


The hefty, beetle-browed character actor was known for most of the first 25 years of the TV era as a mop-faced villain capable of the most vicious and contemptible of crimes.  He appeared also on Jackie Gleason's The Honeymooners as 'Ralph Kramden's' boss.  The other series in which he guest starred the most include Burke's Law, Rawhide, Tales of Wells Fargo, The Untouchables, Alfred Hitchcock Presents & Gunsmoke.  He died of congestive heart failure June 14, 1977 at age 66.
Also in 1911, singer Maxine Sullivan was born Marietta Williams in Homestead Pa. This unique jazz vocalist with a light and intimate style sadly recorded far too few jazz songs in her career. In 1940 Sullivan and her husband John Kirby were featured on the radio program Flow Gently Sweet Rhythm. They were the first black jazz stars to have their own weekly radio series. In the mid '40s she was recorded with the bands of Teddy Wilson, Benny Carter, and Jimmie Lunceford. Her best known song was the Scottish 'Loch Lomond.'  She died Apr 7, 1987 weeks short of her 76th birthday.

In 1912, jazz arranger and composer Gil Evans was born in Toronto. Evans became known for his innovative writing for the Claude Thornhill orchestra in the 1940's. Evans later collaborated with jazz trumpeter Miles Davis on such classic L-Ps as "Miles Ahead," "Porgy and Bess" and "Sketches of Spain." He died in Mexico on March 20th, 1988 at age 75.
In 1938, Louis Armstrong and his orchestra recorded the New Orleans jazz standard, When the Saints Go Marching In, on Decca Records.
In 1941, '50s rock 'n' roll singer Ritchie Valens was born in Pacoima, California. He was signed by Del-Fi Records in 1958, and had three big hits that year with "Come On, Let's Go," "Donna" and "La Bamba." Valens died in a 1959 plane crash with Buddy Holly and the Big Bopper. There was a resurgence of interest in Valens' music in 1987 with the release of the movie biography "La Bamba."

In 1943, German occupiers of the Netherlands confiscated all radios.
In 1943, singer Mary Wells was born in Detroit.  She was one of the signature voices of the 'Motown sound,' most famous for the 1964 hit 'My Guy.' She died of larynx cancer July 26, 1992 at age 49.
In 1955, for the first time a riot broke out at an Elvis Presley concert. At the Gatorbowl baseball park in Jacksonville, Florida, Elvis told the crowd of some 14 thousand, "Girls, I'll see you backstage."  The frenzied females proceeded to do that, ripping his clothes, wreaking havoc, and in the process convincing manager Tom Parker of Elvis' popularity.

In 1956, after 16 years as a Sunday feature on CBS Radio, "Gene Autry's Melody Ranch," aired its final episode. The half-hour  broadcast for Wrigley's Gum featured 10 to 15 minute western action skits featuring Autry and his sidekick Pat Buttram, plus musical selections by "the 'Singing Cowboy." Autry went on to be owner of a chain of West Coast radio stations, Golden West Broadcasters, and LA TV station KTLA.
In 1958, Jerry Lee Lewis was granted a divorce from his second wife Jane, some six months after he had married his third wife, his 13-year old cousin Myra.
In 1959, the Kraft Music Hall, already a broadcast record holder after 26 years on NBC radio & TV, aired its last TV show with Milton Berle (below) as host. Perry Como took over in the fall.

In 1960, fiddler Gid Tanner, leader of the pioneer country music band, the Skillet Lickers, died in Winder, Georgia at age 74. The Skillet Lickers were an extremely popular and influential string band of the 1920's and '30s.
In 1963, the Pat Burns Hotline debuted on AM 600 CJOR in Vancouver … and Canadian talk radio would never be the same.
In 1966, the Nitty Gritty Dirt Band played their first professional gig at the Paradox Club in Orange, California.
Also in 1966, the Kinks recorded "Sunny Afternoon."
In 1967, actor Frank McGrath, who played the cook on the long running TV western Wagon Train, died after a heart attack at age 64.
Also in 1967, The Supremes scored their 10th US No.1 single with 'The Happening.' It was the last single to be released as The Supremes, from now on they were to be known as Diana Ross and the Supremes.

Still in 1967, "Somethin' Stupid" by Nancy & Frank Sinatra topped the charts and stayed there for 4 weeks.
Again in 1967, Merle Haggard made his first appearance at the Grand Ole Opry.
In 1971, Aretha Franklin, the "Queen of Soul", received a Gold Record for her version of Bridge over Troubled Water, originally a hit for Paul Simon & Art Garfunkel.
Also in 1971, on his twenty-first birthday Stevie Wonder was supposed to receive all the money he had earned as a minor. But Motown Records only paid him $1 million of the approximate $30 million he'd made so far.  However, label owner Berry Gordy threw a huge 21st birthday party for Stevie in Detroit.
Still in 1971, Grace Slick smashed her Mercedes into a concrete wall near San Francisco's Golden Gate Park.  Her injuries put a temporary halt to Jefferson Airplane's recording schedule.

In 1972, actor Dan Blocker, who played Hoss Cartwright on the longrunning TV western Bonanza, died following surgery at age 43.
In 1974, some 50-plus people were injured when fans who couldn't get tickets rioted outside a Jackson Fiveconcert at RFK Stadium in Washington, D-C.
In 1975, Bob Wills, originator of the western swing style of country music, died at age 70 after suffering a stroke 18 months earlier. Wills and his Texas Playboys, a swing band with country overtones, played country ballads, blues and jazz tunes. When the band and vocalist Tommy Duncan recorded Wills's composition "San Antonio Rose" in 1940, the disc became a million-seller, as did a version by Bing Crosby.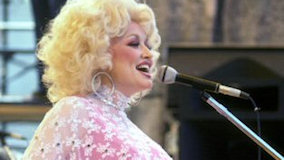 In 1977, Dolly Parton played her first date in New York City, a performance at the Bottom Line club in Greenwich Village.
Also in 1977, Linda Ronstadt denied reports saying she had been offered $1 million to be photographed nude for a Hustler centerfold.
Still in 1977, the EMI label in the UK and Capitol Records in North America released "The Beatles at the Hollywood Bowl," an LP comprised of live recordings made during the Fab Four's tours of the US and Canada in 1964 and '65.

In 1978, Yvonne Elliman went to No.1 on the Billboard singles chart with the Gibb brothers song 'If I Can't Have You'.  Thus Barry Gibb became the first songwriter in history to have four consecutive No. 1 singles atop Billboard's Hot 100.
Also in 1978, the final episode of "Bionic Woman" was broadcast.
In 1981, singer Joan Weber died of heart failure at a mental institution in Ancora, New Jersey, at age 45. She had just one hit, the 1954 No.1 single 'Let Me Go Lover.'

In 1985, Montreal-born comedienne/actress & scriptwriter Selma Diamond died of lung cancer at age 64.  She is best remembered for her TV talk show appearances, and for her roles as Too Close For Comfort's Mildred Rafkin, and Night Court's Selma Hacker.
Also in 1985, rock star Bruce Springsteen married actress Julianne Phillips at 10 minutes past midnight (on her 25th birthday) in a secret ceremony in Oregon. The marriage fell apart in 1988.
Still on this date in 1985, on his 35th birthday Stevie Wonder was cited by the United Nations for his efforts against apartheid.
In 1986, in an appearance on sex therapist Dr. Ruth Westheimer's TV show, rocker Ted Nugent demurely stated, "Life is one big female safari."

In 1987, Victoria-born songwriter David Foster was named songwriter of the year at the Broadcast Music Incorporated dinner in Los Angeles. Foster was honoured for "Glory of Love" from "The Karate Kid, Part Two," the "Love Theme" and "Man in Motion" from "St. Elmo's Fire" and "Now and Forever (You and Me)."
In 1988, jazz trumpeter Chet Baker, famed for his 1950's appearances with baritone saxophonist Gerry Mulligan, died in a three-storey fall from an Amsterdam hotel. He was 58. Police said Baker was using heroin shortly before his fatal plunge. Baker set the standard for the cool school of jazz with his trumpet playing, but his career suffered from a series of narcotics arrests.
Also on this date in 1988, Iron Maiden opened a world tour in Moncton.
Still on this date in 1988, pioneer rock 'n' roll Disc-Jockey Alan Freed and big band leader Benny Goodman were among the first 18 inductees into the Radio Hall of Fame in New York.
In 1989, "I'll Be There for You" by Bon Jovi topped the charts, the group's fourth  No.1.

Also in 1989, the 600th episode of "Soul Train" was aired.
In 1991, jazz cornetist Jimmy McPartland lost his battle with lung cancer at age 83.
In 1992, CBC's VP of Public Affairs Trina McQueen moved the network's flagship TV news shows The Nationaland The Journal from 10 pm slot to 9 pm.  The move was a failure & was soon reversed.
Also in 1992, the final episode of "Night Court" aired on NBC-TV.
In 1993, the Red Hot Chili Peppers, Bette Midler and Barry White lent their voices to the season finale of the Fox-TV animated series "The Simpsons." The episode, "Krusty Gets Kancelled," marked White's second "Simpsons" guest appearance.
Also in 1993, CBS' Knots Landing ended a 14 year run with the 334th show in the Netherlands.  The same night, Arsenio Hall's 1,000th show retrospective was seen on Dutch TV.

In 1996, the 200th episode of "Murphy Brown" aired on CBS.
In 1997, the band No Doubt's performance on MuchMusic's "Intimate and Interactive" show was beamed from Toronto to HMV music stores across the country, as well as in New York, Singapore and Sydney, Australia. The company estimated that more than 11-thousand fans jammed the stores worldwide. They were able to link up with the group for a question-and-answer session that followed the concert.
Also on this date in 1997, Paul McCartney's first album in four years, "Flaming Pie," was released in Britain. It came out in North America two weeks later.
In 2001, Destiny's Child started a two-week run at No.1 on the Billboard album chart with 'Survivor'.

In 2002, Dionne Warwick was arrested at Miami International Airport for possession of marijuana after authorities found 11 joints in a lipstick case in the singer's hand luggage. The charges were dropped after she completed a drug program and made a contribution to charity.
In 2003, Michael Jackson launched a court action against Motown Records, claiming he hadn't been paid royalties for the music he did with the Jackson Five in the 60s and 70s.
Also in 2003, Edmonton-born Tommy Chong of Cheech & Chong pleaded guilty to selling drug paraphernalia over the Internet, in return for non-prosecution of his wife.  He served 9 months in a US federal prison.
In 2004, veteran Chicago TV anchorman Floyd Kalber, nicknamed "The Big Tuna," who was a frequent contributor to NBC TV's 'Today,' died of emphysema at age 79.
Also in 2004, the final episode of "Frasier" aired on NBC.

Still in 2004, Courtney Love pleaded not guilty to assault charges stemming from an incident in which she allegedly struck a man in the head with a microphone stand at a New York show the previous March. After entering her plea Ms. Love conducted an impromptu press conference inside the women`s bathroom.
Again in 2004, Gene Simmonsf KISS set off a firestorm with anti-Islam comments while the group was touring Australia. Stating the western world was under threat from extremists and a culture that treats women worse than dogs, he dismissed the Arab world as "God's armpit."
In 2005, the syndicated Star Trek: Enterprise aired its final episode on TV stations coast-to-coast in North America.

In 2006, Godsmack were at No.1 on the Billboard album chart with 'IV' the American heavy metal band's second No.1 album.
In 2007, Brian May of Queen was under 24-hour security watch after a deranged man announced he was setting off to murder him – then disappeared. Police were hunting for a schizophrenic who left a letter behind at his home blaming the Queen guitarist for his illness.
Also in 2007, after not feeling well during a gig in Council Bluffs, Iowa the day before, and then becoming noticeably disoriented the following day, Bo Diddley was diagnosed as having suffered a mild stroke and was hospitalized in nearby Omaha, Nebraska. He would live another 13 months.
Still in 2007, Ne-Yo was at No.1 on the Billboard album chart with 'Because of You' the US R&B singers second No.1.

In 2008, the US Postal Service issued a 42-cent postage stamp in honor of Frank Sinatra. The design showed a 1950s-vintage image of Sinatra, wearing a hat.
Also in 2008, Canadian rocker Bryan Adams' "11" (his eleventh album) was released in the U.S., but only through Wal-Mart and Sam's Club stores nationwide.
In 2009, actor Frank Aletter succumbed to cancer at age 83.  He starred in the early TV sitcoms Bringing Up Buddy and The Cara Williams Show, and guest starred in scores of other series over a span of 30 years.
In 2010, one of the most prolific organists in the Golden Age of Radio, Rosa Rio died at age 107.  During her 22 years in radio, the "Queen of the Soaps" provided the organ background music for 24 soap operas and radio dramas, and played for an average of five to seven shows per day, including Bob and Ray, Ethel and Albert, Front Page Farrell, Lorenzo Jones, My True Story, The Shadow and When a Girl Marries.

Also in 2010, Bruce Springsteen was a surprise guest at the 21st annual Rainforest Foundation benefit concert at New York's Carnegie Hall. Springsteen performed "Dancing In The Dark" at the fund-raiser hosted by Sting and his wife, Trudie Styler.
In 2012, legendary Soul and Blues bassist Donald 'Duck' Dunn passed away in Tokyo while on tour at age 70. Aside from being a member of Booker T. & The MGs, Dunn played on Otis Redding's "Respect," Sam and Dave's "Hold On I'm Coming" and Albert King's "Born Under A Bad Sign." But he is probably best known for his work in the Blues Brothers movie.
In 2013, psychologist and TV personality Joyce Brothers, who first gained fame by winning the top prize as a boxing expert on CBS-TV's  "$64,000 Question," died from respiratory failure at age 85.
Today's Birthdays:
Folk singer/producer Fred Hellerman (The Weavers) is 87.
Actress Zohra Lampert (Doctors' Hospital, The Girl with Something Extra) is 77.
Canadian pop-country singer Lucille Starr is 76.
Actor Buck Taylor (Monroes, Gunsmoke) is 76.
Actor Harvey Keitel (Life on Mars, The Path to 9/11) is 75.
Guitarist Ralph Cole, of the 1970s Canadian rock group Lighthouse is 67.
Actress Zoe Wanamaker (Poirot, My Family) is 65.
Comedian/actor Franklin Ajaye (Deadwood) is 65.
Singer Stevie Wonder is 64.
Rock singer Peter Gabriel (Genesis) is 64.
Manitoba-born singer/songwriter Tom Cochrane is 60.
Country singer/songwriter Ray Kennedy is 60.
Actress Julianne Phillips (Sisters) is 54.
Actor Tom Verica (The Nine, American Dreams, Providence) is 50.
Comedian/satirist Stephen Colbert (The Colbert Report) is 50.
Drummer John Richardson of The Gin Blossoms is 50.
Country singer Lari White is 49.
Singer Darius Rucker of Hootie and the Blowfish is 48.
Actress Susan Floyd (Law & Order, Then Came You) is 46.
Drummer Andy Williams of Casting Crowns is 42.
Actress Samantha Morton (Max & Ruby) is 37.
TV hostess Brooke Anderson(The Insider, Showbiz Tonight) is 36.
Ottawa-born actress Janet Lane (Demons from Her Past, Bethune) is 36.
Bassist Mickey Madden of Maroon 5 is 35.
Actor Michael Mantenuto (Dirtbags) is 33.
Actor Robert Pattinson (Twilight Saga) is 28.
Writer/producer/actress Lena Dunham (Girls) is 28.
Actress Candice Accola (The Vampire Diaries) is 27.
Actor Hunter Parrish (Weeds) is 27.
Actor Misha Gabriel Hamilton (Massholes) is 27.
Actress/singer/songwriter Debby Ryan (Jessie, The Suite Life On Deck) is 21.
Chart Toppers – May 13
1950
My Foolish Heart – The Gordon Jenkins Orchestra (vocal: Eileen Wilson)
It Isn't Fair – The Sammy Kaye Orchestra (vocal: Don Cornell)
The Third Man Theme – Anton Karas
Long Gone Lonesome Blues – Hank Williams
1959
The Happy Organ – Dave 'Baby' Cortez
Sorry (I Ran All the Way Home) – The Impalas
Kookie, Kookie (Lend Me Your Comb) – Edward Byrnes & Connie Stevens
White Lightning – George Jones
1968
Honey – Bobby Goldsboro
Tighten Up – Archie Bell & The Drells
The Good, the Bad and the Ugly – Hugo Montenegro
Have a Little Faith – David Houston
1977
Hotel California – Eagles
When I Need You – Leo Sayer
Sir Duke – Stevie Wonder
Play, Guitar Play – Conway Twitty
1986
West End Girls – Pet Shop Boys
Greatest Love of All – Whitney Houston
Why Can't This Be Love – Van Halen
Grandpa (Tell Me 'bout the Good Old Days) – The Judds
1995
This is How We Do It – Montell Jordan
Have You Ever Really Loved a Woman? – Bryan Adams
Water Runs Dry – Boyz II Men
Little Miss Honky Tonk – Brooks & Dunn
2004
This Love – Maroon 5
Take My Breath Away – Jessica Simpson
Naughty Girl – Beyoncé Knowles
You'll Think of Me – Keith Urban