ON THIS DAY in 188

3
(Sir) Sanford Fleming's Standard Time scheme began at midnight Atlantic Time in Nova Scotia and the eastern Seaboard of the US.  Canada and the US agreed to divide the continent into four time zones, primarily to manage the nightmare of local times clashing with railway timetables. Other world nations would endorse the Canadian engineer's idea at a 1884 Washington conference.
On this day in 1900, comedy writer Don Quinn was born in Grand Rapids, Michigan.  After beginning as a cartoonist based in Chicago, he became best known as the sole writer (later head writer to Phil Leslie) of the popular NBC radio show Fibber McGee and Molly.   He was also the creator/head writer of radio's The Beulah Show, and radio & TV's The Halls of Ivy. Quinn also created the popular Throckmorton P. Gildersleeve character on Fibber McGee and Molly, and was story editor for early TV's Four Star Playhouse.  After a long illness he died Dec. 30 1967 at age 67.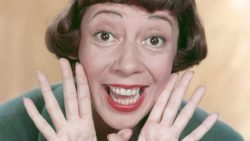 On this day in 1908, actress/comedienne Imogene Coca was born in Philadelphia. Co-starred with Sid Caesar in NBC's Your Show of Shows & several other early TV shows. She died June 2, 2001 at age 92.
On this day in 1909, Oscar-winning composer/singer Johnny Mercer was born in Savannah Georgia. Hits among his thousand-plus songs include On the Atchison, Topeka and the Santa Fe [1946], In the Cool Cool Cool of the Evening [w/Hoagy Carmichael] [1951], Moon River [1961], & Days of Wine and Roses [1962]. He died June 25, 1976 at age 66.
On this day in 1912, actor Arthur Peterson was born in Mandan North Dakota.
In a lengthy career of supporting roles on TV, he was cast in two early series (The Crisis & That's O'Toole) and the 1970's parody Soap.  He died at 83 October 31 1996 from Alzheimer's Disease.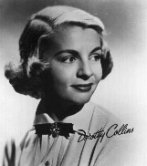 On this day in 1926,  singer Dorothy Collins was born Marjorie Chandler in Windsor Ont.  She started in Canadian radio, then sang with Raymond Scott & Benny Goodman, and was the co-star of TV's Your Hit Parade throughout the 1950's.  She went on to co-host CBS-TV's Candid Camera.   She died of heart failure July 21, 1994 at age 67.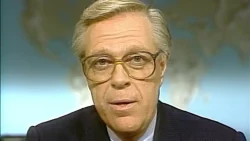 On this day in 1927,  Cyril Knowlton Nash (host of CBC TV's "The National" from 1978-88 ) was born in Toronto. He came to prominence as the CBC's Washington correspondent in the news-packed 1960's, then went into management for nearly a decade.  Nash returned to the airwaves as anchorman for the nightly "National" in 1978, with a calm, unemotional style that quickly won favour with Canadian audiences. He died May 14 2014 at age 86.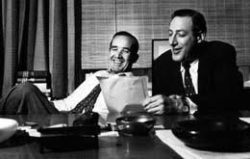 On this, a Sunday afternoon in 1951, Edward R. Murrow and Fred Friendly launched one of the most highly-praised TV productions in history. See It Now debuted on CBS. On that first program, which evolved out of Murrow's radio (and Columbia Records) series Hear It Now, we saw a live camera shot of the Atlantic Ocean, followed by a live shot of the Pacific, then Murrow said, "We are impressed by a medium through which a man sitting in his living room has been able to look at two oceans at once."  In April of 1952, See It Now moved into an evening time slot.
On this day in 1954, radio station CKNW 1320 increased its power to 5000 watts and started using the slogan "BC's most listened to station."                                                                                                                
Also this day in 1954, ABC radio and T-V banned "Mambo Italiano," a hit by Rosemary Clooney for so-called "offensive lyrics," most likely due to the exaggerated Italian vernacular, including the words "goombah" and "gidrool."
On this, a Sunday evening in 1956, Fats Domino sang his biggest hit "Blueberry Hill"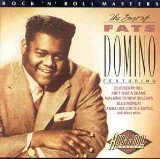 on CBS TV's "Ed Sullivan Show." And Guy Mitchell did HIS biggest hit and current #1, "Singing the Blues."
On this day in 1957, Ricky Nelson recorded "Stood Up" and "Waitin' In School."
On this day in 1959, Canada's broadcast regulators the Board of Broadcast Governors ruled that the country's TV stations must have 45% Canadian content from April 1, 1961; 55% Canadian content after April 1, 1962.
On this day in 1963, The Beatles were first exposed to U.S. television audiences in a feature story on NBC's "Huntley-Brinkley Report."  It included shots of the band in action in England.
Also in 1963, The Beatles received silver LP discs for 'Please Please Me' and 'With the Beatles' at a ceremony held at EMI House in London. They also received a silver EP for 'Twist and Shout' and a silver single for 'She Loves You'.
Still in 1963, the No. 1 Billboard Pop Hit was "I'm Leaving It Up to You" by Dale and Grace.
On this day in 1964, The Supremes and The Righteous Brothers appeared on ABC TV's weekly music showcase "Shindig!"
On this day in 1965, radio station CKXR Salmon Arm signed on at 580 KHz with 1000 watts. Owners Bob Hall and Walter Gray put full-time satellite simulcaster CKCR Revelstoke on the air at 1340 khz three days later. A third Hall-Gray station, CKGR Golden joined 'The Big R Network' in 1974.
On this day in 1967, To Sir with Love by Lulu, from the movie of the same name, started its fifth and final week at number one on the Billboard Hot 100 chart. Lulu was born Marie McDonald McLaughlin Lawrie (November 3, 1948 ). She changed her name to Lulu (and The Luvvers) in Scotland, early in her career.
On this day in 1968, the CBC Radio phone-out news interview show As It Happens debuted on CBC AM. It helped produce the network's first ratings gains since the advent of TV 15 years earlier.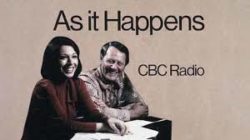 Also in 1968, two hit singles by Glen Campbell, "By The Time I Get To Phoenix" and "Gentle On My Mind" were certified Gold.  As was the Jimi Hendrix Experience's album "Electric Ladyland."
Still in 1968, The Bee Gees cancelled a concert in Germany after Barry and Robin came down with tonsillitis.
On this day in 1969, one of the UK's great Big Band leaders of the post-war era, Ted Heath died at age 67. The band continued to perform under his name through the year 2000.
Also in 1969, in New York Tony Bennett recorded his version of the memorable George Harrison ballad, "Something."
On this day in 1970,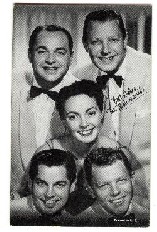 chunky singer Hal Dickinson, who sang with the Modernaires (upper left) before & during their time with Glenn Miller, died at age 56.
On this day in 1971, rocker Junior Parker, one of Elvis Presley's early influences, died during a brain operation at age 39.
On this day in 1972, rocker Danny Whitten, best known for his work with Neil Young and Crazy Horse, and for the song "I Don't Want To Talk About It", a hit for Rita Coolidge and Rod Stewart, died of a heroin overdose at age 29.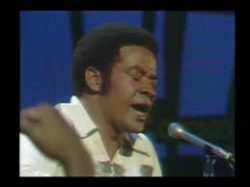 Also in 1972, Bill Withers sang his recent hits "Lean On Me" and "Use Me" on the syndicated dance show "Soul Train."
Still in 1972, Cat Stevens started a three-week run at No.1 on the US album chart with 'Catch Bull At Four'.
On this day in 1973, the No. 1 Billboard Pop Hit was "Photograph" by Ringo Starr. The song was written by Starr and former Beatle mate George Harrison.
On this day in 1975, John Denver was awarded a Gold Record for his hit single "I'm Sorry."
Also in 1975, Commander Cody and his Lost Planet Airmen were guest stars on the "Glitter With A Bullet" episode of NBC-TV's "Police Woman" starring Angie Dickinson.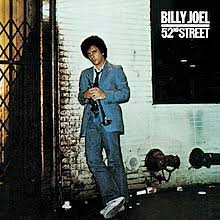 On this day in 1978, Billy Joel went to No.1 on the US album chart with '52nd Street', his first chart-topping album.
On this day in 1983, R.E.M. made their first appearance outside the US when they appeared on the Channel 4 UK TV show 'The Tube'.
On this day in 1985, Howard Stern returned to the New York radio scene (after his firing by WNBC). He debuted on WXRK 92.3 FM in the afternoon, but made a permanent switch to mornings 3 months later.
On this day in 1986, 24 years after giving up the Tonight Show,  Jack Paar returned as a guest of his successor Johnny Carson. One of TV's great lines came from the show, when Carson quipped (after one of Paar's long, long spiels), "Why is it that I feel I'm guesting on your show?"
Also this day in 1986, the song "Amanda" by Boston topped the charts and stayed there for 2 weeks.
On this day in 1987, the No. 1 Billboard Pop Hit was "Mony Mony"
by Billy Idol.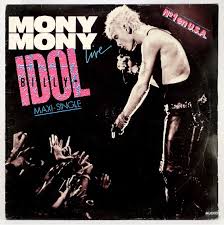 Idol's version of the song reached the top of the charts 13 years after Tommy James and the Shondells made it a hit.
Also this day in 1987, U2 opened for itself at an LA concert by wearing wigs and cowboy hats, and pretending to be a country-rock group called The Dalton Brothers.
Still in 1987, CBS Inc. announced its agreement to sell its record division to Sony Corp. for nearly $2 billion.
On this day in 1989, songwriter Diane Warren had the No.1 and No.2 singles in the US with 'When I See You Smile' by Bad English followed by 'Blame It On the Rain,' by Milli Vanilli.
On this day in 1990, Mick Jagger of the Rolling Stones married model-actress Jerry Hall in Bali, Indonesia. The couple had two children and had already been together for 12 years. In 1999, the couple's union was dissolved after allegations that Jagger fathered a child by Brazilian model Luciana Morad.
Also in 1990, in Houston Texas, the birth certificate of Paul McCartney, originally sold by his stepmother, was bought at an auction for US $18,000.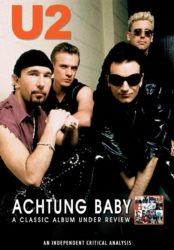 On this day in 1991, U2 released their seventh studio album, "Achtung Baby."
On this day in 1992, opera singer Dorothy Kirsten, a classy lady with a common touch,
died two weeks after a stroke at age 82.  She had roots in popular radio, with a weekly program "Keepsakes"('43-'44) and a nightly show "Light Up Time" ('49) costarring Frank Sinatra.  She co-hosted the Kraft Summer Music Hall ('47-'48 ) and was a regular guest opposite Gordon MacRae performing Broadway musicals on NBC radio's "Railroad Hour."  On TV she was a recurring guest on the Ed Sullivan Show, the Dinah Shore Chevy Show, and the Colgate Comedy Hour.
Also in 1992, the 100th episode of "In the Heat of the Night" aired.
Still in 1992, Black Sabbath were honoured with a star on the Rock Walk in Hollywood.
On this day in 1993, Pearl Jam lead singer Eddie Edder was arrested in New Orleans for public drunkiness.
Also in 1993, Nirvana recorded their MTV unplugged special at Sony Studios, New York.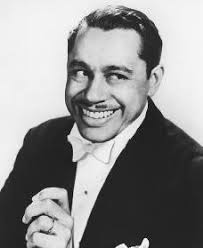 On this day in 1994, the inimitable Cab Calloway died in a Delaware nursing home following a stroke. He was 86.

The big band leader, who became nationally known through radio broadcasts in 1931, had never recovered from a stroke he suffered June 12 at his home. He was best known for his trademark "hi-de-ho" song "Minnie the Moocher." He was also featured in the movie "The Blues Brothers." In October of '94, the month previous, he'd been honored at a White House ceremony by President Clinton for his contribution to the arts.
Also this day in 1994, the Rolling Stones broadcast a 20-minute segment of their show in Dallas, Texas, live over the Internet. They were the first major band to stream a live show on the web.
On this day in 1996, the Metallica single "Mama Said" was released.
On this day in 1997, John Denver's last recordings were released as "The Unplugged Collection," a selection of stripped-down acoustic performances of his hits.
Also in 1997, Celine Dion's album, "Let's Talk About Love," was released in Canada and the U-S. It set a Canadian record for first-week sales — 230-thousand copies. Sony Music said one out of every 100 Canadians bought a copy of "Let's Talk About Love" in the first seven days. It remained in the Top-10 of charts around the world for months. Sales were buoyed by the inclusion of "My Heart Will Go On," Dion's chart-topping single from the film "Titanic."
Still this day in 1997, British police questioned singer Gary Glitter about the child pornography a repair technician had found on his computer. He later pleaded guilty to 54 charges of making indecent computer images of children.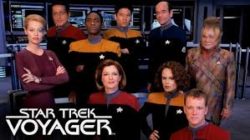 On this day in 1998, the 100th episode of "Star Trek: Voyager" aired.
On this day in 1999, Doug Sahm, the rock guitarist known as "The Texas Tornado," died at age 58. Although he only had one big hit, "She's About A Mover" in 1965, he followed it with a long recording career, appearing on albums by the Grateful Dead and Willie Nelson and bringing such stars as Bob Dylan and Dr. John to his own recording sessions.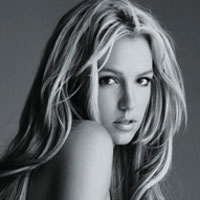 On this day in 2001, ABC aired Britney Spears' first TV concert, "Britney Spears: Live from Las Vegas."  It aired the day her second album, "Britney," became #1 in the US.
On this day in 2003, police raided Michael Jackson's Neverland ranch following allegations of sexual abuse of a 12-year old boy. The search came on the day that Jackson's latest greatest hits album, 'Number Ones' was released in North America.
Also in 2003, more than five hundred fans of Britney Spears camped overnight outside the Virgin Records Megastore in New York's Times Square, waiting to get the star to sign copies of her new album 'In The Zone.'
Still in 2003, Apple released The Beatles' "de-Spectorized" version of their classic "Let It Be" album, entitled "Let It Be … Naked."
On this day in 2004, songwriter/jazz pianist Cy Coleman died of cardiac arrest at age 75. His smash hits as a writer include "Witchcraft," "Big Spender," "Hey Look me Over" and "The Best is Yet to Come."
Also this day in 2004,  Howard Stern held a rally in downtown New York City. Thousands showed up and Stern gave away 500 free SIRIUS radios and 20,000 coupons for free radios for those who signed up for the service.
On this day in 2005, busy character actor Harold J. Stone, a reliable staple on TV crime shows during the 1960s and '70s, died at age 92.
On this day in 2006, the British press blasted Michael Jackson's so-called "comeback concert" in London, ripping his first public performance since his child molestation trial a year earlier as "shambolic."
On this day in 2007, former celebrity publicist Paul Wasserman died of respiratory failure at age 73. His clients included the Rolling Stones, The Who, Bob Dylan, Neil Diamond, Paul Simon, Tom Petty and James Taylor. His career ended in 2000 with his arrest & jailing for an investment swindle.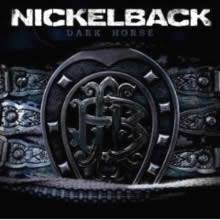 On this day in 2008, the Alberta-based Nickelback released their sixth studio album, "Dark Horse," described by Chad (vocals) and Mike (bass) Kroeger as full of "a lot of truly filthy subject matter and adult themes." It sold 10 million copies worldwide.
On this day in 2009, Bon Jovi's "The Circle" debuted at number 1 on the Billboard 200 album chart after moving more than 160,000 copies in its first week of release.
On this day in 2011, 80-year-old Regis Philbin signed off for the last time after 28 years as a morning television host.  The New York-based syndicated show "Live! With Regis and Kelly" would continue with co-host Kelly Ripa and a series of male guest stars until Sept. 2012 when ex-football player Michael Strahan was chosen as the permanent replacement for Regis. His 17,000 hours logged on-air have made Philbin TV's alltime champion in The Guinness Book of World Records.
On this day in 2012, at the 40th annual American Music Awards in L.A., Canada's Justin Bieber won all three of his nominations, including Artist of the Year.
Stevie Wonder paid tribute to the late Dick Clark, who had passed away 7 months earlier, and who originated the Awards.
 On this day in 2014, veteran Victoria legislature TV cameraman Ron Thompson, who worked for the CBC for 25 years, then CHEK and BCTV/Global, died at age 72.
Also in 2014, Dave Appell, the man who co-wrote Let's Twist Again for Chubby Checker, died at age 92.  The Philadelphia songwriter-producer also produced the Tony Orlando and Dawn hits Knock Three Times and Tie a Yellow Ribbon Round the Ole Oak Tree. .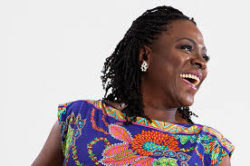 On this day in 2016, soul singer Sharon Jones succumbed to pancreatic cancer at age 60.  Her longtime band, The Dap-Kings, appeared on The Tonight Show w/Jimmy Fallon last night (11/17/2017) to pay tribute to her..
On this day in 2017, Malcolm Young, guitarist and founding member of AC/DC, died after a three year battle with dementia at age 64..On this day in 2018, Ontario-born teen idol & singer/songwriter Shawn Mendes became the first singer under 18 to score three #1 singles on the Billboard A/C chart..
Today's Birthdays
Actress Brenda Vaccaro (Gypsy, Johnny Bravo,The Shape of Things, Paper Dolls, Sara) is 84.
Actress Linda Evans (Dynasty, Hunter, The Big Valley) is 81.
Actress Susan Sullivan (Hope & Faith, Dharma & Greg) is 80.
Country singer Jacky Ward is 77.
Actor Jameson Parker (Simon & Simon) is 76.
Actress/singer Andrea Marcovicci (Berrenger's) is 75.
Rock drummer Herman Rarebell (Scorpions) is 74.
Actor Eric Pierpoint (Hart of Dixie, Chemistry, Star Trek:Enterprise, Alien Nation, Fame) is 73.
Actor Dennis Haskins (Saved by the Bell: The NewClass) is 73.
Singer Graham Parker is 73.
Actor Delroy Lindo (The Good Fight, Blood & Oil, Believe, The Chicago Code,  Kidnapped, Ken Burns' Jazz) is 71.
Comedian Kevin Nealon (Weeds, Champs, SNL) is 70.
Actor Oscar Nunez (The Office) is 65.
Actress Elizabeth Perkins (Weeds, From the Earth to the Moon) is 63.
Actress Shari Shattuck (The Young & the Restless) is 63.
Singer Kim Wilde is 63.
Actor Nick Chinlund (Young Justice) is 62.
Rock musician Kirk Hammett (Metallica) is 61.
Actor Tim Guinee (Revolution, The Good Wife) is 61.
TV journalist Rita Cosby (Fox News, MSNBC) is 59.
Rock singer Tim DeLaughter of Polyphonic Spree (and Tripping Daisy) is 58.
Actor Owen Wilson (Comedy Central Canned Ham) is 55.
Actor Rich Fulcher (The Mighty Boosh, Those Who Can't, Questionable Science) is 55.
Actor Romany Malco (A Million Little Things, Weeds, No Ordinary Family) is 54.
Actor Dan Bakkedahl (Life in Pieces, The Mindy Project, Veep, Legit) is 54.
Actor Phil Buckman (City of Angels, Drexell's Class) is 54.
Singer Duncan Sheik is 54.
Actress Peta Wilson (La Femme Nikita) is 53.
Actress Elizabeth Anne Allen (Buffy the Vampire Slayer) is 53.
Former Fox News/former NBC host Megyn Kelly is 53.
Actor Mike Epps (Survivor's Remorse, Shelly Fisher) is 53.
Actress Chloe Sevigny (Big Love, Bloodline, American Horror Story) is 49.
Country singer Jessi Alexander is 47.
Actor Steven Pasquale (The Good Wife, Rescue Me) is 47.
Actress Miranda Raison (MI-5, 24: Live Another Day) is 46.
Keyboardist Alberto Bof of Lukas Nelson and Promise of the Real is 46.
Rapper Fabolous is 46.
Actor Mathew Baynton (You Me & the Apocalypse) is 43.
Rapper Mike Jones is 43.
Actress Christina Vidal (Grand Hotel, 10-8: Officers on Duty, Taina) is 42.
Actress Allison Tolman (Emergence, Fargo, Downward Dog) is 42.
Actress Nasim Pedrad (Scream Queens, Sat. Night Live, People of Earth) is 42.
Actress Mekia Cox (Once Upon a Time, Chicago Med, Secrets and Lies, Undercovers) is 42.
Actor Damon Wayans Jr. (Happy Endings, New Girl) is 41.
Calgary-born actress Devon Weigel (When Calls the Heart, Falcon Beach) is 40.
Actor Robert Kazinsky (EastEnders, Second Chance, True Blood) is 40.
Singer TJ Osborne of Brothers Osborne is 39.
"Project Runway" winner and designer Christian Soriano is 38.
Actress Georgia King (The New Normal) is 37.
Actor Joseph Ashton (Rocket Power) is 37.
Ontario-born actor Nick Bateman (Originals) is 37. 
Actor Jake Abel (Go Figure) is 36.
Actor Nathan Kress (iCarly, Jimmy Kimmel Live) is 31.
Actress Kelcie Stranahan (Dirty Teacher) is 31.
Chart Toppers – Nov. 18
1950
All My Love – Patti Page
Goodnight Irene – The Weavers
Thinking of You – Don Cherry
I'm Moving On – Hank Snow
1959
Mr. Blue – The Fleetwoods
Don't You Know – Della Reese
Heartaches by the Number – Guy Mitchell
Country Girl – Faron Young
1968
Hey Jude – The Beatles
Those Were the Days – Mary Hopkin
Love Child – Diana Ross & The Supremes
I Walk Alone – Marty Robbins
1977
You Light Up My Life – Debby Boone
Boogie Nights – Heatwave
It's Ecstacy When You Lay Down Next to Me – Barry White
More to Me – Charley Pride
1986
Amanda – Boston
True Blue – Madonna
Take Me Home Tonight – Eddie Money
That Rock Won't Roll – Restless Heart
1995
Fantasy – Mariah Carey
Gangsta's Paradise – Coolio featuring L.V.
You Remond Me of Something – R. Kelly
Check Yes or No – George Strait
2004
My Boo – Usher & Alicia Keys
Over And Over – Nelly featuring Tim McGraw
Lose My Breath – Destiny's Child
In a Real Love – Phil Vassar
Today in Broadcast History compiled by Ron Robinson