ON THIS DAY in 1906
actress Hermione Baddeley was born in England.
She was a regular on the TV series Before the Fringe, Maude, the Cara Williams Show and The Good Life.  She guest starred on Little House on the Prairie. Hermione died Aug 19 1986 at age 79, following a stroke.
On this day in 1913, actor/narrator Alexander Scourby  was born in Brooklyn.  His deep resonant voice was developed in radio drama of the 1940's.  He became one of TV's most in-demand narrators, notably on Victory at Sea, the CBS series The Body Human, and the National Geographic specials.  He's also well known for his narration of the King James Version (KJV) of the Bible. He died Feb 22, 1985 at age 71.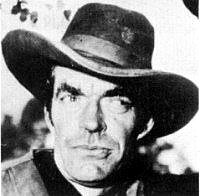 On this day in 1916, colorful character actor Jack Elam was born in Miami Arizona.
His indelible features were cast in the TV series Lucky Luke, Detective in the House, Black Beauty, Struck by Lightning, Temple Houston, The Dakotas, The Rifleman & Gunsmoke. He died Oct. 20 2003 at age 86 of congestive heart failure.
On this day in 1917, actor Robert Sterling was born in Newcastle PA.  He was one of several actors to play detective Michael Shayne on radio, then moved into TV as George Kirby in The Adventures of Topper; plus series Love That Jill, and Ichabod & Me.  He died May 30 2006 at age 88.
YouTube presents, Leo G Carrol and Robert Sterling from "Topper"
http://www.youtube.com/watch?v=tZenHkJXA5Q
On this day in 1922, TV gameshow host Jack Narz was born in Louisville KY. He hosted Dotto, Video Village, Beat the Clock, Concentration, & Now You See It.  He also announced on Betty White's first national show, Life with Elizabeth.  He died October 15, 2008 at age 85.
Also this day in 1922, 
 actress Madeleine Sherwood was born in Outremont Quebec. Her most famous TV role was as Mother Superior to Sally Field's Flying Nun, but she also worked regularly in soaps Secret Storm, Guiding Light, One Life to Live, & Edge of Night. She died April 23 2016 at age 93.
On this day in 1932, actor Richard Mulligan was born in New York City.  He won an Emmy for his work in the satiric Soap; other series include Empty Nest, Golden Girls, The Hero & Diana.  He succumbed to colon cancer Sep 26, 2000 at age 67.
On this day in 1937, the National Broadcasting Company, (NBC) aired the first radio concert by its own full-sized Symphony Orchestra, which network boss David Sarnoff created for 70-year old Arturo Toscanini. When the conductor retired in 1954 NBC disbanded the orchestra.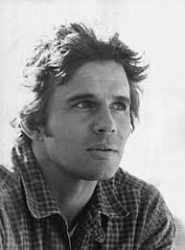 On this day in 1941, actor Dack (Norman) Rambo was born in Delano Calif.                                                                                                                                                                               He was a regular on these TV series: Dallas, Paper Dolls, Sword of Justice, Dirty Sally,The Guns of Will Sonnett, All My Children, & Another World.  He died of AIDS Mar 21, 1994 at age 52.
On this day in 1953, pianist Del Wood joined the Grand Ole Opry.
On this day in 1954, the song "I Need You Now" by Eddie Fisher topped the charts and stayed there for 3 weeks.
On this day in 1955, NBC televised for the first time from a country outside North America. Live pictures from Havana, Cuba were seen by viewers of Dave Garroway's Wide Wide World program.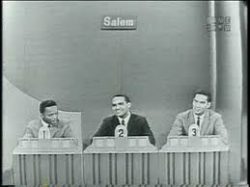 On this day in 1961, Hank Ballard (pictured, left) was a guest contestant (along with two impostors) as the inventor of the "twist" craze on CBS-TV's "To Tell The Truth."
Also this day in 1961, actor Wally Brown, who played Jed Fame on TV's Cimarron City, died at age 57.
Still in 1961, The Tokens' soon-to-be-#1 hit single "The Lion Sleeps Tonight" was released by RCA Victor.
On this day in 1963,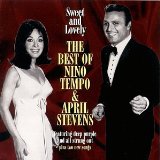 the No. 1 Billboard Pop Hit was "Deep Purple," by the brother-and-sister team of Nino Tempo & April Stevens.
On this day in 1965, British theatre critic Kenneth Tynan said the word "Fuck" during a debate on BBC-TV.  The network was forced to apologize.
Also in 1965, ABC-TV's prime time music showcase "Shindig!" featured performances by Rick Nelson, the Righteous Brothers, and Barbara Lewis.
Still in 1965, The Castiles, which featured a young singer named Bruce Springsteen appeared at The Fire House, Hazlet, New Jersey. The night was billed as a Teenage Go-Go Dance.
On this day in 1966, Beatles manager Brian Epstein hosted a party at his home in London. Guests included the Four Tops, John Lennon, George Harrison, Mick Jagger, Keith Richards, Charlie Watts, Donovan, Eric Burdon, Georgie Fame, and the Animals' Hilton Valentine.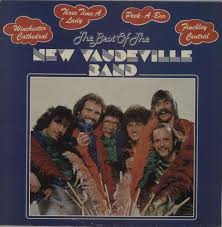 Also in 1966, the New Vaudeville Band performed "Winchester Cathedral," Noel Harrison sang "Mr. Tamborine Man," and the McGuire Sisters sang a medley of Jerry Herman songs on CBS-TV's Ed Sullivan Show.
In 1968, this was a good day for The Beatles. Their movie, Yellow Submarine, premiered in the U.S. and the single, Hey Jude, topped the pop music charts (it was in its 7th of 9 weeks at #1).
On this day in 1969, US Vice President Spiro T Agnew accused network TV news of bias & distortion.
Also in 1969, Crosby, Stills Nash & Young opened a four night booking at San Francisco's Winterland Ballroom.
On this day in 1970, Elvis Presley continued his tour of the US west coast with a concert at the San Francisco Cow Palace.
On this day in 1971, an album recorded live at the Fillmore West, "Santana III" was #1 in Billboard, where it remained for five weeks.
Also in 1971, Three Dog Night's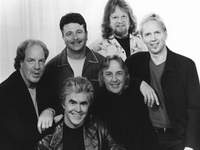 soon-to-be-Top 10 single "Old Fashioned Love Song" was released.
On this day in 1973, 19 year old Jerry Lee Lewis Jr, was killed in a single vehicle crash near Hernando, Mississippi, just days after he'd appeared as a drummer in his dad's band on NBC-TV's 'Midnight Special.' Jerry Lee Sr. had already lost his only other son (aged 3) in a 1962 swimming pool accident.
Also in 1973, the album 'In the Wind' by Peter, Paul and Mary received its Gold Record certification.
On this day in 1974, the No. 1 Billboard Pop Hit was "Whatever Gets You Through the Night" was John Lennon. Elton John played piano and organ and sang backing vocals on the song.
On this day in 1975, one of the great lounge-lizard songs of all time, Feelings by Morris Albert, was certified gold.
On this day in 1976,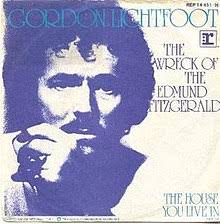 Gordon Lightfoot's 'The Wreck of the Edmond Fitzgerald' entered the top 10 on the Billboard hit singles chart. Lightfoot regarded this composition, based on a sinking event one year earlier, to be his finest work.
Also in 1976, the Canadian music publication RPM started a listing of the Top Dance albums in Canada.  The first #1 album was "PART 3" by K.C. & the Sunshine Band.
On this day in 1979, radio station CJCD went on the air in Yellowknife at 1240 KHz with 1000 watts. It was the first private radio station in the Northwest Territories.
On this day in 1982,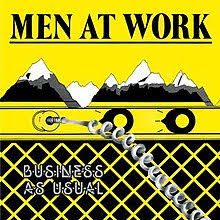 "Business as Usual", the smash album by Men at Work, started a fifteen-week run at number one in the U.
Also in 1982, after 42 weeks on the Billboard Hot 100, Soft Cell's "Tainted Love" finally fell off the chart. It had surpassed by three weeks the previous record for singles longevity held by 'I go Crazy' by Paul Davis.
Still in 1982, the LP The Eagles Greatest Hits Vol. 2 was released on the Asylum label.
On this day in 1983, country comic "Alvin" Junior Samples 
of TV's Hee Haw died at age 57 after a heart attack.
On this day in 1985, Canadian impressionist
Andre-Philippe Gagnon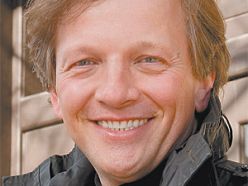 appeared on Johnny Carson's Tonight Show, doing his spot-on celebrity impersonations.
On this day in 1987, Sonny and Cher reunited for a performance of their 'I Got You Babe' on the NBC-TV show Late Night with David Letterman.
Also this day in 1987, it was a precedent for British advertising as the first condom TV commercial ran on ITV.
Still this day in 1987, the No. 1 Billboard Pop Hit was "I Think We're Alone Now" by Tiffany.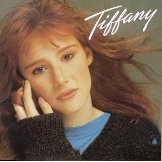 Tiffany Darwish was born Oct. 2, 1971, making her the first artist born in the '70's to score a No. 1 song.
On this day in 1992, soul singer Bobby McClure (Don't mess up a good thing) died at age 50.
Also In 1992, drummer Ronnie Bond of The Troggs died in a UK hospital. He was just 52.
Still in 1992, Elton John attracted 90,000 people to his first concert in Mexico, at Aztec Stadium in Mexico City.
On this day in 1993, actress Michelle Pfeiffer married TV writer-producer David E. Kelley.
On this day in 1995,  Izzy Asper's Can West Global Communications Corp. launched a successful $636-million takeover bid for WlC Western International Communications Ltd. It was to complete his attempt to form Canada's third national television network.
On this day in 1996, jazz musician & arranger William Ballard (Bill) Doggett suffered a fatal heart attack at age 80.  Besides his own instrumental hits 'Honky Tonk' and 'Slow Walk,' he'd worked with the Ink Spots and Louis Jordan, and arranged for Louis Armstrong, Count Basie, Ella Fitzgerald, and Lionel Hampton.
On this day in 1997, Canadian superstar Celine Dion released her first single in Japanese. The single, "Be The Man," is the theme to the Japanese TV drama "Eve."
On this day in 1998, pianist Kenny Kirkland died of a heart attack caused by a drug overdose, at age 43.  Kirkland was in the jazz bands of Wynton and Branford Marsalis. In 1985, he joined Sting's band, and in the '90s was in the "Tonight Show" band.
On this day in 1999, Donald Mills, (upper right) 
the last surviving member of legendary family vocal group the Mills Brothers, died in Los Angeles due to complications from pneumonia, at  age 84.
Also in 1999, a report showed that The Spice Girls were the highest earners in pop during the 90's with their debut album 'Spice' selling over 20 million copies. Elton John was second with 14 million sales from 'The Lion King'.
On this day in 2000, The Beatles launched their first official websitehttp://www.thebeatles.com. The site went live on the same day as the release of their retrospective 'Compilation 1' album.
On this day in 2001, the 200th episode of "Frasier" aired on NBC.
Also this day in 2001, Good Charlotte's "Complicated" was heard on the the soundtrack of the WB's Roswell sci-fi TV show.
On this day in 2002, the three surviving members of Led Zeppelin announced that after 22 years they were getting back together for a tour of US stadiums.
On this day in 2003, Nashville police busted singer Wynonna Judd at a traffic stop on DUI charges.  The 39-year old (mugshot above) blew .175, more than twice the legal limit, on the roadside breathalyzer.
On this day in 2004, rap artist Ol' Dirty Bastard, (real name Russell Jones), collapsed and died at a Manhattan recording studio aged 35. ODB was a founding member of the Wu-Tang Clan in the early 1990s.
On this day in 2005, American Idol's Simon Cowell was named UK Show Business personality of the year by the Variety Club at the show business charity's annual awards show in London.
Also in 2005, the two astronauts aboard the U.S. space station were awakened by Paul McCartney singing "Good Day Sunshine," live from his concert at Arrowhead Pond in Anaheim, California.
On this day in 2006, U2 frontman Bono spoke out in support of Madonna's adoption of a child from the African country of Malawi. The pop maven's maternal instincts had been called into question. "(She) should be applauded for helping to take a child out of the worst poverty imaginable and giving him a better chance in life," said Bono.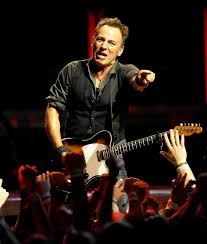 On this day in 2009, every frontman's nightmare played out at Bruce Springsteen's concert near Detroit Michigan, as The Boss yelled out "Hello, Ohio!" He continued to refer to the wrong state several times until guitarist Steven Van Zandt (pictured, right) finally corrected him.
On this day in 2012, ZZ Top was presented the Living Legend Award at Classic Rock's "Roll of Honour" ceremony at the Roundhouse in London. Toronto-based Rush took Album of the Year and Band of the Year.
Also in 2012, the album "The Royal Philharmonic Orchestra Plays The Music Of Rush" was released. The set featured "Working Man," "Tom Sawyer" and "Fly By Night."
On this day in 2013, former NFL all star tight end Todd Christensen, who became a sports commentator for NBC, ESPN and CBS, died during liver transplant surgery at age 57.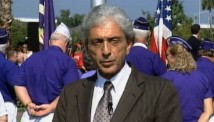 Also in 2013, retired CNN correspondent Robert Vito, who headed up news bureaus for the cable network in Detroit, Rome, Los Angeles and Miami, lost his lengthy battle with pancreatic cancer.
Still in 2013, a day after the 11th annual Dylan Fest in NYC, Bob Dylan received France's highest cultural award, the Legion of Honour, in Paris. Dylan was praised for serving as an "inspiration to young people."
On this day in 2016, Leon Russell, renowned multi-instrumentalist and songwriter who collaborated with Bob Dylan, George Harrison, the Rolling Stones and Elton John over the course of a 50 year career, died in his sleep while recovering from heart surgery at age 74.
On this day in 2017, Cumulus Media said a group of bondholders had agreed to pump $350 million of new capital into the struggling US radio station operator after the company missed an interest payment on Nov. 1.
Today's Birthdays
Former CNN reporter Peter Arnett is 89.
Actor Tom Atkins (Rockford Files, Serpico) is 88.
Actor Jimmy Hawkins (Petticoat Junction, Annie Oakley, The Donna Reed Show, Ichabod & Me) is 83.
Actress Beth Brickell (Gentle Ben) is 82.
Singer/musician John P. Hammond is 81.
Country singer-songwriter Ray Wylie Hubbard is 77.
Actor Joe Mantegna (Criminal Minds, Joan of Arcadia, The Simpsons) is 76.
Actress Sheila Frazier (The Lazarus Syndrome) is 76.
Actress Frances Conroy (Six Feet Under, American Horror Story, The Mist,  Casual) is 71.
Actress Tracy Scoggins (Babylon 5, Lois & Clark, The Colbys) is 70.
Musician Andrew Ranken (The Pogues) is 70.
Actor Chris Noth (Gone, Tyrant, The Good Wife, Law & Order, Sex & the City) is 70.
TV host/actress/comedian Whoopi Goldberg (The View) is 68.
Actor Rex Linn (CSI: Miami) is 67.
Montreal-born rocker Aldo Nova (Blood on the Bricks) is 67.
Actor J. A. Preston (Santa Barbara, Hill St. Blues, Dallas) is 66.
Actress Caroline Goodall (The White Queen) is 64.
Actor Neil Flynn (Abby's, The Middle, Scrubs) is 64.
Bass guitarist Wayne Parker (Glass Tiger) is 63.
Rock musician Walter Kibby (Fishbone) is 59.
Hamilton-born actor Rick Roberts (This Life, Republic of Doyle, L.A. Doctors, Traders) is 58. 
TV host/comedian Jimmy Kimmel (ABC's Jimmy Kimmel Live, The Man Show) is 56.
Actor Steve Zahn (The Crossing, Mind Games, Mad Dogs, Treme, Comanche Moon, From the Earth to the Moon) is 56.
Actor Stephen Full (Dog With a Blog, I'm in the Band) is 54.
Actor Gerard Butler (Masterpiece Theatre's The Jury) is 54.
Actor Noah Hathaway (Battlestar Gallactica) is 52.
Edmonton-born actor Nathaniel Arcand (Heartland, Blackstone, Arctic Air) is 52.
Actor  Jordan Bridges (Rizzoli & Isles) is 50.
Actress Kim Director (The Deuce, She's Gotta Have It) is 49.
Actress Aisha Hinds (Shots Fired, Underground, Under the Dome, True Blood, Hawthorne, Dollhouse) is 48.
Rock musician Nikolai Fraiture (The Strokes) is 45.
Actress Monique Coleman (High School Musical 1, 2 & 3) is 43.
Spokane-born actress Megan Albertus (Movie Mob) is 42.
Actor Michael Copon (Beyond the Break, One Tree Hill, Power Rangers Time Force) is 41.
Actress Sarah Rose Karr (Homewrecker, The Four Diamonds) is 39.
Actor Kit Williamson (Mad Men, Eastsiders) is 39.
Etobicoke-Ont.-born actor Devon Bostick (The 100, Being Erica) is 32.
Actor Matt Bennett (Victorious) is 32.
Actor Austin Williams (One Life to Live) is 27.
Actress Lucy Fallon (Coronation Street) is 27.
Acting twins Brent Kinsman and Shane Kinsman (Desperate Housewives) are 26.
Actress Nikki Hahn (Adventures in Baby Sitting, Jimmy Kimmel Live) is 21.
Chart Toppers – Nov. 13
1945
Till the End of Time – Perry Como
I'll Buy that Dream – The Pied Pipers
That's for Me – Dick Haymes
With Tears in My Eyes – Wesley Tuttle
1954
I Need You Now – Eddie Fisher
This Ole House – Rosemary Clooney
Papa Loves Mambo – Perry Como
More and More – Webb Pierce
1963
Sugar Shack – Jimmy Gilmer & The Fireballs
Deep Purple – Nino Tempo & April Stevens
It's All Right – The Impressions
Love's Gonna Live Here – Buck Owens
1972
I Can See Clearly Now – Johnny Nash
Nights in White Satin – The Moody Blues
I'd Love You to Want Me – Lobo
My Man – Tammy Wynette
1981
Private Eyes – Daryl Hall & John Oates
Start Me Up – The Rolling Stones
Tryin' to Live My Life Without You – Bob Seger
Fancy Free – The Oak Ridge Boys
1990
Love Takes Time – Mariah Carey
Pray – M.C. Hammer
Giving You the Benefit – Pebbles
Home – Joe Diffie
1999
Mambo No. 5 (A Little Bit…) – Lou Bega
Larger Than Life – Backstreet Boys
(You Drive Me) Crazy – Britney Spears
I Love You – Martina McBride
2008
So What – P!nk
Hot N Cold – Katy Perry
Whatever You Like – T.I.
Just a Dream – Carrie Underwood
Today in Broadcast History compiled by Ron Robinson