ON THIS DAY in 1921
actor Charles Bronson was born Charles Buchinsky in Ehrenfeld, Pa.
At the start of his career he was cast in TV's Travels of Jaimie McPheeters, & Empire.  When his big screen era ended he starred in three TV movies, Family of Cops I, II, & III. Bronson died Aug 30, 2003 of Alzheimer's & pneumonia, at age 81.

On this day in 1927, actress Peggy McCay was born in New York City. She played on all the live TV dramas of early TV, and had recurring roles on soaps Love of Life & General Hospital.  Peggy was cast in the series Gibbsville, Lazarus Syndrome & Lou Grant, but is undoubtedly best remembered for her thirty years playing Caroline Brady on the NBC soap Days of Our Lives. She died of natural causes Oct. 7 2018 at age 90.
On this day in 1933, actress Aneta Corsaut was born in Jutchinson Kansas.  She was Sheriff Andy Taylor's girlfriend Helen Crump on the Andy Griffith Show, and worked with Andy again as a Judge on Matlock.   She died at age 62 Nov. 6, 1955, a victim of cancer.
On this day in 1934, Edmonton's heritage call letters CFRN were used for the first time, after Dr. Dick Rice purchased financially-strapped radio station CFTP from Taylor & Pearson.
On this day in 1935, British actor Jeremy Brett was born in Warwickshire, England.  He starred as Sherlock Holmes in several series of films for UK & US TV.  He died Sept 12 1995 of a heart attack, at age 59.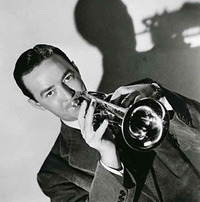 On this day in 1941, the classic Jerry Gray arrangement of String of Pearls was recorded by the Glenn Miller Orchestra – for Bluebird, an RCA Victor label. The recording featured the trumpet of Bobby Hackett (above).
On this day in 1946, ABC radio's contribution to the suspense anthology genre 'The Clock' began its 18 month run from New York. On this day in 1951, the song "Cold, Cold, Heart" by Tony Bennett topped the charts and stayed there for 6 weeks.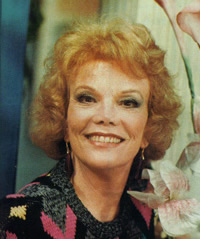 On this day in 1953, Nanette Fabray (Shelley Fabares's aunt) starred in the first color TV program to be sent coast to coast. The telecast, from the Colonial Theatre in New York City, was broadcast via WNBT, New York to Burbank, CA.
On this day in 1955, Eddie Fisher recorded his next hit for RCA Victor, "Dungaree Doll."
Also this day in 1955, in Nashville, Marty Robbins recorded his 2nd #1 Country single (and first crossover pop chart entry), "Singing The Blues."
On this day in 1956, the classic MGM film, "The Wizard of Oz", 
 was first seen on television. The film cost CBS $250,000 to show. The movie was shown 18 times between 1956 and 1976, and you can probably catch it from time to time again no matter what year it is.
Also this day in 1956, the title track from Elvis Presley's first movie, "Love Me Tender," was number 1 on Billboard's singles chart. It replaced the two-sided hit "Don't Be Cruel" & "Hound Dog" to give Presley an unprecedented sixteen consecutive weeks at #1.
On this day in 1957, Sam Phillips, owner of legendary Sun Records in Memphis released Great Balls of Fire, by Jerry Lee Lewis. The single sold 5 million copies worldwide. Looking carefully at the original label, one will find credit to Lewis and "his pumping piano."
Also this day in 1957, CBS-TV's live Sunday evening broadcast of "The Ed Sullivan Show" ran out of time midway through Sam Cooke's performance of his first (and only) #1 hit "You Send Me." Sullivan invited him back a few weeks later to sing the full number. Still in 1957, Danny & the Juniors released their signature song (& future #1 hit), "At the Hop."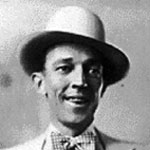 On this day in 1961, Jimmie Rodgers, Hank Williams and Fred Rose became the first people to be elected to the Country Music Hall of Fame.
On this day in 1962, Billboard magazine stopped using "Western" on what was previously its e garnettCountry & Western music chart. The list has been known as Hot Country Singles ever since.
Also in 1962, The Crystals started a two week run at No.1 on the Billboard singles chart with 'He's A Rebel.'
On this day in 1963,  Gale Garnett recorded "We'll Sing In The Sunshine" which became her biggest hit (#4 on the Hot 100). Garnett had been inspired to write the bittersweet drifter's song by her breakup with Hoyt Axton, who recorded the song before she did.
On this day in 1964, in Cleveland Ohio a 17 year-old Rolling Stones fan fell from the balcony during a Stones concert. The Mayor of Cleveland overeacted by putting a ban on all future rock concerts. Also this day in 1964, RCA Victor released a new Elvis Presley single, "Blue Christmas" b/w the German folk tune, "Wooden Heart."
On this day in 1965, The Beatles recorded "Michelle." Also in 1965, RCA Victor released Elvis Presley's latest album, the soundtrack from his movie "Harum Scarum."  A former Miss America, Mary Ann Mobley co-starred in the film, which hit screens three weeks later.
On this day in 1968, actress Debbie Rochon was born in Vancouver BC. She's specialized in fear film roles, was named "Scream Queen of the Decade" in 2003.  She's been hostess 'Hypothermia' of three similarly titled TV series, Troma Theatre, Troma's Edge TV, and Tromaville Cafe.
On this day in 1969, the No. 1 Billboard Pop Hit was "Wedding Bell Blues" by The 5th Dimension.
On this day in 1972, singers Carly Simon and James Taylor were married in Carly's New York apartment. The couple was said to be the highest-paid couple in the world — next to Elizabeth Taylor and Richard Burton. Carly and "Sweet Baby" James would divorce years later, but we hear they are still good friends.
On this day in 1973, Canadian rocker Neil Young supported by The Eagles appeared at the Palace Theatre in Manchester, England.
Also in 1973, the US duo of Daryl Hall and John Oates, still seeking meaningful traction on the music charts, released their second album, "Abandoned Luncheonette."
On this day in 1974, Canadian rock group Bachman-Turner Overdrive (BTO) had a #1 Billboard hit with 'You Ain't Seen Nothing Yet'.
On this day in 1975, CBC Radio launched its FM stereo network coast-to-coast with a special broadcast at 6:30 pm PST. CBU FM 105.7 had been on the air in Vancouver since 1947.  From 1965 until now it had received programming on a 2 week delay from the CBC FM broadcast dates in Montreal, Ottawa and Toronto.
Also in 1975, the first broadcast of ABC-TV's new breakfast entry, Good Morning America was aired, featuring as first co-hosts David Hartman and Nancy Dussault.
On this day in 1976, Firefall's self-titled first album was certified gold, the fastest Atlantic Records album to so qualify.
On this day in 1977, actor Philip J Amelio II was born in Connecticut.  He played Kevin on Life With Lucy, and Scott on All My Children for 4 years.  He died at age 27 April 1 2005 of an internal infection.
Also this day in 1977, during a concert in London, Elton John announced that he was retiring from live performances. However he resumed touring exactly 15 months later. On this day in 1978, the first broadcast of the sitcom "Diff'rent Strokes" introducing us to Gary Coleman aired on NBC TV.
On this day in 1979, The Eagles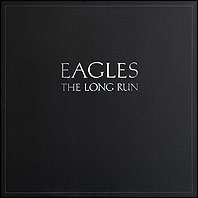 had the number-one album in the U.S. 'The Long Run' started a nine-week run at the top. On this day in 1983, The Nashville Network (TNN) debuted on cable TV.
On this day in 1984, Billy Ocean started a two week run at No.1 on the Billboard singles chart with 'Caribbean Queen'. On this day in 1986, the John Lennon album, "Menlove Avenue" was released.
On this day in 1988, talk-show host Geraldo Rivera's nose was broken as Roy Innis brawled with skinheads at a taping of the Geraldo TV show.
On this day in 1990, singer/actress Mary Martin succumbed to colorectal cancer at age 76. 
 She performed her signature role of Peter Pan at least three times for TV.  As well for the small screen, she starred in productions of The Skin of Our Teeth, Annie Get Your Gun, Valentine, and Born Yesterday.
Also in 1990, Minnie Pearl celebrated her 50th anniversary with the "Grand Ole Opry." She received a congratulatory telegram from the White House. Also this day in 1990, Vanilla Ice was number one in the U.S. with the single Ice Ice Baby, from the album To the Extreme. It was the first rap record to secure top spot.
On this day in 1991, Toronto rocker Neil Young reunited with Crosby, Stills & Nash before 300,000 people in a free concert in San Francisco's Golden Gate Park, in memory of rock promoter Bill Graham. Others on the playbill included the Grateful Dead; Joan Baez; Santana; and Journey (which reunited for the event). On this day in 1992.
 "Keep The Faith" by Bon Jovi was released. It was their first album in 5 years.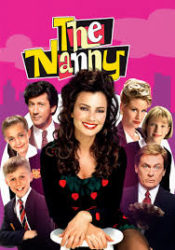 On this day in 1993, the first episode of "The Nanny" aired on CBS, introducing us to Fran  Drescher.
On this day in 1995, Bob Dylan's lawsuit against Hootie and the Blowfish over the group's unauthorized use of Dylan's lyrics in their Top 10 hit "Only Want To Be With You," ended in an out-of-court settlement.  The amount of money changing hands was not disclosed.
On this day in 1996, blues harmonica player William Clarke died from a bleeding ulcer at the age of 45.
On this day in 1997, newsman & TV host Wally Bruner died at age 66 of liver cancer. He is best rembered as the host of 1,000 episodes of the syndicated version of What's My Line.
Also this day in 1997, John Denver's last recording, "The Unplugged Collection," was released in the UK. Still in 1997, the record industry gurus confirmed that "Be Here Now," with "Champagne Supernova" by Oasis had sold over a million copies.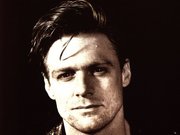 On this day in 1998, just one day short of his 39th birthday, Bryan Adams was inducted into the Canadian Association of Broadcasters Broadcast Hall of Fame, in front of an audience of 1500 broadcast executives, engineers, news directors and equipment exhibitors at the Annual Meeting of the CAB in Vancouver.
Also in 1998, music retailers around the U.S. were flooded with a monster shipment of high-profile releases. Among the most anticipated were Alanis Morissette's sophomore set "Supposed Former Infatuation Junkie," Beck's "Mutations," Celine Dion's "These Are Special Times," U2's "The Best of 1980-1990," and the John Lennon boxed set "Anthology."
Still this day in 1998, the Bee Gees' "live" album "One Night Only" was released.
On this day in 2002, actor Jonathan Harris suffered a blood clot and died, 3 days short of his 88th birthday.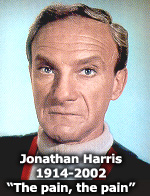 He became a cult icon in the role of Dr. Zachary Smith, the dastardly, effete stowaway on TV's "Lost in Space."
Also in 2002, skiffle hit-maker Lonnie Donegan died from a heart attack mid-way through a UK tour at age 71.  He had an international hit in 1959 with 'Does Your Chewing Gum Lose Its Flavour', followed by 'My Old Man's A Dustman', and 'Rock Island Line.'
Still in 2002, Eminem started a 12 week run at No.1 on the Billboard singles chart with 'Lose Yourself.' On this day in 2003, rapper/actor P Diddy (Sean Combs) ran in the New York City Marathon and raised $2,000,000 for the local school system. He finished the marathon in four hours and eighteen minutes.
On this day in 2004, Eric Clapton became a Commander of the Order of the British Empire, or CBE. The honor was conferred by Princess Anne in a ceremony at Buckingham Palace.
On this day in 2005, Green Day won two trophies at the MTV Europe Music Awards in Lisbon, Portugal. The trio earned Best Album honors for "American Idiot" and also took the Best Rock category. On this day in 2006, Donny Osmond guest-starred on the long-running ABC-TV daytime soap  "All My Children."
Also in 2006, a Russian immigrant who had been stalking US singer/actress Hilary Duff was arrested for threatening to kill her. According to legal papers, Maksim Miakovsky had gone to the U.S. "for the sole purpose of meeting and becoming romantically involved with Ms. Duff". He was later sentenced to 117 days in jail and five years probation.
Still in 2006, the documentary, Amazing Journey: The Story Of The Who, premiered on US cable channels VH1 and VH1 Classic.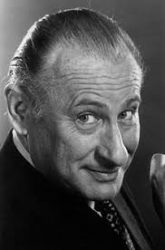 On this day in 2009, actor/magician/comedian Carl Ballentine, who did lousy but funny magic tricks for Ed Sullivan, and was a crew member on TV's McHale's Navy, died at age 92.
Also in 2009, "California," a previously unreleased track by Bob Dylan, was featured prominently in an episode of NCIS on CBS TV.
On this day in 2010, Jim Clench, a Montreal bass player and vocalist who played with April Wine and Bachman Turner Overdrive, succumbed to stage 4 lung cancer at age 61.
On this day in 2013, the first ever YouTube Awards were held in New York City. The event featured Eminem, Lady Gaga and M.I.A making live music videos directed by the awards' creator, Spike Jonze, and others. Eminem won Artist of the Year, while Taylor Swift's 'I Knew You Were Trouble' took the YouTube Phenomenon award.
On this day in 2014,  one of US public radio's most popular personalities, Tom Magliozzi died of complications from Alzheimer's disease at age 77. Tom and his brother, Ray, became famous as "Click and Clack the Tappet Brothers" on the weekly NPR show Car Talk. For 25 years they bantered, told jokes, laughed and sometimes even gave pretty good advice to listeners who called in with their car troubles.
On this day in 2016, singer Kay Starr died of complications from Alzheimer's disease at age 94. She is best remembered for two #1 hits in the 1950s, "Wheel of Fortune" and "The Rock And Roll Waltz".
On this day in 2017, Netflix announced that it wouldn't be involved with any further production of "House of Cards" that included Kevin Spacey after the actor was accused of making a sexual advance toward a teenager in 1986.
On this day in 2018,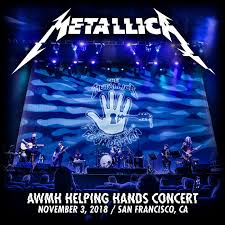 Metallica gave a rare acoustic performance at their "All Within My Hands Helping Hands Concert And Auction" which raised more than $1.3 million to fund AWMH's efforts with partners at Feeding America and the American Association of Community Colleges.
Today's Birthdays
Actress Lois Smith (True Blood, Desperate Housewives, All My Children, One Life to Live) is 93.
Former TV critic Tom Shales (Washington Post) is 79.
Announcer-actor Shadoe Stevens (Dave's World, Hollywood Squares) is 77.
Singer Lulu is 73. Comedian-actress Roseanne Barr (Roseanne, Roseanne's Nuts) is 71.
Actress Kate Capshaw (Black Tie Affair, Edge of Night) is 70.
Comedian/radio & TV host/writer Dennis Miller (Sat. Night Live, Dennis Miller Show) is 70.
Actress Kathy Kinney (Drew Carey Show, Newhart) is 69.
Singer Adam Ant is 67. CBS football analyst/former quarterback Phil Simms is 68.
Actor Dolph Lundgren  (Arrow, SAF3) is 66.
British rock keyboardist James Prime is 63.
Winnipeg-born actor Lee Montgomery (Dallas, Adam 12, Marcus Welby) is 62.
Actress Marjean Holden (BeastMaster, Crusade) is 59.
Actor Philippe Brenninkmeyer (Those Damn Canadians) is 59.
Actor Vincent Franklin (Doc Martin, Happy Valley) is 57.
Actress Devika Parikh (The Wes Wing, Three Rivers) is 57.
Vancouver-born actress Debbie Rochon (see 1968 above) is 55.
Actress Loryn Locklin (JAG, The Perfect Getaway, The Rockford Files: If it Bleeds It Leads) is 55.
Actor Rhashan Stone (Strike Back) is 54.
Rock musician C.J. Pierce (Drowning Pool) is 51.
Actor Kristoffer Ryan Winters (The Heart Department, She Cried No, Saint Maybe) is 50.
Rapper/actor Sticky Fingaz (Blade: the series, Over There) is 50.
Singer Jane Monheit is 44. Actor Gino Anthony Pesi (Dallas 2014, Shades of Blue) is 43.
Montreal-born actress Kimberly Laferriere (21 Thunder) is 41.
Actress Shayna Rose (The Fresh Beat Band, Days of Our Lives) is 40.
Actress Julie Marie Berman (Casual, Chicago Med, General Hospital) is 40.
Actress Daniele Watts (Weeds, Partners) is 38.
Actress Antonia Thomas (The Good Doctor) is 35. Musician Courtney Barnett is 36.
Actor Trevor Einhorn (Mad Men, Sons & Daughters, Frasier) is 35.
TV personality Kendall Jenner (Keeping Up with the Kardashians) is 28.
Actress Aria Wallace (4 Roxy Hunter TV movies) is 27.
Chart Toppers – Nov. 3
1944 I'll Walk Alone – Dinah Shore Dance with the Dolly – The Russ Morgan Orchestra (vocal: Al Jennings) The Trolley Song – Judy Garland Smoke on the Water – Red Foley
1953 You, You, You – The Ames Brothers No Other Love – Perry Como Oh – Pee Wee Hunt I Forgot More Than You'll Ever Know – The Davis Sisters
1962 He's a Rebel – The Crystals Only Love Can Break a Heart – Gene Pitney Do You Love Me – The Contours Mama Sang a Song – Bill Anderson
1971 Maggie May/Reason to Believe – Rod Stewart Gypsys, Tramps & Thieves – Cher Theme from Shaft – Isaac Hayes How Can I Unlove You – Lynn Anderson
1980 Woman in Love – Barbra Streisand He's So Shy – Pointer Sisters Lady – Kenny Rogers Them from The Dukes of Hazzard (Good Ol' Boys) – Waylon Jennings
1989 Miss You Much – Janet Jackson Sowing the Seeds of Love – Tears For Fears Listen to Your Heart – Roxette High Cotton – Alabama
1998 One Week – Barenaked Ladies Thank U – Alanis Morissette My Favorite Mistake – Sheryl Crow Honey, I'm Home – Shania Twain
2007 Rockstar – Nickelback Stronger – Kanye West Bubbly – Colbie Caillat Don't Blink – Kenny Chesney
Today in Broadcast History compiled by Ron Robinson