Courtesy of the Western Standard.news
by Jonathan Bradley
October 18, 2023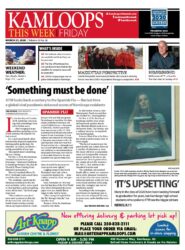 Kamloops This Week (KTW) will be closing down its newspaper and website later this month.
"We face a bunch of issues that are outside of our control," said KTW parent company Aberdeen Publishing President Robert Doull in a Tuesday statement.
"Our paper costs have increased."
Doull said KTW's printer went out of business with 10 days notice and the sole available replacement was only able to give it a smaller page size at a higher price.
Due to a variety of challenges, including market conditions and rising costs, it will close, leaving Kamloops without a newspaper for the first time since 1884.
Read Much More HERE