by Emily Selleck and Ian Mohr
October 15, 2023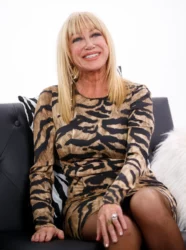 Suzanne Somers has lost her 50-year battle with cancer, just one day before her 77th birthday, Page Six can sadly confirm.
The actress died early Sunday morning, the star's longtime publicist, R. Couri Hay, told us.
"Suzanne Somers passed away peacefully at home in the early morning hours of October 15th. She survived an aggressive form of breast cancer for over 23 years," he said.
Read More HERE