ON THIS DAY in 1900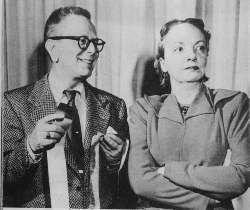 actress Jane Ace was born in Kansas City. From 1930 to 1945 she and her husband/writer/producer Goodman Ace starred in Easy Aces, a daytime quarter hour of witty domestic comedy unlike anything else on radio.Easy Aces has since been inducted into the Radio Hall of Fame. Jane Ace died Nov. 11 1974 at age 74.
On this day in 1921, actress Nancy Kulp was born in Harrisburg Pa.  She is best remembered playing Miss Hathaway on the Beverly Hillbillies, but she also played supporting roles on The Brian Keith Show, and Sanford & Son.  She succumbed to cancer Feb. 3 1991 at age 70.
On this day in 1937, the longest-running detective show on radio debuted on NBC Blue.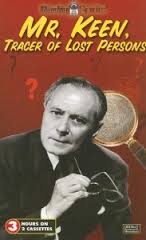 "Mr. Keen, Tracer of Lost Persons" moved to CBS in 1942, and continued weekly for a total of 18 years.  Three different actors played the title role, Bennett Kilpack (pictured) was Mr. Keen the longest ('37-'50), while Arthur Hughes was the lead in the closing run.  Phil Clark also played the part.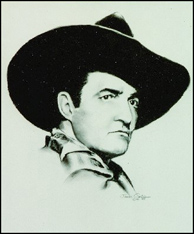 On this day in 1940, the greatest cowboy star of silent pictures Tom Mix died in a single car crash in Arizona at age 60.Because he'd become so popular, a kid's radio adventure show, The Tom Mix Ralston Straightshooters continued for ten years following his death. (Tom never played himself, his speaking voice was lacking.)
On this day in 1944, Frank Sinatra returned to the Paramount Theatre to a huge crowd of "bobby-soxers" known as the "Columbus Day Riot". (He had played the Paramount for eight weeks starting December 30, 1942.) On this day in 1949, the No. 1 Billboard Pop Hit was "That Lucky Old Sun" by Frankie Laine.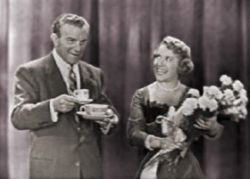 On this day in 1950, after 15 years on radio,  The George Burns and Gracie Allen Show made its debut on CBS-TV. The television show ran through Sept 22, 1958, featuring the real-life married couple at home. George played on-screen host/narrator and straight man for Gracie's scatterbrained (but hillarious) schemes.
On this day in 1956, "Canadian Sunset" by the Hugo Winterhalter Orchestra & pianist Eddie Heywood peaked at # 2 on the Billboard pop singles chart.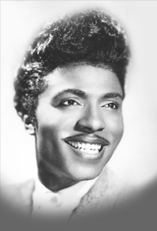 On this day in 1957, Little Richard publicly renounced rock `n' roll.  He tossed four diamond rings into the Hunter River in Sydney, Australia, to prove that he was giving up rock-n-roll for his faith in God.  (He returned to music five years later.)
On this day in 1961, the first video memoirs by a U.S. president were aired on CBS. The three-hour special had Walter Cronkite interviewing former President Dwight D. Eisenhower. Reportedly, 11 hours of film had been used and were edited to the final print.
On this day in 1962, the fierce storm 'Typhoon Frieda'  hit the West Coast, knocking out all power and leaving CKNW as the only operating broadcaster north of Portland, due to a recently-installed generator at the transmitter. 
Also in 1962, Little Richard returned to the sinful world of rock & roll with a show in New Brighton, England. A then-unknown local band called The Beatles were among the opening acts, and Richard apparently taught Paul his famous scream.
On this day in 1963, the song "Sugar Shack" by Jimmy Gilmer & the Fireballs topped the charts and stayed there for 5 weeks.
On this day in 1964 the No. 1 Billboard Pop Hit was  "Do Wah Diddy Diddy" by Manfred Mann. The song was written by Jeff Barry and Ellie Greenwich, who also wrote "Da Doo Ron Ron."
On this day in 1965, The Beatles began recording "Norwegian Wood (This Bird Has Flown)," allegedly inspired by John Lennon's extramarital affairs. Ironically he wrote it while holidaying with his wife Cynthia.
On this day in 1966, the Jimi Hendrix Experience was formed in London, with Jimi on guitar, Noel Redding on bass and Mitch Mitchell playing drums. UK newspapers soon labelled Hendrix "the wild man of Pop."
On this day in 1968, "Cheap Thrills", the album by Big Brother and the Holding Company,
started an eight-week run as number one in the U.S. It was the first and only album (for a major label) Janis Joplin made with the group.
Also in 1968, John Sebastian left the band he had founded Lovin' Spoonful, to begin a solo career.
On this day in 1969, a DJ on Detroit's WKNR radio station received a phone call telling him that if you play The Beatles 'Strawberry Fields Forever' backwards, you hear John Lennon say the words "I buried Paul." Thus began the viral rumour that Paul McCartney was dead, which quickly spread world-wide.
On this day in 1971, early rock'n'roller Gene Vincent of "Be Bop A Lula" fame died at age 36 from a ruptured stomach ulcer. 
On this day in 1973, the two-disc album "Goodbye Yellow Brick Road" by Elton John was certified as a Gold Record. It was his 3rd straight LP to top the charts.
On this day in 1974, Olivia Newton-John went to No.1 on the Billboard album chart with 'If You Love Me, Let Me Know.'
On this day in 1975, Rod Stewart and the Faces were at New York's Nassau Coliseum, playing their final show together. The group's breakup was due to Stewart wanting to move on with a solo career.
On this day in 1978,  British punk rocker Sid Vicious of the Sex Pistols called the New York City police to say that someone had stabbed his girlfriend Nancy Spungen. He was arrested and charged with murder and placed in the detox unit of a New York prison.  Vicious died of a heroin overdose the following February while awaiting trial.
On this day in 1980, eight audience members were stabbed by a fellow concertgoer during a fight at a Blood Sweat & Tears show at the Los Angeles Street Scene. On this day in 1981, Barbara Mandrell walked away with the Country Music Association's Entertainer of the Year honor for the second year in a row.
On this day in 1983, singer Karen Carpenter was honored posthumously with a star on the Hollywood Walk of Fame. She had died some eight months earlier.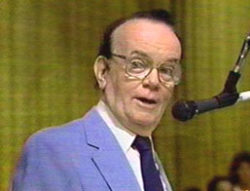 On this day in 1985, the greatest TV game show announcer of them all, Johnny Olsen,died of a cerebral hemhorrage at age 75. He created the phrase "C'mon down!" on "The Price is Right". Also this day in 1985, guitar player with the B-52s Ricky Wilson died of AIDS at age 32.
On this day in 1987, Hank Williams Jr. was named "Entertainer of the year" at the 21st Country Music Assn Awards. Also this day in 1987, ex-Beatle George Harrison released the single "Got My Mind Set On You."
On this day in 1989, animation producer Jay Ward, who gave us TV's Rocky & Bullwinkle, and Crusader Rabbit, among many others, died of kidney cancer at age 69.
Also this day in 1989,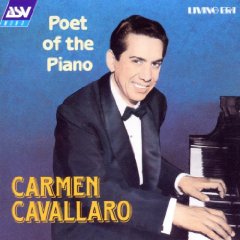 piano virtuoso Carmen Cavallero, the "Poet of the Piano" in 1940's radio & movies, died of cancer at age 76.  He is said to have been the inspiration for both Liberace and Roger Williams.
On this day in 1991,"Emotions" by Mariah Carey topped the pop singles chart and stayed there for 3 weeks.  It was a record-breaking 5th straight #1 with her first five recordings.
Also this day in 1991, Nirvana's album, "Nevermind" went Gold. Still in 1991, the Statler Brothers Show premiered on The Nashville Network.
Again in 1991, more than 50,000 fans were on hand for the show by Metallica, Soundgarden, Queensryche and Faith No More at the Oakland-Alameda County Stadium.
On this day in 1992, actor John Hancock, died while filming the then-new sitcom Love & War, in which he played an ascerbic bartender.  He also played a tough-minded judge on LA Law. Hancock suffered a heart attack & died at age 51.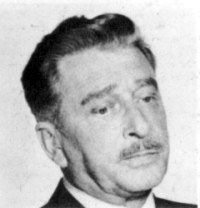 On this day in 1993, actor Leon Ames  died at age 91 after a stroke.  He played blustering fathers in several TV series, Life with Father, Father of the Bride, and Mr. Ed. On this day in 1994, in London, Pink Floyd's Division Bell tour got off to a shaky start when just a minute into the show a section of seating collapsed, sending 1,000 plummeting to the ground.  Only 36 people required hospital treatment.
On this day in 1996, Farm Aid '96 was held in Columbia, North Carolina. Performers included organizers Willie Nelson, John Mellancamp and Neil Young, plus Martina McBride, John Conlee, the Beach Boys, Jewel, and Hootie and the Blowfish.
Also in 1996, "The Rolling Stones Rock and Roll Circus," a documentary filmed in December of 1968, was finally released. For nearly 30 years the Stones had refused to release the video, largely because of unhappiness with their own performances.
On this day in 1997, singer/songwriter John Denver, whose 1970s hits including "Rocky Mountain High" and "Take Me Home, Country Roads" gained him millions of fans worldwide, was killed when his experimental plane crashed into Monterey Bay in Northern California. He was 53.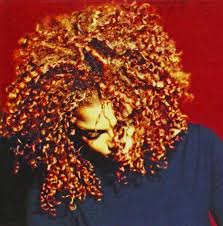 Also in 1997, the Janet Jackson album "The Velvet Rope"was banned in Singapore because of songs about abuse, sexuality and homosexuality.
Still on this day in 1997, a Backstreet Boys concert in a central Madrid square was cancelled by Spanish officials. 300 girls had to be treated after they fainted in the heat. More than 7,000 fans had arrived at the event where just 5,000 could be accomodated.
On this day in 1999, director/actor Rob Reiner was honored with a star on the Hollywood Walk of Fame.
On this day in 2002, orchestra leader/arranger & choral director Ray Conniff died following a bad fall at age 85.  His Columbia Records house band backed many hits of the 50's & 60's, by singers such as Johnnie Ray, Frankie Laine, Rosemary Clooney, Johnny Mathis, Marty Robbins & Guy Mitchell.
Also in 2002, 25 years after his death, a new Elvis Presley compilation CD "30 No. 1 Hits"  debuted at #1 on the Billboard chart. It was the first time any Elvis album had done so.
On this day in 2003, for the first time since his notorious rendition in Detroit before a 1968 World Series game, Jose Feliciano was invited to sing the U.S. National Anthem at a National League  playoff game in Miami.  This time he got only cheers and applause.
On this day in 2005, CBU FM-7 Chilliwack FM 99.9 began regular CBC Radio Two service to the Fraser Valley.  This followed more than 7 weeks of test programming and non-stop classical music.
Also in 2005, songwriter Baker Knight (The Wonder Of You, Somewhere There's A Someone, Lonesome Town) died at age 72.
Still in 2005, Vancouver-based Nickelback scored their first #1 album on the Billboard 200 chart with "All the Right Reasons." It sold 317,000 copies during its first week of release.
On this day in 2006, country singer Sara Evans quit "Dancing with the Stars" and filed for divorce from her husband of 13 years.
On this day in 2008, several thousand Nickelback fans were on hand at the Los Angeles Forum to film a Citibank commercial. The ad featured the Canadian group playing "Gotta Be Somebody" (a single from their sixth album, "Dark Horse").
On this day in 2009, Dickie Peterson (Summertime Blues), founding member and lead singer with Blue Cheer, died of liver cancer at age 63.
On this day in 2010, Gene Simmons of KISS spoke out against file sharing at the MIPCOM convention in Cannes, France. "The music industry was asleep at the wheel," said Simmons. "And [they] didn't have the balls to sue every fresh-faced, freckle-faced college kid who downloaded material. And so now we're left with hundreds of thousands of people without jobs. There's no industry."
Also in 2010, Jack White of White Stripes and Kid Rock were among the performers paying tribute to Country legend Loretta Lynn on the 50th anniversary of her first performance at the Grand Ole Opry. White produced Lynn's '04 comeback album "Van Lear Rose."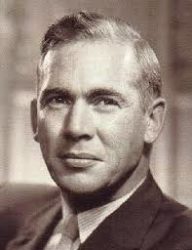 On this day in 2011, Toronto-born early TV announcer/commercial spokesman Joel Aldred died peacefully in his sleep at age 91. After becoming one of the top on-camera commercial spokesmen (e.g. Chevrolet) on both sides of the border, Aldred partnered with Ted Rogers Jr. to successfully bid for Canada's first private TV station, Toronto's CFTO, which helped give birth to the CTV network.
Also in 2011, actress Patricia Breslin, who at one point in the 1960's had guest starred on TV more than any other woman, died at age 80 after a lengthy battle with pancreatitis. She costarred (with Jackie Cooper) in the 1950's sitcom The People's Choice. She had left show business after marrying NFL owner Art Modell.
On this day in 2012, Eric Clapton auctioned an abstract piece of art by a German artist Gerhard Richter for $34.2 million. The guitarist bought the painting back in '01 for $3.4 million.
On this day in 2013, Bruce Springsteen entered the American Academy of Arts & Sciences. "Election to the Academy honors individual accomplishment and calls upon members to serve the public good," said Academy President Leslie C. Berlowitz.
On this day in 2015, Hollywood actress Joan Leslie, who augmented a 20-year film career with a score of guest roles in early episodic TV and TV movies, died at age 90.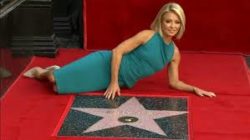 Also in 2015, daytime TV star Kelly Ripa (Live with Regis & Kelly, Live with Kelly & Michael, Live with Kelly & Ryan) was on hand to help unveil her new star on the Hollywood Walk of Fame.
On this day in 2016, actor Thomas Mikal Ford, who played the pragmatic yet charming character Tommy on the FOX-TV 1990s sitcom "Martin," died of an abdominal aneurysm at age 52.
Also in 2016, Robert Bateman, the Motown songwriter behind such hits as "Please Mr. Postman" and "Playboy," died of a massive heart attack at age 80.
On this day in 2017, Amazon suspended the head of its entertainment studio, Roy Price, in the wake of allegations of mismanagement and sexual harassment and criticism of his close business relationship with Harvey Weinstein. Price resigned five days later.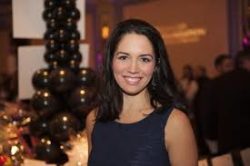 On this day in 2018, Astrid Braunschmidt delivered her final weather forecast after 17 years with  CTV Vancouver Island, and left broadcasting for a Media Relations post with BC Ferries.
Today's Birthdays
Singer Sam Moore (formerly of Sam and Dave) is 88.
Ex-sportscaster/former Yankee Tony Kubek is 88.
TV reporter/host Chris Wallace (Fox News Sunday) is 76.
Actress-singer Susan Anton (Baywatch, Stop Susan Williams) is 73.
Actor Michael Bofshever (The Jersey) is 73.
Actress Robin Askwith (Coronation Street) is 73.
Actor David Threlfall (Ripper Street, Shameless UK) is 70.
Actor Les Dennis (Coronation Street) is 69.
Rock singer-musician Pat DiNizio (Smithereens) is 68.
Former Vancouver sportscaster/pioneering sportstalk host Dan Russell is 63.
Actor Hiroyuki Sanada (Helix, Extant) is 63.
Actor Carlos Bernard (Scoundrels, 24, Sunset Beach) is 61.
Actress Deborah Foreman (Romance Theater, Maggie) is 61.
Actress Sally Murphy (Victim of Love: The Shannon Mohr Story) is 61.
Rhythm-and-blues singer Claude McKnight (Take 6) is 61.
Jazz trumpeter Chris Botti is 61.
Actress Jo Ann Willette (Just The Ten Of Us) is 60.
Rock singer Bob Schneider is 58.
Toronto-born actor Jonathan Crombie (The Secret World of Benjamin Bear, Mount Royal) is 57.
Actor Hugh Jackman (Oscars Host '09, Tony Awards Host x 3, Viva Laughlin, Making the Grade) is 55.
Actor Matthew Walker (Supercarrier, Shock Treatment) is 55.
Actor Adam Rich (Eight is Enough, Code Red) is 55.
Actor Todd Babacock (Days of Our Lives) is 54.
Rhythm-and-blues singer Garfield Bright (Shai) is 54.
Country fiddler Martie Maguire of the Dixie Chicks and Courtyard Hounds is 54.
Actor Kirk Cameron (Growing Pains, Kirk) is 53.
Actress Stacy Arnell (Ray Donovan) is 53.
Toronto-raised actress Marie Wilson (As the World Turns, Gen. Hospital, Port Charles) is 49.
Actress Kate Beahan (Mistresses) is 49.
Montreal-born actor Dion Johnstone (Ties That Bind) is 48.
Singer Jordan Pundik of New Found Glory is 44.
Actor Tom Guiry (The Black Donnellys) is 42.
Actor Brian J. Smith (SGU: Stargate Universe) is 42.
Actor Tony Cavalero (School of Rock, Hart of Dixie, The Single Life, Aim High) is 40.
Actor Tyler Blackburn (Pretty Little Liars) is 37.
Actor Marcus T. Paulk (Moesha, Proud Family) is 37.
Actor Josh Hutcherson (Wilder Days, Miracle Dogs) is 31.
Chart Toppers – Oct. 12
1949 You're Breaking My Heart – Vic Damone That Lucky Old Sun – Frankie Laine Someday – Vaughn Monroe Slipping Around – Margaret Whiting & Jimmy Wakely
1958 It's All in the Game – Tommy Edwards Rock-in Robin – Bobby Day Tea for Two Cha-Cha – The Tommy Dorsey Orchestra Bird Dog – The Everly Brothers
1967 The Letter – The Box Tops Never My Love – The Association Little Ole Man (Uptight-Everything's Alright) – Bill Cosby Turn the World Around – Eddy Arnold
1976 A Fifth of Beethoven – Walter Murphy & The Big Apple Band Lowdown – Boz Scaggs If You Leave Me Now – Chicago The Games that Daddies Play – Conway Twitty
1985 Oh Sheila – Ready For The World Take on Me – a-ha Saving All My Love for You – Whitney Houston Meet Me in Montana – Marie Osmond with Dan Seals
1994 I'll Make Love to You – Boyz II Men All I Wanna Do – Sheryl Crow When Can I See You – Babyface Who's that Man – Toby Keith
2003 Here Without You – 3 Doors Down Baby Boy – Beyoncé Knowles featuring Sean Paul Can't Hold Us Down – Christina Aguilera featuring Lil' Kim Real Good Man – Tim McGraw
Today in Broadcast History compiled by Ron Robinson