ON THIS DAY in 1900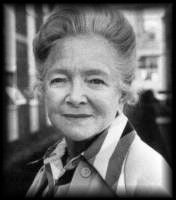 actress Helen Hayes was born Helen Brown in Washington DC                                                                                                After honing her craft on the stage Ms. Hayes began a 55 year big screen career in 1931. She had her own popular radio anthology series in the 1940's; on  TV she played one of the Snoop Sisters in the 70's, and Miss Jane Marple in the 80's. The First Lady of the American Theater died Mar 17, 1993 at age 92.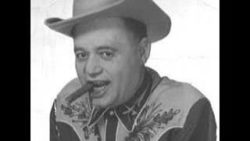 On this day in 1911, radio performer Zeke Manners was born in San Francisco.  While most of his radio work was at local stations in LA & New York, for a time he had a 15-minute network show that allowed him to integrate 'hillbilly' recordings with his live accordion, piano & banjo playing…"The One-Man Variety Show."                              He died Oct 14 2000, four days after his 89th birthday.
On this day in 1914, singer/songwriter/pianist Ivory Joe Hunter was born in Kirbyville, Texas.  He is best remembered for his 1950's hits, Since I Met You Baby,  I Almost Lost My Mind, & I Need You So.  He died Nov 8, 1974 of lung cancer at 60.
On this day in 1917, jazz pianist & composer Thelonious (Sphere) Monk was born in Rocky Mount North Carolina. He is regarded as the founder of be-bop, although his playing style evolved away from it. He suffered a stroke and died Feb 17, 1982 at age 64.
On this day in 1926, tough, stocky character actor Richard Jaeckel   was born on Long Island, NY.  Amongst a long movie & TV career he had three series commitments, in Baywatch, Spenser For Hire, & Banyon.  He died June 14, 1997 at age 70, after a long battle with melanoma.
On this day in 1927, actor Dana Elcar was born in Ferndale Mich. Pictured as Pete Thornton in MacGyver, a character who lost his sight even as Elcar went blind from glaucoma.  He died June 6 2005 at age 77, due to complications from pneumonia.
On this day in 1932, two of radio's earliest efforts at soap opera were heard for the first time. Judy and Jane, sponsored by Folger's Coffee, and Betty and Bob, sponsored by General Mills, had listeners glued to their radios into the early 1940s.
Also in 1932, a syndicated adventure series for juveniles, Chandu the Magician was heard for the first time on KHJ radio Los Angeles.  It would continue with varying casts in various formats and networks until 1950.
On this day in 1937, the Mutual Broadcasting System debuted Thirty Minutes in Hollywood. 48 sponsors shared the cost of the program that aired in 72 cities across the US. It was the first Mutual co-op radio show. George Jessel and Norma Talmadge starred, with music by the Tommy Tucker Orchestra.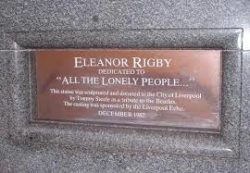 On this day in 1939, the real Eleanor Rigby whose name was immortalized in song by The Beatles, died in her sleep of unknown causes at the age of 44.
On this day in 1943, the No. 1 Billboard Pop Hit was Bing Crosby's ballad "Sunday, Monday or Always."
On this day in 1956, Elvis Presley's "Love Me Tender" entered the Billboard chart for a 19 week stay, peaking at No.1 for 5 weeks. The song, from Presley's first film of the same name, was adapted from the tune "Aura Lee", written in 1861.
On this day in 1957, the TV series "Zorro," starring Guy Williams, aired the first of its 78 weekly episodes (over 2 years) on ABC.
Also in 1957, crooner Frank Sinatra recorded one of his swinging signature songs "Come Fly With Me" for Capitol Records. On this day in 1958,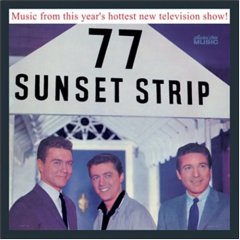 "77 Sunset Strip" made its debut on ABC TV. Efrem Zimbalist Jr. (pictured, right) was in all 165 episodes in the series, but Edd 'Kookie' Byrnes (centre) emerged a teen heartthrob after his 88 appearances.
On this day in 1959, Barry Gordy's first release on the new Motown Records label, "Bad Girls" by The Miracles, entered the Billboard Pop chart for a brief two week stay.
On this day in 1960, Larry Verne went to No.1 on the US singles chart with 'Mr Custer'.
On this day in 1962, the BBC radio service banned the Halloween novelty song "Monster Mash" by Bobby "Boris" Pickett. Neither obscene nor controversial (it's about a horror-movie-star record hop), "Monster Mash," like many other songs, was banned under a catch-all regulation prohibiting the broadcast of anything deemed "offensive."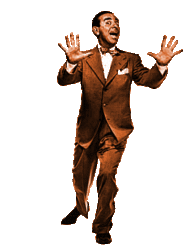 On this day in 1964,  comedian Eddie Cantor, who starred in early radio & again 25 years later on early TV, suffered a fatal heart attack at age 72.
The same day in 1964, NBC-TV aired the opening ceremonies of the 1964 Summer Olympics in Tokyo. It was the first live color TV program to be transmitted to the U.S. by satellite.
Still in 1964, the Shangri-Las released their soon-to-be-hit "The Leader Of The Pack."
On this day in 1965, the singing girl trio The Supremes appeared for the first time on CBS-TV's Sunday night showcase, the "Ed Sullivan Show."
On this day in 1966, Selkirk Holdings, the Canadian radio pioneers formerly known as Taylor, Pearson & Carson, were approved to take 100% ownership of Vancouver's CKWX.   They had been 40% owners and manager of the station since 1941.
Also in 1966, The Beach Boys released a single which would soon become their signature song, "Good Vibrations."Still this day in 1966, The Browns performed for the last time as a group on The Grand Ole Opry.  But Jim Ed Brown continued with the show as a solo act.
On this day in 1968, The Beatles were in the studio working on the "White Album" tracks "Piggies" and "Glass Onion."
On this day in 1970, singer Neil Diamond reached the #1 spot on the pop music charts for the first time with "Cracklin' Rosie". Two years later, Diamond would reach a similar pinnacle with "Song Sung Blue".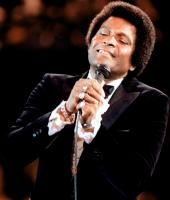 On this day in 1971, the 5th Country Music Association Awards named Charley Pride "Entertainer of the Year".
On this day in 1973, with his solo career already begun, Rod Stewart continued to tour with The Faces, and this date played the San Diego Sports Arena.
On this day in 1975, Queen released their future #1 single "Bohemian Rhapsody," from the album "A Night at the Opera."
On this day in 1977, in Philadelphia Steven Tyler and Joe Perry of Aerosmith were injured after a cherry bomb was thrown on stage. The group performed behind a safety fence for the rest of the tour.
On this day in 1978, big bandleader Ralph Marterie died at age 63. His instrumental hits for the Mercury label included "Skokiaan," "Caravan" and "Pretend."
This day in 1979 was a big day for Fleetwood Mac. They received a star on the Hollywood Walk of Fame (outside Frederick's of Hollywood.) It was also "Fleetwood Mac Day" in Los Angeles, by proclamation of Mayor Tom Bradley. And the group's new album, Tusk, was unveiled at a record-company party that night. The double-record set took thirteen months to finish and cost over a million dollars.
On this day in 1982, the PBS series "Nature" debuted on PBS.
On this day in 1985,  actor & director Orson Welles suffered a fatal heart attack at age 70.  Besides his movie work, Welles was a star of bigtime radio; his Mercury Players produced The War of the Worlds(1938 ), and dozens of other hour-long dramas.  His other hit radio series included The Shadow, Campbell Playhouse, The Lives of Harry Lime, and The Black Museum.
The same day in 1985, actor Yul Brynner lost his battle with lung cancer at age 65.  As well as his star-making roles on the big screen, Brynner was a headliner in early TV on Studio One; he also directed four series, Danger, Sure As Fate, Life with Snarky Parker, & Mr. I. Magination.
On this day in 1987, Whitesnake's "Here I Go Again" was the #1 single in the U.S. On this day in 1988, U2 released their second straight #1 album "Rattle and Hum," which went on to sell 14 million copies worldwide.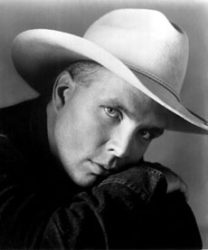 On this day in 1991, comedian Redd Foxx (Sanford and Son), died of a heart attack at age 68. On this day in 1992,  "The Chase" by Garth Brooks debuted at No. 1 on both Billboard's pop and country album charts, bumping Billy Ray Cyrus' "Some Gave All" from the top spot on each.
Also this day in 1992, k. d. laing's 'Constant Craving' peaked at #38 on the Billboard pop singles chart.
On this day in 1995, CKXM-AM Victoria signed on with a country music format on 1200 KHz with 50,000 watts. **  It replaced CKDA, which had gone dark a month earlier.  The station switched to 91.3 MHz four-and-a-half years later, and is now known as The Zone. 
Also in 1995, rocker Peter Frampton's album "Frampton Comes Alive II," was released. It was the sequel to his 1965 smash "Frampton Comes Alive" – the best-selling live album in history.
On this day in 1997, lead singer Brian Connolly of the Scottish band Sweet, died at age 51 of renal & heart failure blamed on his longtime alcohol habit.
On this day in 1998, the announcer whose mellifluous voice was widely heard in the 1940's and '50's proclaiming "It's Arthur Godfrey time!", Tony Marvin died at age 86.  His was also the original voice for Kellogg's Tony the Tiger.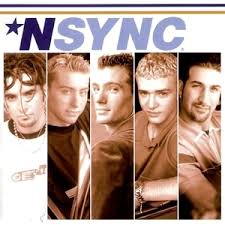 Also in 1998, *NSYNC went to No.2 on the Billboard pop album chart with their self-titled debut album.
On this day in 1999, a charity auction selling Elvis Presley's belongings was held at The Grand Hotel in Las Vegas. A wristwatch sold for $32,500, a cigar box $25,000, an autographed baseball sold for $19,000, and a 1956 Lincoln Continental sold for $250,000.
On this day in 2000, "The Geena Davis Show" premiered on ABC-TV.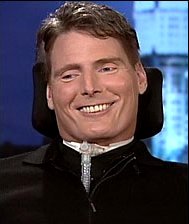 On this day in 2004, quadriplegic actor/director Christopher Reeve died following a heart attack, at age 52.
Also in 2004, Only Guitar World magazine came up with a list of the 100 worst guitar solos. The winner (?) was C.C. Deville for his work on Poison's '91 album "Swallow This… Live."
On this day in 2006, Vancouver's AM 730 extended their traffic coverage from morning and afternoon drive times to 6 a.m. to 7:30 p.m. weekdays.  Six weeks later the station expanded to 24/7 traffic. 
Also in 2006, Rod Stewart released "Still The Same . . . Great Rock Classics Of Our Time." The album featured songs originally recorded by Bob Seger, Bob Dylan, Van Morrison, Elvin Bishop, Badfinger and the Pretenders.
On this day in 2007, Bruce Springsteen had the #1 album in the U.S., "Magic," containing "Nowhere Radio."  It sold 335,000 copies in its first week out.
Also in 2007, Radiohead's seventh album, "In Rainbows," was made available for digital downloads on a pay-what-you-like basis. More than 60 percent of those who downloaded the music worldwide paid absolutely nothing.
Again in 2007, Sting topped a list of the worst lyricists ever, for such alleged sins as name-dropping Russian novelist Vladimir Nabokov in the Police tune "Don't Stand So Close to Me," quoting a Volvo bumper sticker ("If You Love Someone Set Them Free") and also for "borrowing" from the works of Chaucer, St. Augustine and Shakespeare.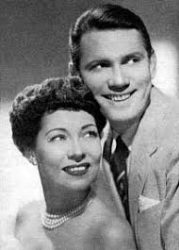 Still in 2007, lounge singer Art Todd of the husband and wife singing team, Art & Dotty Todd died of congestive heart failure at age 93. Their 1958 Top 10 single 'Chanson D'Amour' had been a sweet-sounding anachronism in the early years of rock and roll.
On this day in 2009, The Who's Roger Daltrey began his first solo tour since 1985 at Vancouver's famous music venue, the Commodore Ballroom, and received rave reviews.
Also in 2009, Pearl Jam went to No.1 on the US album chart with 'Backspacer', the group's ninth studio album.
On this day in 2010, soul singer Solomon Burke, the "King of Rock & Soul," suffered a fatal heart attack aboard a plane that had landed in Amsterdam where he was slated to perform. He was 70 years old & grossly overweight.
Also in 2010, Trent Reznor of Nine Inch Nails commented on the phenomenally successful  Facebook following the release of The Social Network, a film for which he helped compose the soundtrack. Reznor pointed out "that if as many people really listened to Joy Division as list them on their Facebook page, Joy Division would be bigger than U2."
On this day in 2012, former all-pro NFL tackle and actor Alex Karras, who starred in the ABC-TV sitcom Webster, died at his L.A. home at age 77.  He had been afflicted with kidney & heart disease and stomach cancer, as well as dementia.
Also in 2012, Eddie Van Halen was named Guitar World's first-ever Greatest Guitarist of All Time. 132 guitarists were eligible in the poll and a half-a-million votes were cast by readers. In the final round of the tournament style voting, Van Halen beat out Queen's Brian May for the top honor.
On this day in 2013, country singer Cal Smith, who hit it big in 1974 with 'Country Bumpkin,' died in Branson Missouri at age 81.
On this day on 2016, comedian Kevin Hart's family was on hand as he was honored with his own star on the Hollywood Walk of Fame.
Today's Birthdays
Actor Peter White (All My Children, Sisters) is 86.
TV golf commentator/golf champion Bruce Devlin is 86.
Actor/narrator Peter Coyote (Law & Order: LA, Ken Burns' The Roosevelts, Ken Burns' The War, Ken Burns' country Music, Commander in Chief, National Geographic Explorer) is 82.
Singer John Prine is 77.
Actor/entertainer Ben Vereen (Star Trek: Next Generation, Roots) is 77.
Actor Charles Dance (Game of Thrones, Bleak House, Jewel in the Crown) is 77.
Rock singer-musician Cyril Neville (The Neville Brothers) is 75.
Actress Jessica Harper (It's Garry Shandling's Show, Little Women) is 74.
Singer-musician James 'Midge' Ure is 70.
Rocker/radio host David Lee Roth (Van Halen) is 69.
TV Producer Mark Gordon (Criminal Minds, Grey's Anatomy) is 67.
Actress Karen Kopins (Dallas) is 65.
Country singer Tanya Tucker is 65.
Spokane-born actress/voicist Julia Sweeney (Work in Progress, Shrill, The Goode Family, Maybe It's Me, Sat. Night Live) is 64.
Actor Bradley Whitford (Perfect Harmony, Happyish, Transparent, Trophy Wife, West Wing) is 64.
Actress Bonita Friedericy (Chuck)  is 62.
Cartoon voicist Jodi Benson (The Little Mermaid, Camp Lazlo) is 62.
Musician/actor Martin Kemp (Spandau Ballet)(EastEnders) is 62.
Rock musician Jim Glennie (James) is 60.
Actress Rebecca Pidgeon (The Unit, In Justice) is 58.
Rock musician Mike Malinin (Goo Goo Dolls) is 56.
Actor Manu Bennett (Arrow, Spartacus) is 54.
Actress Wendi McLendon-Covey (The Goldbergs, Reno 911!) is 54.
New Westminster-born actor Chad Willett (Beyond, The Chronicle, The Cape, Madison) is 52.
Actress Amanda Ryan (The Forsyte Saga 2002) is 52.
Actress Joelle Carter (Chicago Justice, Justified) is 51.
Actor/TV host Mario Lopez (Extra, The X Factor, The Bold and the Beautiful, Saved By The Bell) is 50.
Auto racer/TV commentator Dale Earnhardt Jr. is 49.
Actor Marc Menchaca (Homeland, Ozark, Generation Kill) is 48.
Actress Andrea Navedo (Jane the Virgin, Law & Order, Guiding Light, One Life to Live) is 46.
Actress Jodi Lyn O'Keefe (Prison Break, Nash Bridges) is 45.
Singer Mya (Dancing With the Stars) is 44.
Actress Celesta Hodge (The Bold & the Beautiful) is 43.
TV personality October Gonzalez (Beat Shazam) is 43.
Actor Dan Stevens (Downton Abbey, Legion) is 41.
Singer Cupid (Bryson Bernard) is 41.
China-born Vancouver singer/songwriter/pianist Wanting Qu is 40.
Singer Cherie is 39.
Actor Aaron Himelstein (Legend of Korra, Joan of Arcadia) is 38.
Marina and the Diamonds singer Marina Lambrini Diamandis is 38.
Actress Lucy Griffiths (True Blood, Robin Hood) is 37.
Actress Rose McIver (iZombie, Once Upon a Time) is 35.
Actress Aimee Teegarden (Friday Night Lights, Star-Crossed, Aim High) is 34. .
Chart Toppers – Oct. 10
1947 I Wish I Didn't Love You So – Vaughn Monroe Feudin' and Fightin' – Dorothy Shay I Wonder Who's Kissing Her Now – Perry Como Smoke! Smoke! Smoke! (That Cigarette) – Tex Williams
1956 Honky Tonk (Parts 1 & 2) – Bill Doggett Canadian Sunset – Hugo Winterhalter & Eddie Heywood The Green Door – Jim Lowe Don't Be Cruel /Hound Dog – Elvis Presley
1965 Yesterday – The Beatles Treat Her Right – Roy Head The "In" Crowd – Ramsey Lewis Trio Behind the Tear – Sonny James
1974 I Honestly Love You – Olivia Newton-John Nothing from Nothing – Billy Preston Then Came You – Dionne Warwicke & The Spinners I Love My Friend – Charlie Rich
1983 Total Eclipse of the Heart – Bonnie Tyler Making Love Out of Nothing at All – Air Supply King of Pain – The Police Don't You Know How Much I Love You – Ronnie Milsap
1992 End of the Road – Boyz II Men Sometimes Love Just Ain't Enough – Patty Smyth with Don Henley Jump Around – House of Pain In This Life – Collin Raye
2001 Fallin' – Alicia Keys I'm Real – Jennifer Lopez Gone – 'N Sync What I Really Meant to Say – Cyndi Thomson
2010 Just the Way You Are  – Bruno Mars Teenage Dream – Katy Perry Love The Way You Lie – Eminem featuring Rihanna The Boys of Fall – Kenny Chesney
** CKXM logo above (1995) courtesy of Ted Wendland and RadioWest.ca
Today in Broadcast History compiled by Ron Robinson