PSR is very sad to report the death of long time radio and newsman Ted Farr on Friday October 6th, of esophageal cancer.
from Gord Lansdell's Vancouver Broadcasters website:
| | |
| --- | --- |
| | 10/06/23 – Veteran BC broadcaster Ted Farr has died just a week after announcing he was suffering from esophageal cancer. He held a number of on-air and managerial positions from Vancouver to Winnipeg for over 45 years, most recently as News Director and morning news anchor at CKFR AM 1150 Kelowna. |
This was the message he posted on his facebook page on September 29th, only a week ago…
from Ted Farr's facebook page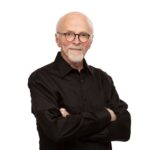 Not great news coming from the Farr household.
Here we go again! I have been diagnosed with esophageal cancer. The journey through the crowd of specialists has only just begun.
The cure rate for this type of cancer is low. It drops even lower when you eliminate surgery from the treatment options. Given the location of the tumor, the  surgery would be radical, traumatic and lifestyle altering. Not recommended for a person of my age.
Radiation and chemotherapy are the tools the oncologists will use once I arrive at that destination in the journey.  Next though is a PET scan.
The tumor sits at the bottom of my esophagus where it joins the stomach. It is creating a blockage making it difficult to pass food into the stomach. Solids are out of the question and even liquids are difficult. It's been a challenge to ingest enough calories and nutrients for maintaining weight and having the energy to have a life and work. Yes, I am still working full-time. I've had to work from home on the bad days but that's okay.
Terrie and I have friends and family across North America who we know give a shit. I will keep you updated as best I can.
Terrie and I will celebrate our 53rd wedding anniversary in a few days, and I'm planning to be around for many more.