ON THIS DAY in 1913
singer & western 'B' movie star Herb Jeffries was born in Detroit.  He sang with the Duke Ellington Orchestra during the Swing Era and made movie history in the 1930s as "The Bronze Buckaroo," the silver screen's first black singing cowboy. His biggest hit with Ellington was "Flamingo," which sold in the millions and became his signature song. He died of heart failure May 24 2014 at age 100.
On this day in 1912, actor Don Porter was born in Miami Oklahoma. He played dozens of TV character roles on series from Private Secretary to Gidget to Barnaby Jones. He died Feb 11, 1997 at age 84.
On this day in 1915, actor Larry Gates was born in St Paul Minn. He had many roles in the early days of live TV (Studio One, etc) and on dozens of filmed projects, but is best remembered as Harlan Billy "H.B".Lewis on the Guiding Light soap from 1983-96. He died Dec 12, 1996 at age 81.
On this day in 1918, actress Audra Lindley was born in Los Angeles.  She is best remembered as landlady Helen Roper on the sitcom Three's Company, and 5 years as 'Aunt Liz' in the soap Another World.
Lindley unexpectedly succumbed to leukemia on October 16, 1997 at the age of 79, with a script for her new role on the TV series Sybil beside her.
On this day in 1919, comedian Dayton Allen (Steve Allen Show) was born in New York City. "Why not?" was his catch phrase.  He died November 11 2004 at age 85.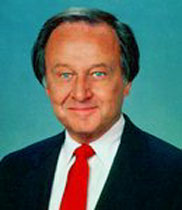 On this day in 1921,   sports commentator Jim McKay was born in Philadelphia.  He is fondly remembered as host of ABC's Wide World of Sports from 1961-1998, and for anchoring the hostage-taking news coverage from the 1982 Munich Olympics.  He died of natural causes June 7 2008 at age 86.
On this day in 1931, singer & actor Anthony Newley was born in England.   His big hit in North America was What Kind of Fool Am I?  He died April 14, 1999 from renal cancer at age 67.
On this day in 1933, the first dramatic presentation for radio, "Roses and Drums," was heard on WABC in New York City.
Born on this day in 1934, Seattle Radio Legend Pat O'Day. He passed away August 4th at 85, 2020
On this day in 1935, CKLW Windsor lost its CBS affiliation to WJR Detroit, and hooked up with the Mutual network instead. When the CBC debuted a year later CKLW became an affiliate, but also retained its connection to Mutual.
On this day in 1936, Muppeteer Jim Henson was born in Greenville Mississippi. The residents of Sesame Street, including  Kermit, Big Bird, Bert & Ernie, Miss Piggy, and Oscar the Grouch are his creation.  He died May 16, 1990 at the age of 53 from pneumonia.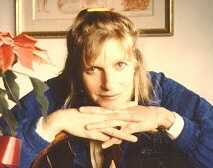 On this day in 1941, Linda (Eastman) McCartney was born in New York City.  After her marriage to Paul McCartney in 1969 he taught her to play keyboards, and made her part of his new band Wings.  Breast cancer claimed her life in 1998 at age 56.
On this day in 1942, Glenn Miller ended his Moonlight Serenade series on CBS radio. It was time for Miller to go to war. The 15-minute show had aired three times a week for Chesterfield Cigarettes.
On this day in 1947, Peggy Lee recorded the haunting title tune from the movie "Golden Earrings" which would prove to be a Billboard #2 pop single.
On this day in 1948, "Axis Sally" (real name Mildred Gillars) pleaded not guilty to charges of treason. She was convicted and wound up serving 12 years behind bars for being a Nazi wartime radio propagandist.
Also this day in 1948, comedian Phil Hartman was born in Brantford Ontario.  He starred on Saturday Night Live, the sitcom NewsRadio, & The Pee-wee Herman Show.. before being shot to death by his mentally disturbed wife Brynn on May 28, 1998.
On this day in 1950, one of Fox News Channel's former 'token liberals' Alan Colmes was born in Brooklyn.  After establishing himself in New York and northeast US talk radio as a left-leaning host, he joined the Fox News cable channel in 1996 where he presented liberal counterpoints to his more conservative colleagues.  For 13 years ending in 2009 he was paired with ultra conservative Sean Hannity in a highly-rated nightly prime time hour.  He died of lymphoma Feb. 23 2017 at age 66.
On this day in 1954, Sarah Vaughan recorded her future hit single "Make Yourself Comfortable."
On this day in 1955, millions of North Americans tuned in to watch Judy Garland make her TV debut on the Ford Star Jubilee. The CBS show received the highest television ratings to that time.
Also in 1955, Elvis Presley appeared on The Louisiana Hayride, on KWKH TV, broadcast from Shreveport, Louisiana. He'd been a regular on the radio version of the show for almost a year.
On this day in 1957, RCA Victor records released Elvis Presley's 45-rpm single "Jailhouse Rock," with "Treat Me Nice" on the B side.
On this day in 1958, one of the most popular family TV sitcoms of the decade, "The Donna Reed Show"made its debut on ABC.
Also in 1958, the Kingston Trio released one of their signature songs and their first #1 pop single, "Tom Dooley."
Still in 1958, The Platters were in Paris where they recorded their next #1 hit "Smoke Gets In Your Eyes."  Someone must have really liked the French facilities because they spent the next two days laying down another handful of tracks.
On this day in 1959, the last episode of the TV series "Zorro," starring Guy Williams, aired on ABC.
On this day in 1960, one of the great announcers of network radio, Harlow Wilcox, who pitched Johnson's Wax for 15 years on Fibber McGee & Molly, and Autolite Sparkplugs on Suspense, died at age 60.For more than a decade he also was the announcer for The Amos 'n' Andy (radio) Program.
Also this day in 1960, the final Howdy Doody Show was aired on NBC-TV.  The always-silent Clarabell the Clown finally spoke, saying appropriately enough, "Goodbye kids!"
On this day in 1961, Bullwinkle J. Moose and his friend, Rocket J. (Rocky) Squirrel, were seen in Sunday night prime time for the first time on NBC-TV. Originally Bullwinkle and Rocky appeared on ABC in a weekday afternoon series, Rocky and His Friends.
On this day in 1962, the CTV National News debuted in a 15 minute format at 10:30 pm.  When that failed to catch on, it was moved a year later to 11:00 p.m. and was extended to 20 minutes.
Also in 1962, Decca Records released a future Top Five pop hit for Brenda Lee, "All Alone Am I."
On this day in 1963, the sitcom "Petticoat Junction" debuted its seven-season run on CBS-TV.
On this day in 1964, the eerie sitcom "The Munsters" starring Vancouver's Yvonne Decarlo, made its debut on CBS-TV.
On this day in 1966, The Association started a three week run at No.1 on the US singles chart with 'Cherish'. The recording played for 3 minutes and 25 seconds, but the  label listed the time as 3:00 so that DJs wouldn't be discouraged from playing a "long song."
On this day in 1967, CBS-TV's Ed Sullivan Show featured The Mamas and the Papas with a medley of their hits, and Ed Ames singing his Top Ten pop single "My Cup Runneth Over."  Laughs were provided by Jack Carter, John Byner & Topo Gigio.
On this day in 1968, `Hey Jude" by the Beatles hit #1 on the Billboard charts. The song is the biggest for the best-selling rock group of all time. It stays at  #1 for nine weeks.
Also in 1968, the Vogues received a gold record for"Turn Around Look at Me" on the Reprise label.
Still on this day in 1968, the longest-running newsmagazine on television began on CBS-TV. 60 Minutes started on this, a Tuesday night in 1968, debuting with just two correspondents: Mike Wallace and Harry Reasoner.
Again in 1968, "The Mod Squad" debuted on ABC-TV, where it continued for five years.
On this day in 1970, the first episode of "The Odd Couple" aired on ABC.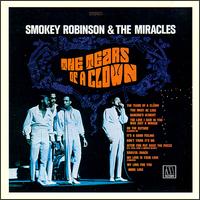 Also in 1970, Motown released the future #1 single "The Tears Of A Clown" by Smokey Robinson & The Miracles.
On this day in 1972, on his first tour of North America, David Bowie appeared at the New Fisher Theatre in Detroit.
On this day in 1973, Loretta Lynn released what would become her signature song "Coal Miner's Daughter."
On this day in 1977, the "Love Boat" set sail — on ABC-TV. The voice of Ernie Anderson, will always be remembered for his intros announcing, The Luuuuuve Boat.
Also in 1977, just over a month since his death, the first Elvis Presley convention was held in Memphis.
On this day in 1978, one of the singing stars of early radio, Ruth Etting, "America's Sweetheart of Song," who also at one time sang & danced in the Ziegfeld Follies, died at age 80.
On this day in 1983, Billy Joel went to No.1 on the US singles chart with 'Tell Her About It', the former boxer's second chart topper.
Also in 1983, ZZ Top's seventh album  "Eliminator," containing "Legs" and "Sharp Dressed Man," was certified  platinum. It stayed on the Billboard chart for more than three years.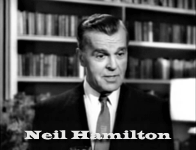 On this day in 1984, actor Neil Hamilton, who played  Police Commander Gordon on the Batman TV show, died of asthma at age 85.
Also this day in 1984, Paul McCartney released "No More Lonely Nights," featuring a terrific guitar solo by David Gilmour.
On this day in 1985, the first episode of the sitcom "Growing Pains" featuring Canadian Alan Thicke, aired on ABC.
On this day in 1987, the sitcom "A Different World" debuted on NBC. It stuck around for six years.
On this day in 1988,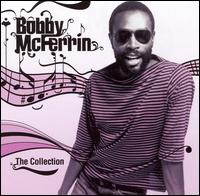 "Don't Worry, Be Happy," by Bobby McFerrin, became the first a cappella song to reach No. 1 on the Billboard Hot 100. McFerrin's bubbly song got former president George Bush in trouble when the Republican hopeful used the song without permission as an election campaign song.
Also in 1988, R&B singing star James Brown was arrested after an hour-long police chase across the Georgia-South Carolina border. His pickup travelled six miles after the front tires had been shot out. Sentenced to 6 years on drugs & weapons charges Brown was released after serving three.
Still in 1988, Guns N' Roses "Appetite for Destruction" reached #1 on the Billboard album chart.
On this day in 1989, Prince was the musical headliner as NBC-TV's "Saturday Night Live" celebrated its 15th anniversary.
On this day in 1991, Nirvana's album 'Nevermind' was released in North America, entering the Billboard chart at No. 144 on its first week, peaking at No.1 by the following January.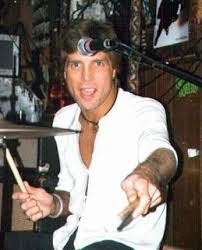 On this day in 1993, former Guns N' Roses drummer Steven Adler reached a $2.5 million settlement in his lawsuit against the group and managers. Adler was thrown out of the band because he couldn't kick his heroin habit.
Also in 1993, ABC debuted the series "Boy Meets World."
Still in 1993, as part of his sentence for a recent DUI charge, singer John Denver was ordered to perform a benefit concert for victims of drunk drivers.
On this day in 1994, Eric Clapton performed as the 20th season of "Saturday Night Live" opened on NBC TV.  Steve Martin was the host.
In 1995, one person piloting a personal watercraft was killed after colliding with a boat with singer Gloria Estefan and her husband on board. The Estefans weren't hurt and were not found to be at fault.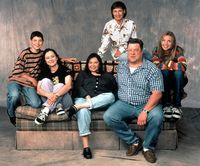 On this day in 1996, the 200th episode of "Roseanne" aired on ABC.
On this day in 1997, ABC began airing the comedy series "Dharma and Greg," which lasted five seasons.
On this day in 2003, Ontario's Gordon Lightfoot became the latest inductee to the Canadian Songwriters Hall of Fame.
Also in 2003, actor Sir Anthony Hopkins got his star on the Hollywood Walk of Fame. On TV he has played Othello and George Washington, and appeared in the mini-series Great Expectations and Hollywood Wives.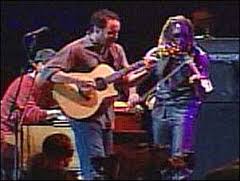 Still in 2003, the Dave Matthews Band played a free concert in Central Park in New York, before their largest-ever crowd of 121,000. The concert, a benefit for New York city schools, was later released as a 3-disc album.
On this day in 2004, Leon Hendrix, brother of guitar great Jimi, was again denied any part of the Hendrix estate. A Seattle court ruled that Leon, who filed the suit, was not entitled to any part of the estate controlled by his step-sister Janie. Feeling Leon was irresponsible, Al Hendrix, the father of Leon and Jimi, had left him out of his will.
On this day in 2005, actor Ashton Kutcher (aged 27) married actress Demi Moore (aged 42) in Beverly Hills, Calif.
On this day in 2007, Puddle of Mudd frontman Wes Scantlin was banned for life from the late Elvis Presley's Graceland estate after jumping into a private pool on the property. The band was visiting the grounds while on tour.
Also in 2007, Jethro Tull opened a two-month tour of North America in Calgary.
On this day in 2008, actress Irene Dailey, an Emmy winner for her work as the annoying Liz Matthews on daytime TV's Another World, succumbed to colon cancer at age 88.
Also in 2008, The Police topped Forbes magazine's annual list of the world's best-paid musicians. Between June '07 and June '08, the group earned approximately $115 million.
On this day in 2009, a concert by U2 broke the attendance record for Giants Stadium in New Jersey. The Irish band drew 84,472 fans, breaking by some 1500 the previous record for the venue held by Pope John Paul II.
On this day in 2011, Stevie Wonder was among the performers at the Tony Bennett 85th birthday benefit show at the Staples Center in Los Angeles. The event raised funds for the AARP's Drive to End Hunger, an anti-hunger campaign for elder Americans.
In 2013, in Monaco, Ringo Starr was appointed a Commander of France's Order of Arts and Letters, the country's highest cultural honour.
On this day in 2015,  actress Clare Danes (Homeland) was on hand to help unveil her new star on the Hollywood Walk of Fame.
On this day in 2016, actor Bill Nunn, who for 35 years played supporting roles in film and TV, who was a continuing member of the cast of two series, Sirens and The Job, losy his battle with leukemia at age 63.
Also in 2016, Stanley Joseph Dural Jr., better known by his stage name Buckwheat Zydeco, an American accordionist and zydeco musician, succumbed to lung cancer at age 68.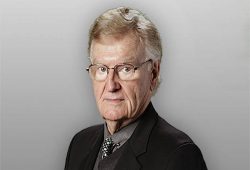 On this day in 2018, longtime Vancouver/Victoria/Calgary/Edmonton broadcaster Terry Moore, who was still working a few weeks earlier as a relief radio talk show host at C-FAX Victoria, succumbed to cancer at age 82.
Today's birthdays
Singer Phyllis "Jiggs" Allbut of The Angels is 81.
Radio/TV talkshow host Lou Dobbs is 78.
Actor Gordon Clapp (NYPD Blue, Chicago Fire) is 75.
Actress Harriet Walter (The Crown, Law & Order: UK, Downton Abbey) is 73.
Actor Kevin Sorbo (Andromeda, Hercules: Legendary Journeys) is 65.
Toronto-born singer/actress Amy Sky (Olivia Down Under) is 63.
Singer Cedric Dent of Take 6 is 61.
Winnipeg-born actress-voicist-writer Nia Vardalos (My Big Fat Greek Life, Graves, Star vs. the Forces of Evil) is 61.
Actress Stacy Galina (Knots Landing, Providence) is 56.
Actress Megan Ward (General Hospital, Melrose Place, Party of Five) is 54.
Country drummer Marty Mitchell of Ricochet is 54.
Slipknot drummer Shawn "Clown" Crahan is 54.
Singer-musician Marty Cintron (No Mercy) is 52.
Contemporary Christian musician Juan DeVevo (Casting Crowns) is 48.
Manitoba-born actress Reagan Dale Neis (A Minute with Stan Hooper, Maybe It's Me) is 47.
Actor Ian Bohen (Teen Wolf, Chicago PD) is 47.
Actress Joyful Drake (Let's Stay Together) is 46.
Actress Elizabeth Bogush (October Road, The Mountain, Titans) is 46.
Actress Marieh Delfino (All About Us) is 46.
Actor Justin Bruening (All My Children, Switched At Birth, Knight Rider) is 44.
Actress Erin Chambers (The Young & the Restless, General Hospital) is 44.
Actress Allison McAtee (The Haves & the Have Nots) is 43.
Actor Andrew Leeds (Cristela, Bones) is 42.
Model/actress Allison McAtee (The Haves & the Have Nots) is 40.
Ontario-born actress Lara Jean Chorostecki (X Company, Copper, Hannibal, Dan for Mayor) is 39.
Actor Ryan Paevey (General Hospital) is 39.
Model/actress Tanit Phoenix (Femme Fatales) is 39.
Vancouver-born actress Jessica Lucas (Gotham, Gracepoint, Cult, Melrose Place 2009) is 38.
Actress Eloise Mumford (The River) is 37.
Actor Grey Damon (Station 19, Star Crossed, Twisted, Friday Night Lights) is 36.
Actress Brit Morgan (Graceland, True Blood, The Middlesman) is 36.
Actor Spencer Treat Clark (Animal Kingdom, Agents of S.H.I.E.L.D., Another World) is 36.
Actor Kyle Sullivan (Malcolm in the Middle, The War at Home) is 35.
Rapper Kreayshawn is 34.
Actor Ben Platt (The Politician) is 30.
Chart Toppers – Sept. 24
1949 You're Breaking My Heart – Vic Damone Let's Take an Old Fashioned Walk – Perry Como Someday – Vaughn Monroe Slipping Around – Ernest Tubb
1958 Nel Blu Dipinto Di Blu (Volare) – Domenico Modugno It's All in the Game – Tommy Edwards Rock-in Robin – Bobby Day Bird Dog – The Everly Brothers
1967 The Letter – The Box Tops Never My Love – The Association Apples, Peaches, Pumpkin Pie – Jay & The Techniques My Elusive Dreams – David Houston & Tammy Wynette
1976 Play that Funky Music – Wild Cherry I'd Really Love to See You Tonight – England Dan & John Ford Coley A Fifth of Beethoven – Walter Murphy & The Big Apple Band I Don't Want to Have to Marry You – Jim Ed Brown/Helen Cornelius
1985 Money for Nothing – Dire Straits Cherish – Kool & The Gang Don't Lose My Number – Phil Collins I Fell in Love Again Last Night – The Forester Sisters
1994 I'll Make Love to You – Boyz II Men Endless Love – Luther Vandross & Mariah Carey When Can I See You – Babyface Third Rock from the Sun – Joe Diffie
2003 Shake Ya Tailfeather – Nelly, P. Diddy & Murphy Lee Can't Hold Us Down – Christina Aguilera featuring Lil' Kim Senorita – Justin Timberlake It's Five O'Clock Somewhere – Alan Jackson (with Jimmy Buffett)
Today in Broadcast History is compiled by Ron Robinson