Sep 13, 2023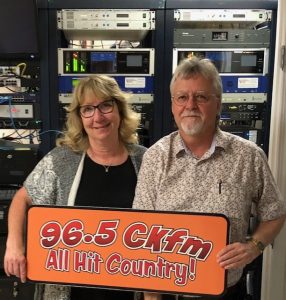 After a nearly 20 year odyssey with CAB-K broadcasting, the husband and wife duo behind the radio stations in the Towns of Olds and Vegreville have announced that they are retiring.
Brian Hepp, President of CAB-K Broadcasting, says they have entered into an agreement for their company – which owns and operates 96.5 CKFM and ROCK 104.5 in Olds, along with Country 106.5 in Vegreville – to be purchased by Vista Radio.
Vista's acquisition of CAB-K Broadcasting is pending approval by the Canadian Radio-Television and Telecommunications Commission. Hepp says the process to start the country radio station in Olds began in 2001 and 96.5 CKFM hit the airwaves on February 2nd of 2004.
Melanie Hepp, Secretary of CAB-K Broadcasting, says it is a blur when she looks back at all of the ducks that had to be in a row to make the radio station in Olds a reality.
Brian says the success they've had in Olds over the last two decades is based on a local focus and community involvement with groups and organizations.
Brian and Melanie Hepp named CAB-K Broadcasting after their four daughters Cassandra, Amanda, Brittany, and Kyla.
Melanie says they have had so many opportunities here to do things and be a part of groups and organizations they wouldn't have had otherwise. She says they really made it a family with the staff they have had with them over the last two decades and at the three radio stations.
According to Brian, it has been a busy time these last 20 years owning and running a trio of independent radio stations. With one granddaughter already, and another on the way, he says they felt this was the right time to move on and take it easy.