By John F. Schneider
The Radio Historian
August 27, 2023
A New Station Takes to the Airwaves
In 1922, C.B. Williams, the manager of Seattle's Rhodes Department Store, read with great interest about radio broadcasting in the East.  He decided that "What's good for easterners is just as good for the people of Seattle and the Pacific Northwest."  And so it was that the Rhodes Brothers Department Store put station KDZE on the air May 17, 1922.  The KDZE call sign was sequentially issued by the Department of Commerce.
KDZE's studio was located on the second floor of the department store in the Arcade Building, at 1325 Second Ave.,where shoppers could stop and watch the radio broadcasts as they happened.  The transmitter itself was enclosed in a 12-foot square glass case for public viewing.  Rhodes shoppers could also browse the store's radio department, where they could buy parts to build their own receivers, as well as complete finished sets.
KDZE initially used a 50-watt transmitter built by Louis Wasmer, the operator of a Seattle motorcycle shop who had a hand in birthing many of the Northwest's early stations.  The antenna was suspended from two masts atop the department store's building.  Wasmer supervised the installation of the station.
The station's first manager/operator was Carl E. Haymond, who had been the chief operator of the Post-Intelligencer station KFC, Seattle's second radio station.  He joined the Rhodes station after KFC ceased operations.  The first KDZE programs consisted mainly of recorded music played from a wind-up phonograph and talks about fashions and wearing apparel.
At that time there was only one frequency authorized for broadcasting – 360 meters (833 kHz).  All stations were required to share time on this single channel.  When it first opened, KDZE was one of eight stations that shared time on the single broadcasting frequency — it operated 3:15 to 4:00 PM daily except Sunday, and also 7:15 to 8:15 PM Monday, Wednesday and Friday nights.
Expanded Operations
In 1923, the Department of Commerce expanded broadcasting beyond a single frequency, establishing the beginnings of the AM broadcast band.  This allowed KDZE to move to its own frequency of 1110 kHz, where it operated with 100 watts and increased operating hours.  On March 10, 1924, the call sign was changed to KFOA.
In 1924, the Rhodes store expanded into the Arcade Building's enlarged north side, facing Union Street between First and Second Avenues.  KFOA moved into larger quarters on the fourth floor of the building, and installed a new 500-watt transmitter, built by Kilbourne-Clark Company, an established Seattle manufacturer of radio equipment.  Two 120-foot tall self-supporting towers on the roof supported the station's big new wire antenna.
In raising its power to 500 watts, KFOA became Seattle's only Class "B" station, which was the highest class of license issued by the government.  (Class "B" stations were required to operate with at least 500 watts of power, and all programs had to be live.  Soon after, KJR and KTW also became Class "B" stations.)  This allowed it to move down the dial to 660 kHz, a more favorable frequency.  In March, 1925, KFOA's power was raised once again to 1,000 watts, considered very high power for its time.
KFOA's programs at that time featured live music during many of its broadcast hours.  The Hoffman Concert Orchestra performed several times daily, and the Eddie Harkness Dance Orchestra was picked up remotely from the Olympic Hotel in the evenings.  The Seattle Saxophone Band was a 14-piece all-sax band that played only classical music.
In 1925, An affiliation with the Seattle Times was arranged, and several special programs were produced by the Times staff.  On May 27, the Times produced a program organized by the Seattle Women's Club, featuring old-time songs and a lecture about Seattle's pioneer days.  This was followed the same night by another Times program featuring Scandinavian dance music.
Remote broadcasts from outside the studio were frequently heard, including the luncheon speeches of the Rotary, Kiwanis and Lions Clubs.  In 1924, KFOA broadcast the Knights-Templar national convention parade, which passed directly in front of the Rhodes building.  Carl Haymond broadcast a live description of the parade with pickups of the band music from the roof of the store.  On May 29, 1925, a gala remote broadcast celebrated the opening of the Monte Cristo Hotel in Everett.
In 1926, Haymond left KFOA when he purchased station KMO in Tacoma.  Rhodes Manager C.B. Williams then became the director of the station.  Haymond operated KMO until 1954, and also built one of the area's first TV stations, KMO-TV.  Meanwhile, Louis Wasmer had been operating his own Seattle station, KHQ.  In 1925, he packed KHQ's equipment into the sidecar of his motorcycle and moved the entire station to Spokane.  He went on to become Spokane's most influential broadcaster, operating stations KHQ and KGA.
In those years before established national radio networks existed, periodic temporary hookups would be arranged connecting stations around the country to broadcast single special events, such as presidential speeches, and KFOA participated in many of those. Then in 1927, KFOA became the Seattle affiliate of the newly-formed National Broadcasting Company (NBC) Pacific Coast Network, carrying the network's first live programs from San Francisco.
In 1927, the newly-formed Federal Radio Commission began changing the frequencies of many radio stations to address the problems of extreme interference that existed in many parts of the country.  This resulted in a move of KFOA from 660 to 670 kHz.  The following year, the FRC instituted a complete reorganization of the AM broadcast band.   As a part of this change (FRC General Order No. 40), KFOA was moved up the band to 1270 kHz – a less desirable frequency – and made to share time on the channel with another Seattle station, KTW.  (This time-sharing arrangement continued until 1931, when KTW moved to 1220 kHz, freeing the 1270 channel for full-time operation.)
KFOA Becomes KOL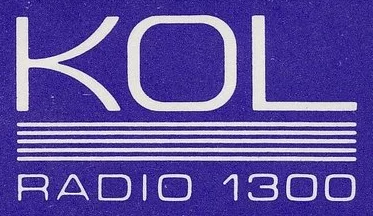 By 1928, the Rhodes store was reportedly running short of cash, and this perhaps led them to sell KFOA.  In any event, that is when Louis Wasmer again entered the picture.  He teamed up with his brother-in-law, Archie G. Taft, Sr., to buy the station.  Taft was the owner of Piper and Taft Sporting Goods, and had gained an interest in radio by selling crystal sets from his store.  Together they formed the Seattle Broadcasting Company, purchased KFOA, changed the call sign to KOL.  Taft became the president and general manager.   Not long afterwards, they moved the studios to the ground floor of The Northern Life Tower, an iconic new art deco building at the corner of Third and University in downtown Seattle.  On April 9, 1930, a broadcast of bandleader Paul Whiteman's CBS program celebrated the opening of the new KOL studios.
In the Northern Life Tower, KOL had a single large studio, plus a small announce booth and a control room.  In 1931, the Seattle organ manufacturer Balcom and Vaughan installed a Kimball 3-manual 12-rank theater pipe organ in the KOL studio.  This was the time when "talking" motion pictures had taken over field, and many theaters were disposing of the massive pipe organs that had been important to them during the silent film era.  Radio was coming into its own at that time, and so many of these second-hand instruments ended up at broadcasting stations.  In the case of the KOL organ, a composite instrument was assembled, consisting of a Kimball from the Grand Theatre and a Wurlitzer from the Colonial Theatre, all controlled by a Wurlitzer console modified by Balcom to 3 manuals. Don Isham, KOL's music director, performed on the organ as a daily program feature.
In 1930, in a West Coast network realignment, NBC moved its Seattle affiliation from KOL to KOMO, and KOL then joined the new Columbia-Don Lee Network, which had been formed to relay the New York-based programs of CBS on the Pacific Coast.  The CBS programs were divided between KOL in Seattle and KVI in Tacoma, with KVI broadcasting the daytime programs, and KOL airing the network's 5:00 to 9:00 PM schedule (KVI did not broadcast in the evenings at that time).  When the CBS programs ended at 9:00 PM (midnight, eastern time), the Pacific Coast network distributed programs originating from the Don Lee stations KHJ and KFRC in California.
In addition to its many network programs, KOL broadcast a number of its own programs which were popular with Seattle-area listeners.  These included "Matinee Manor", and "Pioneers", and the "KOL Carnival".  The latter was a daily variety program featuring live music and comedy skits. – a style of radio program that was increasingly popular at the time.
Among the many radio voices that graced the KOL microphones was announcer Wendell Niles, who was heard daily on KOL from 1930 to 1935, before he moved on to NBC in Hollywood and became one of network radio and TV's great announcers.  He was replaced at KOL by Art Gilmore, who had just finished schooling at Washington State University.  For his part, Gilmore moved on the following year to KFWB in Los Angeles, and then to the CBS flagship KNX.  After a tour of duty in World War II, his distinctive voice was regularly heard on network radio and TV. He also narrated a major portion of the 1950's and 60's film trailers.
Another KOL discovery was Howard Duff, a 1932 graduate of Roosevelt High School in Seattle.  He started out as an actor on KOL, and then became a staff announcer at KOMO.  In 1937 he moved to KFRC in San Francisco, and then moved on to Hollywood the following year.  His big break came in 1946 when he was chosen to star in the Dashell Hammett-CBS radio series "Sam Spade, Detective".  He was fired in 1950 when his name was published in "Red Channels", but he recovered from this setback and later played many TV and motion pictures roles.  Another KOL graduate – musician Ivan Ditmars – moved to Hollywood where he composed the music heard on many network radio programs and motion pictures.
Read Much More HERE
Related Story HERE