He hasn't been on air in almost two months at. l103 Calgary. Check his Facebook page for details.
Where have you been, Bob Steele?
.
Well, the simple answer is the hospital for the last fifty days.. It took me a while to write this as I debated going public with my story. Initially I only let my inner circle know what was up. Sometimes your inner circle wants to stay relevant and appear "plugged in." I started getting calls from all over the Country, even though I had hoped to share this on my own terms.
.
I've had a problem with my left foot for a few years now. I've also been a type 2 diabetic for a number of years.
On June 4, I was admitted to foothills hospital and underwent Emergency surgery.
When I arrived, I was told I was an hour away from losing my entire left leg, and two hours away from losing my life. There was infection creeping up my leg and if it passed my knee I was in danger. So the doc slit my foot open, giving the infection another route, south, and bought me another hour. Shortly after I was in the operating room.
When I got out, I was told I'd be in hospital for two weeks and they would then start reconstructive surgery.
.
At this point I must've met 80 doctors, some of who were optimistic about the foot. Others took more of an "I don"t know" attitude, while the rest believed the foot couldn't be saved.
.
As time went on, my foot continued to deteriorate to the point where I was forced to make a decision. On June 20th, a day before my 60th birthday, my left foot was amputated.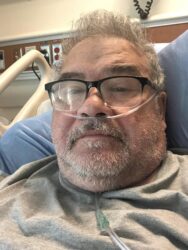 .
Much like the Emergency surgery, I awoke unable to breathe. I "coded" four times before being sent to ICU.
Eventually, with the love and kindness of my fiancé Natasha, I started breathing properly, just as they were considering putting me on life support.
.
Fast forward to today. After waiting weeks to get into Carewest, who would teach me how to walk with a prosthetic, we've abandoned those plans and I'm going home. I'll be going to another facility as an outpatient. ApparentIy Carewest Calgary has only 6 beds for people in my position. Edmonton has a shit load. I'll be writing to Danielle Smith and petitioning to see if we can level that out. I get my first acrylic foot on Friday and will begin the journey of walking again. Paul at Prosthetic Concepts Ltd told me that there would be nothing I couldn't do that I did before and that I won't even have a limp. Funny thing is I had a slight limp before from years of foot troubles! While I'm learning to walk Paul will be constructing my permanent prosthetic.
I'm looking forward to getting back on the radio to entertain you as soon as I can. Thanks to everyone at Stingray radio for supporting me through my ordeal.
.
There's much more to my story but as you can imagine, it's pretty personal.
I'd like to thank Natasha for her strength and love through all of this. Without her, I'd likely be dead.
Thanks also to my kids for their support. My son Jack has said goodbye to me too many times.
.
Also, thanks to my soon to be step-son Joey who's been helping his Mom get ready for me at home.
I'll keep you updated on my journey and hope to give you my "Vaaaaaaaaaaaan Halen" in a few more weeks. Thanks for your patience. Oh, and phantom pain? It's real.
.