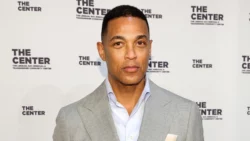 The host had been the co-anchor of the 'CNN Mornings' morning news show, and previously hosted a primetime program.
by Alex Weprin
April 24, 2023
CNN Mornings anchor Don Lemon is out at CNN.
The anchor shared a post on his social media accounts saying that he was informed by his agent on Monday morning that he was being terminated.
"I am stunned. After 17 years at CNN I would have thought that someone in management would have had the decency to tell me directly."
In a memo to CNN staff Monday, which was obtained by The Hollywood Reporter, CNN CEO Chris Licht confirmed that Lemon was exiting the channel, and wrote that "Don will forever be a part of the CNN family and we thank him for his contributions over the past 17 years."
Read More HERE