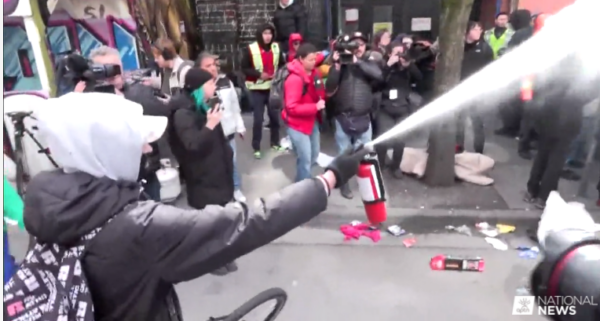 by Harvey Oberfeld
April 9, 2023
The tents had to go: no one has the right to just erect a structure on a sidewalk anywhere in any city and declare it their home.
But I'm suspicious about the timing and the suddenness of the evictions.
Vancouver's Fire Chief and Police Chief have long declared the tent city on Hastings Street a dangerous fire trap, crime-ridden locale.
"More than 400 outdoor fires on East Hastings have occurred over the last eight months. Four people have already been injured this year," CTV News quoted City officials Wednesday..
"According to (Fire Chief) Fry, Vancouver Fire and Rescue Services has seized 1,600 propane tanks from the encampment, where there have been 16 tent fires so far this year."
Fry, in fact, issued an ORDER last July that the tents had to go.
"The Downtown Eastside encampment is fraught with serious crime, violence and dangerous weapons, which have proliferated in this neighbourhood. Street-level assaults within the encampment have increased 27 per cent and nearly half of those are being committed by strangers," CTV quoted Police Chief Palmer.
"Vancouver police say officers have reported an increase of nine per cent in assaults in the DTES since last August with 28 per cent of those occurring in the encampment zone," Global News reported.
Clearly the situation was terrible.
Yet, it took EIGHT MONTHS AFTER the Fire Chief issued her ORDER for the City and Police to suddenly move in, hand out garbage bins for portable possessions and then pile into garbage trucks the rest of the tents and furnishings of those who had encamped on Hastings.
And despite the long delay, clearly the City had not used that time to find an alternative site well away from hotels, housing shops or offices, where those pushed away from Hastings could take their tents and relocate.
Instead the evictions were done suddenly, without notice, without a deadline and without any plan to label and store the tents to be reclaimed later.
Remember, we are dealing here with some of the poorest of the poor … many suffering from physical impairments, mental illness and/or drug abuse … and those tents were not only their best protection against the elements but for their meager belongings too.
The timing of the street sweep continues to raise questions.
"We are continuing to work with senior levels of government to secure permanent, quality housing for Vancouver's most vulnerable residents – the first of the 330 units recently announced by the provincial government are set to come online in the coming days,"  Mayor Ken Sim was quoted by CBC on Wednesday.
So why were the tenters … and their entire lives … uprooted so suddenly if, as the Mayor said, 330 new units are indeed "set to come online in the coming days" ?
Why couldn't City officials wait? After all, it had been YEARS since the problem began to fester; it had been EIGHT MONTHS since the Fire Chief issued her order.
Why not move in AFTER those 330 units are ready "in the coming days"?
Was it because Vancouver's 2023 Cruise Ship Season begins this coming week?
The Saphire Princess (2,670 passengers) will arrive Wednesday, followed Thursday by the Holland America Koningsdam (2,650 pax) and Norwegian Bliss (4,000 pax).
All will dock at Canada Place … only blocks away from Gastown, Chinatown … and Hastings Street.
With Covid no longer a major obstacle, vacation travel in "on" again … and cruising is especially experiencing a huge rebound.
According to the Daily Hive, this cruise season could set a new record for Vancouver, with 331 cruise visits and 1.3 million passengers expected. Read the details here: https://dailyhive.com/vancouver/vancouver-cruise-ship-season-2023-canada-place.
Let's keep it real: the damage done to Vancouver by pictures/videos/stories about Hastings Street's sidewalk blight, not to mention dazed druggies shooting up in plain site and/or visitors being hassled, harangued, robbed or assaulted, would have been horrendous.
Cruise ships bring big bucks, but when enough passengers complain about a port, poor experiences, robberies, violence, ships are known to move to alternative stops.
News coverage in the US alone of even just a few cruise passengers in Vancouver being robbed, attacked (never mind that crime in the US is worse) could have a multi-million dollar negative impact on Vancouver tourism … convention planning too.
I get it.
But is that why last Wednesday was Tent Eviction Day on Hastings? Did the looming start of the cruise ship season play ANY role in planning and timing of the "action" finally taking place? When exactly was the actual decision made to move in and get rid of the tents? Did tourism officials or downtown/Gastown/Chinatown business groups remind the city the cruise ships were coming …and relate serious concerns?
The tents on Hastings had to go; they should have never been allowed to take root; however, action should have been taken within days or weeks at most of the Fire Chief issuing her Order last July.
Instead, there are LOTS of questions remaining about the way the whole thing was handled … and the timing of the evictions …. in conjunction with cruise ships being on their way as well.
The public deserves the whole story!
Harv Oberfeld