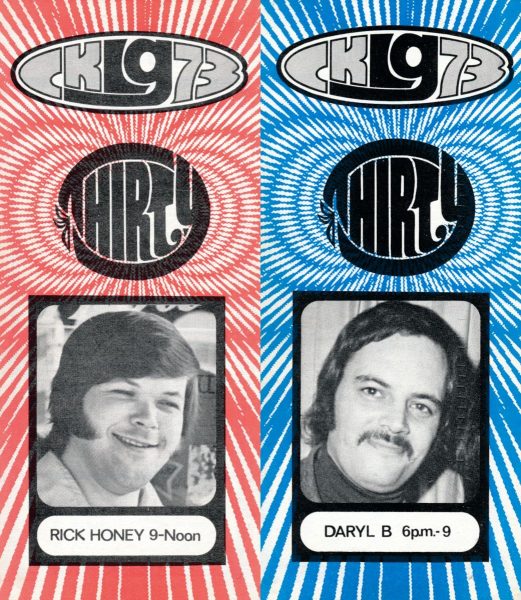 Twenty years ago this week, Vancouver radio lost a couple of major talents: Rick Honey and Daryl "B" Burlingham. I'll be remembering Rick and Daryl, and we'll relive some of the highlights of their amazing careers. RIP Rick and Daryl… gone but not forgotten!
…
22 hrs  · Longtime CKNW afternoon host Rick Honey called it a day after 24 years on May 30, 1997. Rick came to Vancouver in late 1969 from Nova Scotia to work at Top 40 CKLG and quickly developed a following.Rick was also a top-notch MC and an accomplished magician! I loved Rick's sense of humour, and it was evident when I called him from my CISL morning show to check up on him.Rick was named Broadcast Performer of the Year by the BC Association of Broadcasters in 2000. He died in Vancouver February 24, 2001. Rick Honey was only 53. A tremendous loss for his loyal listeners and his many friends in the radio business. RIP Rick!
Here's a rare recording of the legendary Daryl B on CHUM/Toronto with good friend and fellow Winnipegger Burton Cummings in 1990, followed by a composite of Daryl's show. You'll love the ending, where Daryl honours a listener request for "Rainy Night In Georgia"!I brought Daryl to work at C-FUN in late 1965 from CKY/Winnipeg when Fred Latremouille left to move to CKLG. Daryl and his family lived at our house for a while until they could find accommodation. We had many good times at C-FUN. And the listeners loved his brand of radio! Myles Murchison remembers:"In 1965 C-FUN had a massive playlist consisting of fifty songs, an R&B Top Ten, a Country Top Ten and Twin Pick Hits. You wouldn't believe the amount of homework I had to ignore every day just to soak all this up! To hear Daryl segue from 'I Can Never Go Home Anymore' by The Shangri-Las into The Beatles 'Day Tripper' with an economy of words that was truly astounding in its brevity was pure magic. Then, as the fading record slammed into a five second-long shotgun stinger followed by 'She's Just My Style' by Gary Lewis and the Playboys – making its debut on the CFUNTASTIC FIFTY chart that week … well, time and temperature never sounded so good."In 1967, he moved to CKLG, staying until he got the opportunity to join "The Big 8" CKLW/Windsor in 1969. Daryl returned to CKLG in 1970. Just before arriving, he put in a word for his good friend Rick Honey to 'LG management. It was on Daryl's recommendation that Rick, then working in radio in Sydney, Nova Scotia, was flown into Vancouver for an audition. Honey became a very popular personality at CKLG. Daryl moved back to C-FUN shortly after CHUM bought the station in 1973.In 1974, a throwaway line Daryl tossed out on his show became the inspiration for a massive hit record for Randy Bachman's band Bachman-Turner Overdrive. Apparently Randy was listening to the radio one day when he heard B say, "It's Daryl B, and we're takin' care of business on C-FUN!" Miraculously a song that Randy had been plugging away at for awhile called 'White Collar Worker' had a new title, all thanks to Daryl.Daryl headed to CHUM in 1977. He was back at CFUN from 1979-84, and then CHUM again from 1984-92 until post polio syndrome forced his retirement. Daryl B died in Winnipeg February 27, 2001 after suffering a stroke. He was only 58. He was a fantastic talent and I never really felt he knew how good he was. Daryl's boss at CFUN, Chuck McCoy, summed it up beautifully:"Listening to Daryl B as a teen, working with him as a DJ at CKY/Winnipeg then acting as his PD at CFUN/Vancouver are radio memories that stand out among all the others over my 52 years in broadcasting. He was an amazing talent but more than that, a good friend over all those years. I spoke to Daryl just days before his passing back 20 years ago on the special toll free phone that NABS had initiated so we could all call and talk with him in his last year. His influence on me and so many other broadcasters will always be treasured. To this day I follow Daryl's advice: 'Stay out of trees!'"Daryl B photo courtesy CHUM Archives / Doug Thompson.
Listen to Daryl HERE