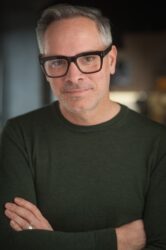 Scott Fee has left his position as News Director of CHEK-TV Victoria. It was 2005 when CHEK first called Scott to Victoria to become the new  News Anchorman were he remained until leaving for Calgary in 2011, then becoming prime anchor at the Global station where he remained until 2019 when CHEK came a calling for him again, this time to move back to Victoria, and assume the news directors position, replacing Rob Germain, who moved up to General Manager of the Independent employee owned, but highly subsidized ($3Million minimum annually) tv station, by the Trudeau Liberal government.  
We sent an email to Scott once we heard CHEK was looking for a new News Director, and he got back…
Hi Michael, thanks for reaching out.
I resigned in February. Time for a new adventure. Great shop, great people. Wish everyone the best.
I don't think I'll be announcing anything. Just quietly making a change. My goal is to remain based in Victoria, but life has a way of twisting and turning, so who knows .
Cheers
Scott