ON THIS DAY in 1885
the "father of the American musical" Jerome Kern was born in New York City. He composed many of the classic show tunes aired by radio & television from the dawn of broadcasting, including Ol' Man River, Smoke Gets in Your Eyes, Lovely to Look At, The Way You Look Tonight, & The Last Time I Saw Paris. He died of a cerebral hemmorhage Nov 11, 1945 at age 60.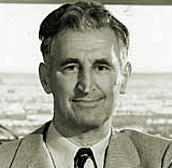 On this day in 1895, songwriter Harry Ruby was born Harry Rubinstein in New York City.  Met his longtime partner Bert Kalmar in vaudeville, and together wrote hit songs (Who's Sorry Now, Three Little Words, A Kiss to Build a Dream On, Nevertheless) until Kalmar's death in 1947. Their partnership is portrayed in the 1950 MGM musical Three Little Words starring Fred Astaire and Red Skelton.  He died Feb 23, 1974 at age 79.
On this day in 1905, 
character actor Howard McNear was born in Los Angeles.  He was active in the radio era, playing Doc Adams on Gunsmoke, and on TV was Floyd the Barber on the Andy Griffith Show.  He suffered a debilitating stroke during the Griffiths' show 3rd season, and thereafter was filmed sitting down.  He died after a second stroke Jan. 3 1969 three weeks short of his 64th birthday.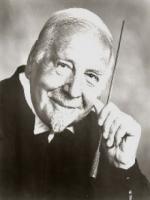 On this day in 1918, pianist/bandleader Skitch Henderson was born Lyle Russell Cedric Henderson at Birmingham England.
After World War II he was musical director for Frank Sinatra's NBC radio show, and Bing Crosby's accompanist on radio.   He is best remembered as the bandleader on NBC-TV's Tonight Show with Steve Allen & Johnny Carson; he also was an occasional co-host subbing for Carson.  He died Nov 1 2005 at age 87.
On this day in 1921, actress Donna Reed was born Donna Belle Mullenger in Denison Iowa.  After an impressive career in films she starred in TV's Donna Reed Show for six seasons, and later had a recurring role as the 2nd Miss Ellie on Dallas. She died of pancreatic cancer Jan 14, 1986, just days short of her 65th birthday.
On this day in 1927, some 5 months after NBC was formed, United Independent Broadcasters Inc. began a radio network which consisted of 16 US stations east of the Mississippi.  Within 20 months it evolved into CBS, the Columbia Broadcasting System.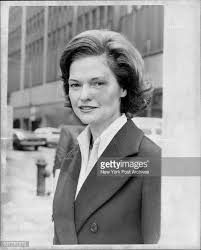 Also this day in 1927, television journalist Nancy Dickerson was born in suburban Milwaukee.  She became CBS News' first female correspondent in 1960, and covered Washingto for NBC News from 1963-1970.  In 1971 she left the network to become an independent producer, making documentaries for PBS, &c.  In '96 she helped anchor the PBS Presidential Election returns. She died Oct. 18 1997 at the age of 70, after a stroke.
On this day in 1931, NBC radio introduced listeners to "Clara, Lu 'n' Em" on its Blue network (later, ABC radio). The Chicago-based show became the first daytime radio serial the following year when it was moved from its original nighttime slot.
On this day in 1936, actor Troy Donahue was born Merle Johnson in New York City.  Early in his career he appeared in several Warner Bros. TV series, Hawaiian Eye, 77 Sunset Strip, & Surfside 6. He died Sep 2, 2001, after a heart attack, at age 65.
On this day in 1948, the Wire Recording Corporation of America introduced the magnetic tape recorder, the first audio recording system that didn't involve acetate disks or wire. The "Wireway" machine, complete with a built-in oscillator, sold for $149.50.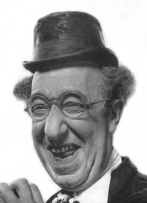 On this day in 1950, Ed Wynn took home the Emmy for Most Outstanding Live Personality and his show, "The Ed Wynn Show", received the award for Best Live Show. Coincidentally, this same night, Wynn's comedian friend, Milton Berle, was awarded the Emmy for Most Outstanding Kinescope Personality for his performance on The Best Kinescope Show, "The Texaco Star Theater", on NBC television.
On this day in 1956, the "CBS Radio Workshop" was heard for the first time. This first broadcast featured Aldous Huxley narrating his classic, "Brave New World".
Also this day in 1956, Elvis Presley's "Heartbreak Hotel" was released on RCA Victor, which had just purchased Presley's contract from Sun Records for $35,000. The song sold 300,000 copies in its first week and would eventually sell over a million, becoming Elvis' first Gold record.
On this day in 1957, the stars headlining the weekly "Ed Sullivan Show" on CBS-TV included singers Louis Armstrong, Ella Fitzgerald and Dorothy Kirsten, with comedy from ventriloquist Senor Wences.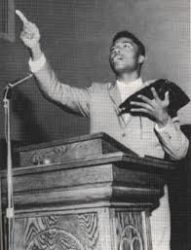 On this day in 1958, 
 Little Richard interrupted his music career to enter a theological seminary run by the Seventh Day Adventist Church in Huntsville, Ala. Later he would receive a degree and be ordained as a minister.  He was inspired to do so after his plane caught fire while flying over the Philippines.
On this day in 1959, in a studio in Nashville, Johnny Horton recorded "Battle Of New Orleans" for Columbia Records. It rapidly rose to the top spot on both the Country and Billboard Hot 100 pop singles charts, and stands as Horton's biggest hit.
On this day in 1961, the hour-long "Sing Along with Mitch" [Mitch Miller, that is] began a three-year run on NBC TV.
Also in 1961, Frank Sinatra played a benefit show at New York's Carnegie Hall  for the noted civil rights activist Rev. Martin Luther King.
On this day in 1962, the song "Peppermint Twist – Part I" by Joey Dee & the Starliters topped the charts and stayed there for 3 weeks.
Also in 1962, Elvis Presley's "Can't Help Falling in Love" was certified to be a Gold Record, his 29th.
Still in 1962, in Philadelphia, Dee Dee Sharp recorded "Mashed Potato Time," referring to a popular dance craze at the time.
On this day in 1963, on CBS-TV's Ed Sullivan Show, Neil Sedaka played the piano and sang "Happy Birthday Sweet 16" and "Calendar Girl."  And the Canadian comedy team of Wayne and Shuster did a takeoff of the popular family western "Bonanza" featuring "The Cartwheels."
On this day in 1964, the album "Introducing the Beatles" was released in the US.
Also this day in 1964, the Rolling Stones created an uproar as judges on the BBC TV show "Juke Box Jury." Their comment that Elvis' latest single ("Kiss Me Quick")  sounded "dated" was picked up by the UK press, leading to a major controversy.
On this day in 1967, the Beatles signed a 9 year worldwide contract with EMI records.
On this day in 1968, The Bee Gees played their first American concert, earning $50,000 to entertain at the Anaheim Convention Center in California. This is identical to what the Beatles were paid to perform at the Hollywood Bowl a few years earlier.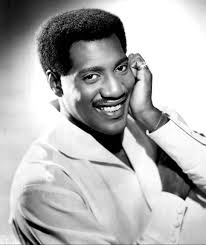 Also this day in 1968, Otis Redding's "(Sittin' On) The Dock of the Bay" was released, seven weeks after the singer's death. It became #1 on March 16 and remained in the top spot for a month. Redding & 4 members of his band were killed in a plane crash at Lake Monona near Madison, WI.  "The Dock of the Bay", his only number one song, was recorded just three days before his death.
On this day in 1969, The Beatles recorded "Get Back" in 14 takes.
On this day in 1970, "Senator" Ed Ford, a comedian who was a longtime panellist on the joke-telling radio show Can You Top This?, died at age 72.
Also this day in 1970, singer Marty Robbins underwent open heart surgery, then in its infancy, and became the first patient to survive a triple bypass operation.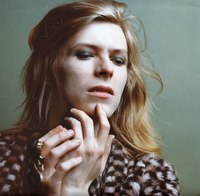 On this day in 1971, David Bowie arrived for his first visit to the U.S. Lacking a work permit he could not perform, but received a rash of publicity by wearing dresses in promotional appearances in Texas and Louisiana.
On this day in 1972, singer Mahalia Jackson died of heart failure in Chicago at age 60. Known as the "Queen of Gospel Music" she recorded more than 30 albums.
Also this day in 1972, The New Seekers' "I'd Like to Teach the World to Sing" was certified as a Gold Record.
On this day in 1973, the song "Superstition" gave Stevie Wonder his second Billboard No.1 single, 10 years after his first No.1.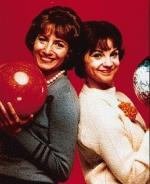 On this day in 1976, the TV series "Laverne and Shirley" debuted on ABC. The blue collar spinoff from the hit sitcom Happy Days delighted its fans until it was cancelled in 1983.
Also in 1976, David Bowie filed suit against his former agent, attorney Michael Lippman, for charging too much and withholding funds.
On this day in 1984, John Lennon & Yoko Ono released their "Milk & Honey" album.
Also this day in 1984, during filming for a Pepsi Cola TV ad, Michael Jackson's hair caught fire due to a pyrotechnic display gone awry. Jackson was hospitalized for several days, inspiring fans from around the world to send their best wishes for his recovery.
Still in 1984, Cyndi Lauper's iconic future chart topper "Time After Time," which she'd recorded the previous June, finally was shipped to the stores.
Again this day in 1984, the Eurythmics began a grueling 175-date world tour in Australia.
On this day in 1986, German-born actress Lilli Palmer, one-time wife of Rex Harrison, who had her own "Lilli Palmer Show" (anthology drama) on US TV, and appeared 7 times on the Ed Sullivan Show, succumbed to cancer at age 71.
On this day in 1990, his hometown of Gainesville Florida celebrated Tom Petty Day.
On this day in 1991, Whitney Houston gave a powerful performance of the "Star Spangled Banner" at Super Bowl XXV in Tampa Florida. It turned out she actually lip-synced to her pre-recorded version of the anthem, which was subsequently released as a single.
Also in 1991, a sitcom starring Jonathan Winters and Randy Quaid, "Davis Rules" debuted on ABC-TV in the coveted spot right after the Super Bowl telecast.  The network cancelled it after 13 episodes, but CBS picked it up for another 16 episodes the following season.
On this day in 1993, Warner Brothers Records announced it was releasing rapper Ice-T from his contract due to what it called "creative differences." The previous summer, the record company was in the middle of the controversy over Ice-T's song "Cop Killer."
On this day in 1994, actor Claude Akins, who starred in the TV series "Movin' On" & "The Misadventures of Sheriff Lobo," lost his battle with cancer at age 67.
Also this day in 1994, songwriter Stanley Adams, who wrote "What a Difference a Day Makes", & the English lyrics to "La Cucaracha," who was president of ASCAP for over 25 years, died at age 86.
On this day in 1997, Tin Pan Alley composer Gerald Marks, best known for the songs "All of Me" & "Is it True What They Say About Dixie," died at the age of 96.
On this day in 1998, two male dancers for risque rapper Kinsu, Keith Allen and Antonio Robinson, appeared in San Antonio County Court to answer charges of indecent exposure. The two had been arrested earlier in the month for dropping their overalls and ripping off their undergarments in front of a crowd of 35,000.
Also this day in 1998, U.S. First Lady Hillary Rodham Clinton appeared on NBC's "Today" show. She charged that the allegations of sexual misbehaviour involving her husband were the result of a "vast right-wing conspiracy."
Still this day in 1998, the Eaton family sold its 41% interest in Baton Broadcasting, which changed its name to CTV Inc. the following year.
On this day in 2002, Stephen King's three-part, six-hour miniseries "Rose Red" began airing on ABC-TV.
On this day in 2004, Jack Paar died after years of ill health at age 85. Paar hosted the Tonight Show from 1957 through 1962 and headed his own NBC variety series (The Jack Paar Program) from 1962 to 1965. His 1960 memoir was titled "I Kid You Not", which was one of his signature lines.
Also this day in 2004, the Federal Communications Commission fined Clear Channel Radio for apparently airing indecent material over several broadcast stations during several days. The Commission proposed the highest fine the law provides resulting in a $27,500 for each of 26 apparent indecency violations for a total of $715,000.
On this day in 2005, U2's Bono joined British Prime Minister Tony Blair and Microsoft chairman Bill Gates at the World Economic Forum in Switzerland to address the issue of poverty in Africa. Said Bono, "(I) encourage people to do the right thing on the global stage."
On this day in 2006, Gene McFadden, best known as half of the Philly soul team McFadden & Whitehead, died of cancer at the age of 57. The duo had the 1979 hit 'Ain't No Stoppin' Us Now', which sold more than 8 million copies and was nominated for a Grammy.
On this day in 2007, CBR-1-FM Calgary debuted at 99.1 MHz with 1100 watts. It served the city's downtown by rebroadcasting CBR-AM, which was not received well in the many high-rise buildings there. A year later, following listener complaints, the CRTC authorized a power increase to 2800 watts.
Also in 2007, mayor Ray Nagin declared it "Fats Domino Day" in the star's hometown of New Orleans.
On this day in 2009, Bruce Springsteen released "Working On A Dream," his 16th studio album. Produced by longtime collaborator Brendan O'Brien, the set was recorded with the E Street Band during downtime on their tour.
On this day in 2010, at a press conference in San Francisco, Apple CEO Steve Jobs unveiled a new invention, a tablet PC called the iPad.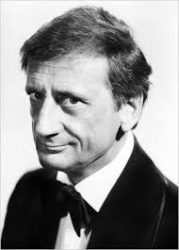 On this day in 2011, stand-up comedian Charlie Callas died of natural causes at an age variously reported as 83 or 86. A big band drummer after serving in WWII, he had a feature TV role in the 1970's as an ex-con man/restauranteur in the Eddie Albert/Robert Wagner crime series "Switch."
You Tube has posted a 5-minute clip HERE of a typical joke-telling performance by Charlie Callas.
On this day in 2014, legendary folksinger/songwriter Pete Seeger died at age 94.  A fixture on 1940's network radio his best-known songs include "Where Have All the Flowers Gone?," "If I Had a Hammer", and "Turn! Turn! Turn!"
On this day in 2015, a Los Angeles Superior Court jury found that the leader of Sly & the Family Stone, whose given name is Sylvester Stewart, had not been fully paid for 20 years of songwriting royalties, and awarded him $5 million in royalties and damages from his manager Jerry Goldstein, attorney Glenn Stone and Even St. Productions.
On this day in 2016, AC/DC filed a federal lawsuit to block all non-authorized merchandise sales during their U.S. tour. They asked the court to send U.S. Marshals to arrest offenders and seize all counterfeit goods.
On this day in 2017,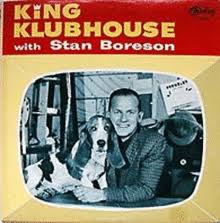 Seattle TV entertainer Stan Boreson, dubbed the King of Scandinavian Humor, died after suffering a stroke at age 91.  He was a musician, humorist, recording artist, and one of the Pacific Northwest's first TV stars. He appeared in several KING-TV shows in the pioneering years of television from 1949-1967, most notably the kiddies show KING's Klubhouse. and The Stan Boreson Show.
On this day in 2018, cartoonist Mort Walker, the creator of the longrunning 'funny papers' strips Beetle Bailey & Hi and Lois, died at age 94.
On this day in 2019, Rami Malek won the Outstanding Performance by a Male Actor in a Leading Role for his portrayal of the late Freddie Mercury in the Queen biopic "Bohemian Rhapsody" at the 25th Screen Actors Guild (SAG) Awards in L.A
Today's Birthdays
Actor James Cromwell (American Horror Story: Asylum, Six Feet Under, Citizen Baines) is 83.
Rocker Nick Mason of Pink Floyd is 79.
Singer Nedra Talley of The Ronettes is 77.
Country singer Cheryl White of The Whites is 68.
Guitarist Richard Young of The Kentucky Headhunters is 67.
Actress Mimi Rogers (The Loop, X Files, Geena Davis Show) is 67.
Guitarist Janick Gers of Iron Maiden is 66.
Actress Susanna Thompson (Arrow, Once & Again) is 65.
Former ESPN/MSNBC talk show host Keith Olbermann is 64.
NBC football analyst Cris Collingsworth is 64.
Actor Glenn Taranto (Days of Our Lives, The New Addams Family) is 64.
Actress  Julie Caitlin Brown (Babylon 5) is 62.
Singer Margo Timmins of Cowboy Junkies is 62.
Keyboardist Gillian Gilbert (New Order) is 62.
Actress Bridget Fonda (Chris Isaak Show) is 59.
Actor Alan Cumming (Instinct, The Good Wife, Web Therapy, The L Word) is 58.
Actress Tamlyn Tomita (Teen Wolf, Berlin Station) is 57.
Manitoba-born aboriginal singer/songwriter Susan Aglukark is 56.
Singer/songwriter Mike Patton (Faith No More) is 55.
Country singer Tracy Lawrence is 55.
Rapper Tricky is 55.
Actor/comedian Patton Oswalt (The Goldbergs, WordGirl, The King Of Queens) is 54.
Actress Cindy Cheung (13 Reasons Why, One Life to Live) is 54.
Guitarist Michael Kulas of James is 54.
Actor Todd Louiso (Phenom, Suburgatory) is 53.
Actress Amy Hargreaves (Homeland) is 53.
Actor/voicist Adam Carl (Hearts Afire, Defenders of the Earth) is 52.
Actor Josh Randall (Ed, Courting Alex) is 51.
Actor David DeSantos (General Hospital, This is Why I'm Single) is 48.
UK-born actor (Vancouver resident) Chris Gauthier (Eureka, Once Upon a Time) is 47.
Country singer Kevin Denney is 45.
Drummer Andrew Lee of St. Paul and the Broken Bones is 37.
Drummer Matt Sanchez of American Authors is 37.
Woodinville Wash.-born actress Kylie Sparks (Top Decking, The Walking Tedd,  Squaresville) is 36.
Model Lily Donaldson (The Victoria's Secret Fashion Show) is 36.
Actor B.J. Mitchell (Instant Mom, Greenhouse Academy, Like Family) is 31.
Actress Paulina Gerzon (What Would You Do?, The Sopranos, All My Children) is 28.
Actor Braeden Lemasters (Betrayal, Men of a Certain Age) is 27.
Actor Devin Druid (13 Reasons Why) is 25.
Chart Toppers – Jan. 27
1948
Golden Earrings – Peggy Lee
How Soon – Jack Owens
Ballerina – Vaughn Monroe
I'll Hold You in My Heart (Till I Can Hold You in My Arms) – Eddy Arnold
1957
Singing the Blues – Guy Mitchell
Don't Forbid Me – Pat Boone
Jamaica Farewell – Harry Belafonte
Singing the Blues – Marty Robbins
1966
We Can Work It Out – The Beatles
Barbara Ann – The Beach Boys
No Matter What Shape (Your Stomach's In) – The T-Bones
Giddyup Go – Red Sovine
1975
Please Mr. Postman – Carpenters
Laughter in the Rain – Neil Sedaka
Fire – Ohio Players
(I'd Be) A Legend in My Time – Ronnie Milsap
1984
Owner of a Lonely Heart – Yes
Karma Chameleon – Culture Club
Talking in Your Sleep – The Romantics
In My Eyes – John Conlee
1993
I Will Always Love You – Whitney Houston
Rump Shaker – Wreckx-N-Effect
Saving Forever for You – Shanice
Look Heart, No Hands – Randy Travis
2002
Get The Party Started – Pink
U Got It Bad – Usher
Hey Baby – No Doubt
Where Were You (When the World Stopped Turning) – Alan Jackson
2011
Grenade – Bruno Mars
Fireworks – Katy Perry
What's My Name? – Rihanna featuring Drake
Felt Good on My Lips – Tim McGraw
Today in Broadcast History compiled by Ron Robinson