ON THIS DAY in 1907
actor Alexander Knox 
 was born in suburban London Ontario.  The zenith of his career was the 1944 movie docudrama Wilson in which he played US President Woodrow Wilson. Blacklisted during the McCarthy era he spent most of the rest of his life in Britain, where he was featured in TV mini-series Tinker, Tailor, Soldier, Spy, Oppenheimer, Churchill & the Generals, and several episodes of Lovejoy.  He died of bone cancer April 25 1995 at age 88.
On this day in 1909, Tony-winning singer/actress Ethel Merman was born Ethel Zimmerman in Astoria New York.  Her broadcast credits include hosting her own short-lived radio shows in 1935 and again in 1949; plus guest appearances from the early 30's to the mid 1950's. And TV appearances on The Hollywood Palace, Toast of the Town (Ed Sullivan), Shower of Stars, Batman, Tarzan, and The Love Boat. She died following surgery for brain cancer Feb 15, 1984 at age 75.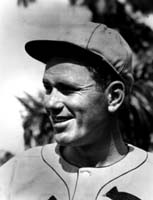 On this day in 1910,  baseball Hall of Fame pitcher Dizzy Dean was born Jay Hanna Dean in Lucas Arkansas.  After a foreshortened playing career he became a popular grammatically-challenged sportscaster, first in St. Louis and then nationally on CBS TV's Game of the Week.  His spoonerisms became legendary. He died July 17, 1974 at age 64.
Also this day in 1910, one of the great announcers of bigtime radio Dwight Weist was born in Palo Alto Calif.  As well as being the commercial announcer on Inner Sanctum Mysteries & host of We the People, among scores of announcing assignments, he also had acting roles as the very first Mr. District Attorney, one of several Commissioner Westons on The Shadow, and one of the male actors to play Mr. Burton on the CBS radio soap The Second Mrs. Burton. He suffered a fatal heart attack July 16 1991 at age 81.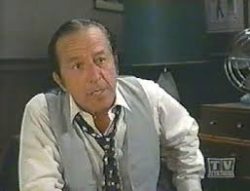 On this day in 1917, comedian Buddy Lester was born in Chicago. He was a fixture on nightclub circuits for seven decades, and was a regular cast member in TV's "New Phil Silvers Show" in 1963-64. Lester also acted in several episodes of such police series as "Adam-12" and "Barney Miller," and became a familiar face through his work in shows such as "Love, American Style," "The New Dick Van Dyke Show," "The Odd Couple" and "Starsky and Hutch."  He succumbed to cancer Oct. 4 2002 at age 85.
On this day in 1918, prolific screenwriter Stirling Silliphant was born in Detroit. He had over 700 hours of prime-time television drama to his credit, many of which earned Emmys for their producers, directors, and cast members, but not for him. His credits include the live Playhouse 90, plus film series, Perry Mason, Alfred Hitchcock Presents, Route 66 & Naked City.  He wrote three mini-series, Pearl, Space & Mussolini: The Untold Story.  He died from prostate cancer April 26 1996 at age 78.
On this day in 1932, Duke Ellington and his Orchestra recorded "It Don't Mean a Thing."
On this day in 1938, Benny Goodman and his band, plus a quartet, brought the sound of jazz to Carnegie Hall in New York City. When asked how long an intermission he wanted, he quipped, "I don't know. How much does Toscanini get?"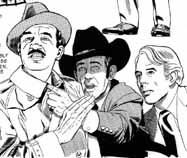 On this day in 1939, the shrill siren call of radio's "I Love a Mystery" was heard for the first time as the show debuted at 3:15 pm weekdays on NBC's West Coast outlets. Creator Carleton E. Morse already had an established hit in a completely different genre, 'One Man's Family.'
On this day in 1942, Kay Kyser and the band recorded "A Zoot Suit (For My Sunday Gal)" for Columbia Records. The tune was about the problems associated with wearing the garish, exaggerated "hep" fashion.
On this day in 1943, before he had achieved success on the country music charts Ernest Tubb performed for the first time at the Grand Ole Opry in Nashville.  A month later he was inducted as the latest member of the Opry.
On this day in 1944, the family sitcom 'The Life of Riley' began a 7 year run on radio, the first 18 months on the Blue Network, thereafter on NBC. A blue-collar William Bendix starred as Chester A. Riley.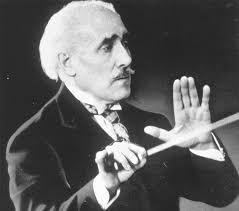 On this day in 1957, classical conductor Arturo Toscanini died of natural causes at age 89.


Arguably the greatest conductor of his era, he led the NBC Symphony Orchestra on radio & TV from 1937 to 1954.
Also this day in 1957, the Cavern Club opened for business in Liverpool, England. The rock club was just a hangout for commoners. Then, things changed — big time. It all started in the early 1960s when four kids from the neighborhood popped in to jam. They, of course, turned out to be The Beatles, who eventually appeared there 292 times.
On this day in 1958, facing imminent induction into the US Army Elvis Presley continued a busy month of recording by taping "Lover Doll," "Don't Ask Me Why" and "As Long As I Have You" at Radio Recorders in Hollywood.
On this day in 1959, while on a whirlwind tour of the UK, the Everly Brothers were named the world's Number One vocal group in a poll conducted by the UK's New Musical Express magazine.
On this day in 1965, Beatles manager Brian Epstein was quoted as saying "I give the Beatles two or three years more at the top." The quote was from an interview in the UK's Melody Maker magazine.
Also in 1965, 
Chad Allen and the Expressions re-released their hit single "Shakin' All Over" under their new name – The Guess Who?  It was the band's first record under that banner. The ? was dropped in 1968, after Burton Cummings had replaced Allen as lead singer.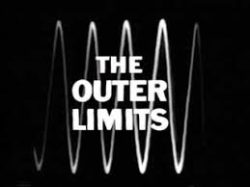 Again this day in 1965, the sci-fi series "Outer Limits" aired for the last time on ABC-TV.
Still in 1965, the Searchers' "Love Potion #9" peaked at #3 on the pop charts.
On this day in 1966, CBS-TV's Ed Sullivan Show was headlined by singers Mike Douglas and The Lettermen, and the comedy of Frank Gorshin plus two teams, Stiller & Meara and Mimi Hines (of Vancouver) and Phil Ford.
On this day in 1968, Elvis Presley was in Nashville to record one of his lesser hits, "Stay Away."
On this day in 1970, The Who began a tour of European opera houses, performing excerpts from the rock opera "Tommy."
On this day in 1971, Elvis Presley told a press conference in Memphis that "I don't go along with music advocating drugs and desecration of the flag. I think an entertainer is for entertaining and to make people happy."
On this day in 1972, David Seville died of a heart attack in Beverly Hills, just days short of his 53rd birthday.  Born Ross Bagdasarian, the musician was the force, and artist, behind the Alvin and the Chipmunks novelty songs of the 1950s, '60s and '70s.  Seville first claimed fame, not through the novelty impact of the hit, "The Chipmunk Song" (it sold 3.5 million copies in five weeks); but by writing Rosemary Clooney's biggest hit, "Come on-a My House", in the early 1950s and the number one hit, "Witch Doctor", in 1958.
On this day in 1973, NBC presented the 440th & final showing of "Bonanza."
On this day in 1975, Paul McCartney and Wings arrived in New Orleans to begin recording sessions for their "Venus and Mars" album at Allen Toussaint's Sea Saint studios. They remained in town through Mardi Gras.
On this day in 1976, a one-hour music variety show, Donny & Marie, premiered on ABC-TV.
Also this day in 1976, the album, "Frampton Comes Alive", was released by Herb Alpert's A&M Records. The double LP soon reached the top spot of the album charts and stayed perched there for 17 weeks. It sold 19 million copies in its first year in the record racks.
On this day in 1979, actor Ted Cassidy, who played Lurch on TV's Addams Family, died following heart surgery at age 46.
On this day in 1980, Paul McCartney was jailed in Tokyo for possession of a half pound of marijuana. He spent ten days behind bars before being kicked-out of the country by Japanese authorities. The remainder of his tour was canceled.
On this day in 1981, the sitcom "Harper Valley P.T.A.," inspired by the 1968 Jeannie C. Riley hit record and starring Barbara Eden, began its 16-month run on NBC-TV.
Also in 1981, John Lennon's future smash "Woman" was released in UK.
On this day in 1983, the No. 1 Billboard Pop Hit was "Down Under" by Men at Work. The song held at No. 1 for three weeks, dropped behind Toto's 'Africa," then reclaimed the top spot for one week.
On this day in 1984, Michael Jackson didn't get to sit down much at the 11th annual American Music Awards. The "Gloved One" received eight awards, including favorite pop and soul male vocalist, pop and soul album winner for "Thriller", pop and soul video winner for "Beat It" and best pop song for "Billie Jean".
Also in 1984, while on vacation in Barbados Paul and Linda McCartney were arrested for possession of cannabis. The fine imposed was the approximate equivalent of $200 each.
On this day in 1985, actor Leonard Nimoy, who roamed among the stars in the "Star Trek" TV series and movies, got his own star on the Hollywood Walk of Fame. Live long and prosper, Mr. Spock.
On this day in 1986, Uncle Walter remained #1 with the public. Five years after his retirement from the "CBS Evening News," Walter Cronkite, according to the polls, was STILL the most trusted man in America. "And that's the way it is."
Also this day in 1986, Abba performed for the last time anywhere on the Swedish TV version of "This Is Your Life."
Still this day in 1986, evangelist Herbert W. Armstrong, founder and longtime leader of the Worldwide Church of God, and original voice of the longtime radio/TV religious broadcast, "The World Tomorrow," died at the age of 93.  His son and fellow preacher, Garner Ted Armstrong, succeeded him on the air in 1957 and became much more well-known.
On this day in 1987, actress/comedienne Joyce Jameson died by her own hand at age 54. The well-endowed platinum blonde played dumb, sexy foils for top comedians (Steve Allen, Danny Kaye, Red Skelton) in TV skits during the 50s and 60s.  She also had a running role on General Hospital in 1979.
Also this day in 1987, the Beastie Boys became the first act censored on ABC-TV's "American Bandstand."
On this day in 1988, Jimmy "The Greek" Snyder was fired as a CBS sports commentator one day after telling a TV station in Washington DC that, during the era of slavery, blacks had been bred to produce stronger offspring, and were naturally superior athletes.
Also this day in 1988, the song "Got My Mind Set On You" by George Harrison topped the charts and stayed there for just a week.  Thus Harrison became the act with the longest span of Number One hits in pop music history, 24 years. The Beach Boys soon broke this record, however, with their hit "Kokomo" later in the year.
Again in 1988, George Michael's "Faith" started a sixteen-week run as the number-one album in the U.S.
On this day in 1989, Squamish (BC) radio station Mountain FM CISQ (107.1) and its repeaters were sold to Selkirk Communications, which resold them to Rogers Broadcasting later in the year.
On this day in 1991, The Byrds, John Lee Hooker and Wilson Pickett were among those inducted into the Rock and Roll Hall of Fame.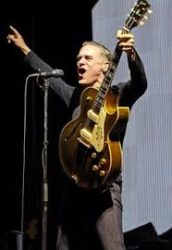 On this day in 1994, Canadian rocker Bryan Adams played before 2,500 people in Ho Chi Minh City. He was the first Western entertainer to perform in Vietnam since the end of the Vietnam War in 1975.
Also this day in 1994, the Diana Ross TV movie "Out of Darkness" aired on CBS-TV.
On this day in 1995, America's 6th network UPN (Universal-Paramount Network) began telecasting. WWOR was the New York flagship, KSTW (UPN 11) was the Seattle affiliate.
The first new show on opening night was "Star Trek: Voyager", which stayed around for 172 episodes over 7 years.
Also this day in 1995, the No. 1 Billboard Pop Hit was "On Bended Knee" by Boyz II Men.
On this day in 1996,  Jimmy Buffett's sea plane "Hemisphere Dancer" was shot at by Jamaican police who mistook him for a drug smuggler. U2's Bono was in the plane with Buffett at the time. Jimmy wrote a song about the incident, "Jamaica Mistaica", that appears on the album "Banana Wind".
Also this day in 1996, Wayne Newton performed his 25,000th Vegas show. Newton had already performed more shows as a headliner on Las Vegas' famed Strip than any other entertainer in the city's history. He first headlined on the Strip at the Fremont Hotel in 1959.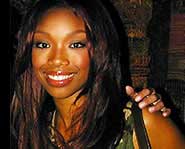 On this day in 1999,  Brandy's single, "Have You Ever", was #1 (for the first of two weeks) on the "Billboard" "Hot 100".
On this day in 2000, R&B singer Will "Dub" Jones, who 40 years earlier was with The Coasters when they scored big with the likes of Poison Ivy, Along Came Jones, Charlie Brown and Yakety Yak, died from the effects of diabetes at age 71.
Also in 2000, we learned that Mick Jagger had lost the chance of a knighthood because of his errant ways. British Prime Minister Tony Blair had second thoughts about the message it would give about family values.
On this day in 2004, Michael Jackson appeared in court and pleaded not guilty to seven charges of child molestation. The Santa Barbara judge admonished the singer for arriving 21 minutes late. 'Mr Jackson, you have started out on the wrong foot here, it is an insult to the court.'
On this day in 2005, the 62nd annual Golden Globes saw top TV awards go to the series Nip/Tuck and Desperate Housewives. Top acting awards went to Ian McShane, Mariska Hargitay, Jason Bateman and Teri Hatcher.
On this day in 2007, actor Ron Carey died of a stroke at age 71. He is best remembered for his laugh-provoking role as the diminutive Officer Carl Levitt in the ABC-TV sitcom Barney Miller.
That same day in 2007, Canada's first TV weatherman, Toronto's Percy Saltzman, passed away at age 91.
On this day in 2009, longtime CBC Vancouver announcer Dan McAfee, best remembered as the announcer for the hilarious 'Dr. Bundolo' radio troupe, died at age 73.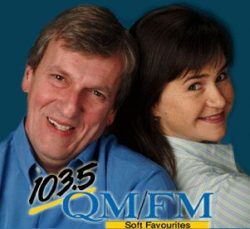 Also in 2009, after nearly 15 years on the morning show at Vancouver's QM/FM, Terry Reid signed off for the last time.
Co-host Tara McGuire continued on for a few years with a new partner, but eventually they both were replaced. (Picture courtesy Vancouver Broadcasters.)
On this day in 2010, Country Music Hall of Famer Carl Smith, the 1950s/'60s hitmaker known for his dynamic voice and good looks, died after a stroke at age 82.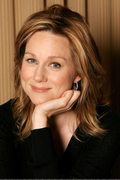 On this day in 2011, top TV honours at the 68th annual Golden Globes went to Boardwalk Empire, Glee, Jim Parsons and Laura Linney                                                                                                                                                                                                      .
On this day In 2012, Jimmy Castor, a New York funk and soul saxophonist, died of apparent heart failure in a Las Vegas hospital. He was 71. His 1972 song, "It's Just Begun," morphed over 40 years into an anthem for generations of hip-hoppers and mainstream musical acts.
On this day in 2013, Pauline Phillips, beginning in 1956 the immensely popular American advice columnist who used the byline 'Dear Abby,' died of complications from Alzheimer's disease at age 94. From 1963 to '75, Phillips also had a daily 'Dear Abby' program on CBS Radio.
On this day in 2014, actor Russell Johnson, best known for his role as "The Professor" on TV's Gilligan's Island, died of kidney failure at age 89.
Also in 2014, Sarnia Ontario-born comic actor Dave Madden,  who was a standup comedian on the Ed Sullivan and Merv Griffin variety shows in the 1960's, who played a frustrated band manager on 'The Partridge Family' in the 70's, was a regular on NBC-TV's 'Rowan & Martin's LaughIn,' and later had a running role in the 1980's CBS-TV sitcom 'Alice,' died of congestive heart and kidney failure at age 82.
On this day in 2015, Stuart Loory, a White House and Moscow correspondent for major newspapers who became one of the first executive hires at CNN, where his experience and connections proved invaluable to a network initially mocked as Chicken Noodle News, succumbed to lung cancer at age 82.
On this day in 2016, singer Gary Loizzo, who had a Top 10 hit in 1967 with "Bend Me, Shape Me" as lead singer of the American Breed, succumbed to pancreatic cancer at age 70. He also engineered many hit albums by Styx.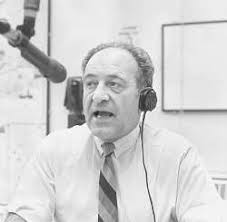 On this day in 2017,  Russ Thompson, a prominent afternoon drive time radio host for over 40 years in Toronto, succumbed to cancer at age 82.  Russ worked for CKEY, CBC Radio, CKFM and finished his career at Easy 97 in 1992. He was also a TV spokesman for some of the Canada's most prestigious brands including GM, Timex, CN/CP, Belvedere and Proctor and Gamble.
On this day in 2018, actor Bradford Dillman, who starred in the 1960's TV series Court Martial, and who appeared repeatedly in the series Falcon Crest, Barnaby Jones, Kings Crossing and Murder She Wrote, died due to complications from pneumonia at age 87.
Also in 2018, Dave Holland, Judas Priest's drummer during their commercial peak in the Eighties, died at the age of 69. He had been living in exile in Spain after being convicted of the attempted rape of a 17-year-old boy and subsequently serving a sentence in prison.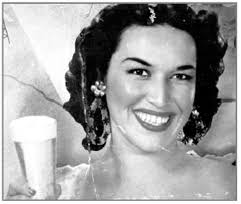 On this day in 2019, Rita Vidaurri, the Golden Age ranchera singer known as "La Calandria" (the Lark) who achieved fame throughout Latin America in the 1940s and '50 and was rediscovered by a new generation in the 21st century, died after a brief illness at age 94.
Today's Birthdays
Opera singer Marilyn Horne is 89.
Singer Barbara Lynn is 81.
Country singer Ronnie Milsap is 80.
Country singer Jim Stafford is 79.
Singer Katherine Anderson Schaffner of The Marvelettes is 79.
Sirius-XM radio talk show host Dr. Laura Schlessinger is 76.
Toronto-born CTV News Anchor Sandie Rinaldo is 73.
Actress-dancer Debbie Allen (Grey's Anatomy, A Different World, All of Us, Fame) is 73.
TV producer/director Mark Tinker (NYPD Blue, ER, L.A. Law, St. Elsewhere) is 72.
Toronto-born actor Jennifer Dale (Rumours, Once a Thief, X-Men) is 67.
Singer Sade is 64.
Singer-songwriter Jill Sobule is 64.
Actor Mark Steger (Stranger Things) is 61.
Bassist Paul Webb of Talk Talk is 61.
Actress Kathy Evison (SeaQuest 2032) is 60.
Singer Maxine Jones of En Vogue is 58.
Actress Heather Elizabeth Parkhurst (Sherman Oaks) is 57.
Actor David Chokachi (Beyond the Break, Baywatch) is 55.
Comedian/actor/announcer Jonathan Mangum (Let's Make a Deal, Drew Carey Show, Whose Line is it Anyway?) is 52.
Mississauga Ont.-born actor Dameon Clarke (Dragonball, Dragonball Z, Graceland) is 51.
Actor Richard T. Jones (The Rookie, Santa Clarita Diet, Wisdom of the Crowd, Narcos, Hawaii Five-O 2011, Judging Amy, Terminator:The Sarah Connor Chronicles) is 51.
Actress Josie Davis (Charles in Charge, Titans, Beverly Hills 90210) is 50.
Actress Eriko Tamura (Reaper, Heroes) is 50.
Supermodel Kate Moss is 49.
Actress Gillian White (Days of Our Lives) is 48.
Ontario-born actor Shaun Benson (Just Cause, Saving Hope, Channel Zero, Gangland Undercover) is 47. 
Actor Lin-Manuel Miranda (Do No Harm) is 43.
Guitarist James Young of The Eli Young Band is 43.
Guitarist Nick Valensi of The Strokes is 42.
Actress Birgitte Hjort Sørensen (Vinyl) is 41.
Actress Renee Felice Smith (NCIS: Los Angeles) is 39.
Actor Mason Gamble (Kate Brasher) is 37.
Toronto-born actor Jake Epstein (Degrassi: The Next Generation, The Zack Files) is 36.
Actress Yvonne Zima (ER, Young & the Restless) is 34.
Calgary-born singer/songwriter Kiesa Ellestad is 34. 
Actor Travis Caldwell (The Gates) is 34.
Chart Toppers

 

for Jan 16th
1946
Symphony – The Freddy Martin Orchestra (vocal: Clyde Rogers)
I Can't Begin to Tell You – Bing Crosby with the Carmen Cavallaro Orchestra
Let It Snow – Vaughn Monroe
You Will Have to Pay – Tex Ritter
1955
Mr. Sandman – The Chordettes
Hearts of Stone – The Fontane Sisters
Make Yourself Comfortable – Sarah Vaughan
Loose Talk – Carl Smith
1964
There! I've Said It Again – Bobby Vinton
Popsicles and Icicles – The Murmaids
Surfin' Bird – The Trashmen
Love's Gonna Live Here – Buck Owens
1973
You're So Vain – Carly Simon
Superstition – Stevie Wonder
Your Mama Don't Dance – Kenny Loggins & Jim Messina
Soul Song – Joe Stampley
1982
Physical – Olivia Newton-John
Waiting for a Girl Like You – Foreigner
Centerfold – The J. Geils Band
I Wouldn't Have Missed It for the World – Ronnie Milsap
1991
Justify My Love – Madonna
High Enough – Damn Yankees
Love Will Never Do (Without You) – Janet Jackson
Unanswered Prayers – Garth Brooks
2000
What A Girl Wants – Christina Aguilera
I Wanna Love You Forever – Jessica Simpson
Bring It All to Me – Blaque
Breathe – Faith Hill
2009
Just Dance – Lady Gaga featuring Colby O'Donis
Live Your Life – T.I. featuring Rihanna
Single Ladies (Put A Ring On It) – Beyoncé
Already Gone – Sugarland
Today in Broadcast History compiled by Ron Robinson