From the Times Colonist Obituary from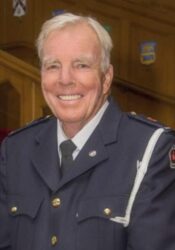 January 14, 2023
Born and raised in Sydney, Australia May 26, 1936, it was in 1958, as a young man determined to see the world, Tony decided a move to Canada would be his first stop. Once he arrived, he quickly became interested in a future in broadcasting.
It wasn't long before Tony was hired at CFCW in Camrose, Alberta before moving to CFRN-TV in Edmonton. There he won several RTNDA awards, one of which was "Arctic Angel", a resupply mission for scientists near the North Pole. Another for recording the first commercial barrel of oil extracted from the Athabasca Oil Sands.
Next on Tony's agenda was twenty years as News Director of CHEK TV in Victoria, BC where he was elected President of the Radio and Television News Director of Canada.
During his CHEK years, he became Chairman of the Board, Oak Bay Parks and Recreation, a Director at the Garth Home Centre for the Mentally and Physically Challenged, a founding Director of Victoria Crime stoppers, Rotarian of the Year in 1990 with the Victoria Rotary Club and more recently, a member of Langford's Protective Services Committee.
Read More HERE