… Elvis Presley's 88th Birthday!!
ON THIS DAY in 1856
borax (hydrated sodium borate) was discovered by Dr. John Veatch near Red Bluff, California. It became a multiuse product that was popularized during the era of "Death Valley Days" on radio & TV.  Remember 20 Mule Team Borax?
On this day in 1912, a future winner of three Tony awards Jose Ferrer was born in Puerto Rico.  His broadcast credits were largely confined to mini-series & TV movies, including George Washington, The Rhinemann Exchange, The French Atlantic Affair, Young Harry Houdini & Blood Feud.  He also was a recurring guest on the TV series Newhart & Your Show of Shows. He succumbed to colon cancer Jan. 26 1992 at age 80.
On this day in 1928, Sander Vanocur was born in Cleveland.  After reporting for the Manchester Guardian and the New York Times in the 1950's, Vanocur joined NBC News and quickly became "one of the US's most prominent political reporters" during the 1960s.  He served as NBC's White House correspondent and national political correspondent and was one of the questioners at the first of the Kennedy-Nixon debates in 1960. He was also chosen as one of NBC's "four horsemen," its floor reporters at the political conventions in the '60s.  In 1977, Vanocur was hired by ABC News, where he served as a correspondent until 1991. He died Sept. 16 2019 at age 91, after several years dealing with dementia.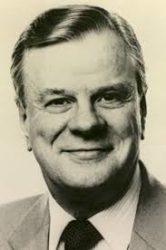 On this day in 1929, sportscaster Bill Stephenson was born in Melrose Saskatchewan.  Blessed with a mellifluous voice he got his start in radio in 1948 at CJAV Port Alberni, and CKDA Victoria, when he was just 21.  He did the play-by-play announcing for the Victoria Cougars hockey team, and in 1954 became the sports director of CKWX Vancouver, where he broadcast the initial years of the B.C. Lions, as well as the Vancouver Mounties of the PCL, and the minor hockey Vancouver Canucks.   In 1960 he moved to Toronto where he joined CFRB to become the sports director and play-by-play announcer for the Toronto Argonauts for well over 40 years.   He was inducted into the Football Hall of Fame and was president of the CFL Football Broadcasters.  Bill died in July 2014 at age 85.
Also this day in 1929, the CBS Radio Network purchased WABC in New York City. Network founder William S. Paley appeared for the first time on the Columbia Broadcasting System to announce that it had become the largest chain of stations in radio's short history.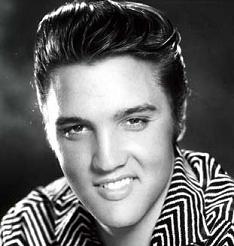 On this day in 1935, Elvis Presley was born in Tupelo, Miss., one of a pair of twins.
His twin brother Jessie was stillborn. Billboard ranks him as the top pop recording artist of all time with 17 No. 1 songs. The 1956 two-sided hit "Don't Be Cruel/Hound Dog" stayed at No. 1 for 11 weeks, a record for the rock era that stood until 1992.  Elvis died under infamous circumstances Aug 16 1977 at age 42.
On this day in 1939, the Gulf Screen Guild Show debuted on CBS radio.  The high budget anthology series often had four Hollywood stars in the cast; it evolved into the Screen Guild Theatre and ran until 1952.
On this day in 1940, society bandleader Vincent Lopez and his orchestra recorded the third version of Lopez' theme song "Nola". This version, recorded in Hollywood on Bluebird Records, was recognized as his best rendition of the classic song.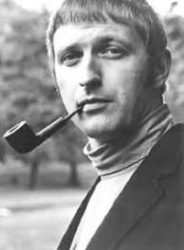 On this day in 1941,comedian/writer Graham Chapman was born in England.  Not only was he seen in all the Monty Python movies & TV shows, he was also seen in the TV series Doctor at Large, and was a writer for The Two Ronnies, The Frost Report, and That Was The Week That Was. He died of spinal and throat cancer Oct 4 1989 at age 48.
On this day in 1944, Billboard Magazine published its first "Most Played Juke Box Folk Records" chart, which became the chart which measured the nationwide success of current country music songs.  The first #1 song was "Pistol Packin' Mama" by Bing Crosby & the Andrews Sisters.
On this day in 1946, for his 11th birthday, Elvis Presley was taken to the Tupelo Hardware Company by his mother, Gladys. There, after being denied a rifle, his first choice, he received his first guitar. Price: $7.75.
On this day in 1947, singer David Bowie was born in London.  He died Jan. 10 2016 at age 69.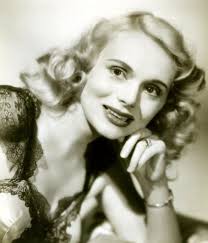 On this day in 1952,  actress Marie Wilson came to TV as "My Friend Irma". The show, already popular for 5 years on radio with much the same cast, lasted just two seasons on television.
On this day in 1956, Elvis Presley's "Don't Be Cruel/Hound Dog" single shot to #1 & stays #1 for a record 11 weeks (for a single).
On this day in 1957, Elvis took the U.S. Army pre-induction exam on his 22nd birthday.
Also in 1957, Bill Haley & His Comets started the first ever 'rock & roll tour' of Australia and their first dates outside the US, playing two sold out nights in Newcastle, New South Wales.
On this day in 1958, The Everly Brothers kicked off a 17 date North American tour at the Coliseum in Charlotte, North Carolina. Also on the bill, Buddy Holly, The Rays, Royal Teens, Shepherd Sisters, Paul Anka, Margie Rayburn and
 Danny & The Juniors.
On this day in 1960, while stationed with the US Army in Germany, Elvis Presley did a phone interview on his 25th birthday with Dick Clark for ABC-TV's "American Bandstand."
Also in 1960, Eddie Cochran's last recording session was held in Hollywood, in which he recorded 'Three Steps to Heaven,' written by Cochran and his brother Bob.   Eddie died in an MVA in Britain 3 months later.  The song then zoomed to #1 in the UK, but failed to chart in the US.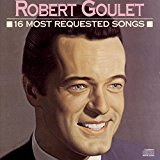 On this day in 1961, Edmonton's adopted son Robert Goulet made his US TV debut  on "The Ed Sullivan Show" on CBS, singing "If Ever I Would Leave You." This after establishing himself in Canadian television, both as a singer and as a key part of the CBC version of the kids show, "Howdy Doody."
On this day in 1962, Brenda Lee's next Top 5 single, "Break it to me Gently" was released.
On this day in 1966, the final episode of "Shindig!" aired on ABC-TV. The 85th and last show in the series featured performances by Jackie DeShannon, Billy Preston, Bobby Sherman and The Blossoms.
Also this day in 1966, "We Can Work It Out" by the Beatles topped the charts and stayed there for 3 weeks. And the Fab Four also started a six week run at No.1 on the pop album chart with 'Rubber Soul,' the Beatles' seventh US chart topper, which went on to spend 56 weeks on the chart.
On this day in 1973, Carly Simon was awarded a Gold Record for her biggest hit and signature song, "You're So Vain".
On this day in 1974, Kiss was signed to its first recording contract with Neil Bogart's Casablanca Records, then gave a special "dress rehearsal" performance.
On this day in 1974, on his 39th birthday, "Elvis Presley Day" was declared in both the city and county of Memphis, followed by a parade down Elvis Presley Boulevard.
On this day in 1975, British actor John Gregson, who played the title role in the TV series "Gideon's Way", died after a heart attack at age 55.
Also this day in 1975, a record was set in this pre-home computer era as three concerts by Led Zeppelin at New York City's Madison Square Garden sold out in just four hours.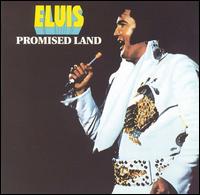 Also in 1975, Elvis Presley released a future #1 album on the country music chart, "Promised Land."
On this day in 1977, "You Don't Have to Be a Star (To Be in My Show)" by Marylin McCoo & Billy Davis, Jr. topped the charts  but just for a week.
On this day in 1978, TV host & panelist Walter Kiernan died at 75.  He was emcee of the TV shows "Who's the Boss?", "What's the Story?", "Who Said That?" & "Kiernan's Corner."  He was also a panelist on "I've Got a Secret."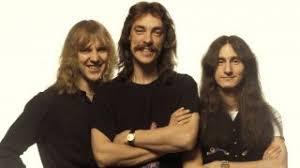 On this day in 1979, the Canadian government named the Toronto-based band Rush Canada's "Official Ambassadors of Music."

Also this day in 1979, NBC-TV's Today Show got a new theme song.
On this day in 1981, actor Woody Chamblis, who played Woody Lathrop in 34 episodes of Gunsmoke, died of cancer at age 66.
On this day in 1982, actress Reta Shaw, best known as the housekeeper in TV's The Ghost & Mrs Muir, died of emphysema at age 69.
Also in 1982, Johnny Cash Parkway, a section of the city's main thoroughfare, officially opened in Hendersonville, Tennessee, where Cash lived out the latter part of his life.
On this day in 1983, legendary Canadian DJ Tom Rivers began his 10 year stint at Top 40 powerhouse CFTR Toronto.
Also in 1983, Spokane-born actress Gale Page died of cancer at age 72. She was a radio actress and singer with Ted Weems Orch. before being signed to a Warner Bros. film contract in 1938.  She later was a semi-regular on the 1950's TV anthology Robert Montgomery Presents.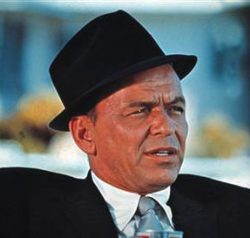 On this day in 1988, singer Frank Sinatra was paid one-million dollars for a single performance to help launch a resort on Australia's Gold Coast.
It was Sinatra's first performance in the country in 14 years. He had been banned by Australian unions in 1974 after calling female reporters "hookers" and male reporters "drunks."
On this day in 1989, actor Kenneth McMillan died of liver failure at age 66.  He had recurring roles in the TV series Our Family Honor, Suzanne Pleshette is Maggie Briggs, Rhoda & Ryan's Hope, and two mini-series King & Favorite Son.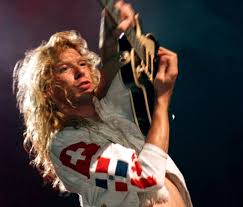 On this day in 1991, guitarist Steve Clark of Def Leppard was found dead in the living room of his London home by his girlfriend.

The coroner ruled that the 30-year-old died of a lethal combination of alcohol and drugs after a night of heavy drinking.
On this day in 1993, the U.S. Postal Service released the 29 cent stamp that won their controversial "thin Elvis" versus "fat Elvis" contest. It depicted the younger, slimmer Elvis of the 1950's. With more than 500 million sold it has become  the best-selling stamp of all time.
On this day in 1994, actor Pat Buttram died of kidney failure at age 78. He was Gene Autry's sidekick on radio in the 40's & on TV in the 50's, and played Eustace Haney on both Green Acres & Petticoat Junction in the 1960's. He also was seen in scores of TV guest roles to within 3 years of his death.
On this day in 1995, Pearl Jam's Eddie Vedder hosted a national late-night radio show broadcast titled "Self Pollution Radio" from the band's hometown of Seattle.
On this day in 1997, the PBS children's show headliner Mister Rogers was honored with his own star on the Hollywood Walk of Fame.
On this day in 1999, the NBC-TV drama series Providence, which introduced Melina Kanakaredes in her first TV lead role, made its debut.
On this day in 2000, Christina Aguilera started a two week run at No.1 on the Billboard singles chart with 'What A Girl Wants.' She ended Santana's 12- week run at No.1 with 'Smooth.'
On this day in 2002, the Black Crowes released a statement that said "For the time being, Chris Robinson is pursuing a solo career. Steve Gorman has left the band for personal reasons."
Also in 2002, singer/actor Fabian was on hand as his star was unveiled on the Hollywood Walk of Fame.
On this day in 2004, the heir to a New York morning radio dynasty John A. Gambling died at age 73. Gambling worked at WOR radio from 1959 until 1991 (32 years) when he retired. He succeeded his father, John B. Gambling, who began the show in 1925. A third generation broadcaster, John R. Gambling, son and grandson of his predecessors, continues today in the WOR breakfast slot.
Also in 2004, the estate of George Harrison started a $10 million legal action against Dr Gilbert Lederman of Staten Island University Hospital, claiming the doctor coerced Harrison to sign souvenirs. The main allegation of the legal action was that Dr Lederman forced the extremely sick ex-Beatle to sign his son's guitar and sign autographs for his two daughters.
On this day in 2007,  actress Yvonne de Carlo who was born in Vancouver, became a 1940's screen beauty & later played TV's Lily Munster ("The Munsters"), passed away in Woodland Hills, California at the age of 84.
On this day in 2009, actor Don Galloway (Ironside, General Hospital) died following a stroke at age 71.
On this day in 2010, prosecutors in Los Angeles announced plans to seek an indictment against the personal physician of Michael Jackson on a charge of involuntary manslaughter. Jackson's death at age 50 had been ruled a homicide, after a powerful anesthetic combined lethally with other prescribed sedatives to take his life.
Also in 2010, KISS founding members Gene Simmons and Paul Stanley spoke out against drug use saying it's for "losers" and blamed drugs for destroying the band's original line-up. "All of the bull-s**t we had to go through with the drugs and booze and lack of self esteem that Ace [Frehley] and Peter [Criss] had just sucked the life out of us," said Simmons.
On this day in 2011, Ontario-born actor Peter Donaldson, the husband of actress Sheila McCarthy, succumbed to lung cancer at age 57. He played recurring roles on two Canadian TV series "Emily of New Moon" and "Road to Avonlea."
Also in 2011, The Black Keys appeared for the first time as musical guests on NBC-TV's Saturday Night Live's first episode of the new year.  Canadian comic actor Jim Carrey was the guest host.
On this day in 2013, David Bowie's first new recording in a decade, the single "Where Are We Now?" appeared without advance warning or promotion on iTunes, on this his 66th birthday.  The number was from Bowie's soon-to-be released 24th album, "The Next Day."
On this day in 2014, guitarists Warren Haynes and Derek Trucks of the Allman Brothers announced that they would be leaving the band at the end of the year.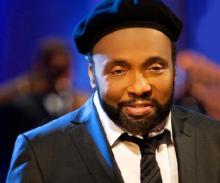 On this day in 2015, pioneering gospel singer/songwriter Andrae Crouch died after a heart attack at age 72. Sometimes called "the father of modern gospel music," Crouch led the choirs that sang on Michael Jackson's Man in the Mirror and Madonna's Like a Prayer, and won seven Grammys.
Also in 2015, on what would have been Elvis Presley's 80th birthday, an acetate of Presley's versions of "My Happiness" and "That's Where Your Heartaches Begin" was sold at auction for $300,000 ti an unknown bidder who turned out to be Jack Whyte of White Stripes.  The songs were recorded by an 18-year-old Elvis in 1953 at Sam Phillips' Sun Records in Memphis.
On this day in 2016, David Bowie released his 28th album, "Blackstar," on his 69th birthday. Sadly he would lose his long battle with cancer two days later.
Also in 2016, Royal Parker Pollokoff, a Baltimore TV pioneer known for his comic characters on children's shows of the black-and-white era, died of congestive heart failure at age 86.
Still in 2016,  country singer/songwriter Red Simpson, an architect of the Bakersfield Sound with contemporaries Merle Haggard and Buck Owens and a champion of truck drivers, died three weeks after a heart attack at age 81.
On this day in 2017, Buddy Bregman, a conductor, arranger and composer who worked with the likes of Ella Fitzgerald, Ethel Merman and Bing Crosby, died at age 86 after a long battle with Alzheimer's disease.
Also in 2017, British singer-songwriter Peter Sarstedt, best known for the 1969 number one hit Where Do You Go to My Lovely, died at age 75 after a six-year battle with progressive supranuclear palsy.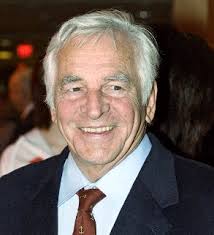 On this day in 2018, Winnipeg-born actor Donnelly Rhodes, best-known in Canada for his roles in the CBC TV shows Danger Bay, Sidestreet and Da Vinci's Inquest, died of cancer in hospice at Maple Ridge B.C.  He was 80.
On this day in 2019, President Donald Trump delivered his first address to be televised from the Oval Office.  Major TV networks broadcast the 10-minute speech on the need for a Border Wall, and the partial US government shutdown over funding.



Today's Birthdays
Former "CBS Sunday Morning" TV host/radio commentator Charles Osgood is 90.
British singer Dame Shirley Bassey is 86.
Game show host Bob Eubanks (The Newlywed Game) is 85.
Country-gospel singer Cristy Lane is 83.
Singer Anthony Gourdine of Little Anthony and the Imperials is 82.
Actress Yvette Mimieux (Berrenger's, Most Deadly Game) is 80.
Singer Juanita Cowart Motley of The Marvelettes is 78.
Actress Kathleen Noone (According to Jim, Passions, Party of 5, Knots Landing) is 77.
Guitarist Robby Krieger of The Doors is 77.
Former radio-TV news anchor/reporter Marty Davis (Hour Magazine) is 74.
Actor Damián Alcázar (Narcos) is 70.
New Westminster-born rocker Mike Reno (Loverboy) is 68.
Actress Harriet Sansom Harris (Desperate Housewives, Frasier, It's All Relative) is 68.
Actor Thomas G. Waites (Oz, All My Children) is 68.
Actress Michelle Forbes (The Killing, True Blood, In Treatment, Homicide) is 58.
Actress Maria Pitillo (Providence, House Rules, Partners) is 57.
Singer R. Kelly is 56.
Bassist Jeff Abercrombie of Fuel is 54.
Actress Ami Dolenz (General Hospital) is 54.
Reggae singer Sean Paul is 50.
Actor Matt Bushell (Look) is 49.
Country singer Tift Merritt is 47.
Actor Josh Meyers (MADtv) is 47.
Actress Jessica Leccia (Guiding Light, One Life to Live, Venice the Series) is 47.
Ontario-born TV host Cheryl Hickey (ET Canada) is 47.
Actress/singer Jenny Lewis (Brooklyn Bridge, Shannon's Deal, Life with Lucy) is 47.
Actress Amber Benson (Buffy the Vampire Slayer) is 46.
Actor Ryan Francis (Sisters) is 46.
Actor Scott Whyte (City Guys) is 45.
Toronto-born actress/director Sarah Polley (John Adams, Slings & Arrows, Road to Avonlea) is 44.
Actor Ashraf Barhom (Tyrant) is 44.
Actress Rachel Nichols (Continuum, Criminal  Minds, Alias, The Inside) is 43.
Actress Genevieve Padalecki (Wildfire, Supernatural, FlashForward) is 42.
Actress Gaby Hoffman (Someone Like Me) is 41.
Toronto-born actor Christopher Russell (UnREAL, Dirk Gently's Holistic Detective Agency) is 40.
Guitarist Disashi Lumumbo-Kasongo of Gym Class Heroes is 40.
Actor Freddie Stroma (Time After Time, UnREAL) is 36.
Actress Cynthia Erivo (The Outsider, Genius) is 36.
Actress Lily Nicksay (Boy Meets World) is 35.
Actor Steven Christopher Parker (Fish Hooks, ER, Attaway Appeal) is 34.
Actress Natalee Arteaga (The Ryan Carr Show #Live) is 34.
Actress Ryan Destiny (Star, Low Winter Sun) is 28.
Actor Khylin Rhambo (Teen Wolf, the First Family) is 27.
Actress Noah Lindsey Cyrus (Hannah Montana, Doc) is 23
Chart Toppers – Jan. 8
1947
For Sentimental Reasons – Nat King Cole
Ole Buttermilk Sky – The Kay Kyser Orchestra (vocal: Mike Douglas & The Campus Kids)
The Old Lamplighter – The Sammy Kaye Orchestra (vocal: Billy Williams)
Divorce Me C.O.D. – Merle Travis
1956
Memories are Made of This – Dean Martin
The Great Pretender – The Platters
Lisbon Antigua – Nelson Riddle
Sixteen Tons – Tennessee Ernie Ford
1965
I Feel Fine – The Beatles
She's a Woman – The Beatles
Love Potion Number Nine – The Searchers
Once a Day – Connie Smith
1974
Time in a Bottle – Jim Croce
The Joker – Steve Miller Band
Show and Tell – Al Wilson
If We Make It Through December – Merle Haggard
1983
Maneater – Daryl Hall & John Oates
The Girl is Mine – Michael Jackson/Paul McCartney
Dirty Laundry – Don Henley
Can't Even Get the Blues – Reba McEntire
1992
Black or White – Michael Jackson
All 4 Love – Color Me Badd
Can't Let Go – Mariah Carey
Love, Me – Collin Raye
2001
Independent Woman, Part 1 – Destiny's Child
It Wasn't Me – Shaggy featuring Ricardo 'Rikrok' Ducent
He Loves U Not – Dream
My Next Thirty Years – Tim McGraw
2010
TiK ToK – Ke$ha
Empire State Of Mind – Jay-Z + Alicia Keys
Bad Romance – Lady Gaga
Consider Me Gone – Reba McEntire
Today in Broadcast History compiled by Ron Robinson